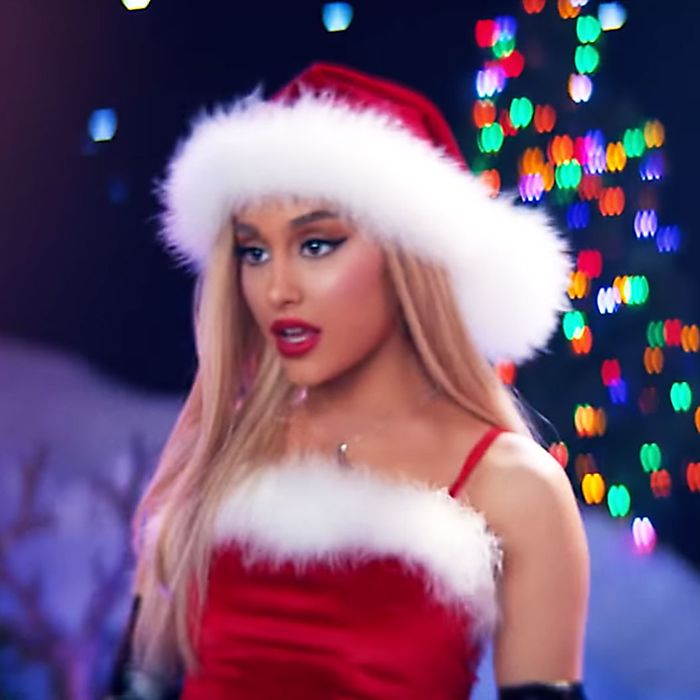 Are you wit it this Christmas?
Photo: YouTube
Before eternally horny theater kid Ariana Grande embarked on the final leg of her Sweetener tour last week, she let fans know to expect something a little different this time around. "pls have so much fun and sing your hearts out to christmas n chill bc no one on earth bought it or has heard it or will know what's happening," she tweeted. Grande was referring to her previously little-known 2015 EP, a surreal six-song compendium detailing the specific ways in which Christmas sexually arouses her. Christmas and Chill wasn't exactly a runaway hit; in the lead-up to her first show, Grande continued joking about how only her die-hard fans would know the lyrics:
But then, a Christmas miracle: In a matter of days, the EP skyrocketed onto the iTunes charts, eventually surpassing Thank U, Next as Grande's current most-streamed album. Grande tweeted through her disbelief and staggering joy, referring to Christmas and Chill as a "fossil" that was her "fav project" and claiming she was "retiring" now that it had finally charted.
As someone who has spent years deeply, joyfully entrenched in the ephemera of Grande's career, I am perhaps too familiar with Christmas and Chill. Which is why I am here to walk you through it, so that you, too, can make your holidays approximately 700 percent more libidinous. The first thing you need to know about Christmas and Chill is that, unlike most celebrity Christmas albums, it contains zero covers. Nay, this is an entirely original work; Grande does not perform a playful riff on "Baby, It's Cold Outside" because she is too busy staying inside, having tons of unhinged sex to a trap beat.
Christmas and Chill opens with a brief intro in which Grande welcomes her listeners "to Christmas" — which, she helpfully explains, only "comes one time a year" — then shares that she will be spending said holiday "singing, 'Oh, oh, oh, oh.'" This is the least explicit song on the album, so if you're already feeling uncomfortable about the conflation of Christ and carnality, now is the time to walk away (though trust me — that would be a huge mistake!!).
"Wit It This Christmas," the follow-up song, is the urtext of Grande's insatiable Christmas lust. It begins subtly enough: "Come and kiss me, baby / We don't need no mistletoe / We don't need no fireplace / Boy, I'll keep you nice and warm," then lurches quite suddenly into full-on Yuletide erotica. "Are you down for some of these milk and cookies?" croons Grande. "Down for loving, you'll be my drummer boy / And I'm the only drum that you gonna play."
The song continues to stretch Christmas metaphors and pervert holiday traditions: Grande wonders, rhetorically, whether she and her drummer boy even need presents or "recipes," because, as she puts it, "You know I'm tasty like a candy cane or gingerbread / I'm made with love." At the end of each verse, she confirms whether everyone is onboard with her extreme hard-on for the holidays: "Are you wit it this Christmas?" But really, take a minute and ask yourself: Are you wit it this Christmas? If you're not prepared to have a high-camp sexual experience on Jesus' birthday, this album is not for you.
Next up is "December," in which Grande further expounds upon the ways in which she and her unnamed partner (Santa?) will utilize Christmas as an aphrodisiac. "When December comes (ed note: comes!) / I bet you want to wrap me all up and take me home with you / See what I look like under them lights / We'll keep it quiet, whatever we do." Grande then clarifies her intentions, which are quite selfless, rather in line with the season itself: "I'm just tryna keep my baby warm through the wintertime / I'm just tryna give you something to remember through the summertime / And whatever is on your list, I'll do it." Grande concludes the song with what is perhaps her most creative and least inherently logical metaphor: "I'll give you the fire I keep inside / Guide you all the way down, be your nightlight."
At this point, you're likely wondering, "Does Ariana Grande, radical Christmas fetishist, have sex when it isn't Christmas?" The next song, "Not Just on Christmas," answers this quite thoroughly. "I'll love you till I die, boy / Every day of my life," sings Grande. "I celebrate you, baby / I adore you, not just on Christmas." Grande further confirms that she will not be deterred by "rain or shine" and will continue to have Christmas-themed sex for the duration of the year: "365 days / I'll give you all my presents, boy / I'm for you, not just on Christmas."
Christmas and Chill's fifth song, "True Love," is widely believed to be about Ricky Alvarez, Grande's onetime backup-dancer boyfriend name-checked in "Thank U, Next" who now seems to work as a photographer on her tour (I don't have time to talk about this right now). "True Love" is perhaps the least sex-forward song on the album, instead focusing on how, as the days of Christmas pass, Grande becomes more and more certain that her lover is a "real one." "On that third day of Christmas / We got all in our feelings," she sings. "Said 'I love you' and meant it, oh." But please, do not get it twisted: there is still Christmas boning to be had here: "On the fourth, we committed / Any time, he could get it."
The final song, "Winter Things," is my personal favorite. It's literally a song about winter things: skating, building snowmen, wearing hats. It's also the only song, to my knowledge, in which Grande refers directly to the fact that she is from Florida. "It ain't even cold outside, not where I'm from / Feeling like it's mid-July under the sun," she sings, then laments the fact that she has unforgivably neglected her winter outerwear. "My jacket don't get no love / No hats and no gloves / Not even a chance to rain." But Grande refuses to let the searing Floridian sun get in the way of her Christmas traditions. "My baby's in town, and we're gonna do some winter things," she declares, defiant in the face of climate change. "Take me to the ice-skating rink downtown / Even though it's 100 degrees, gotta get out / Ain't no ice or no chills / No snowmen to build / Most of our friends at the beach."
Grande knows, like most of us, that her time on an Earth where the concept of "winter" exists is limited. She knows that Christmas might not always be cold, and milk and cookies might not always abound, and that the Floridian coastline will soon erode irreparably, flooding the downtown ice rink where she once cavorted with her baby. But for now, just for now, it is still Christmas. And goddammit, she is going to fuck! And then … she is going to chill.
*A version of this article appears in the November 25, 2019, issue of New York Magazine. Subscribe Now!