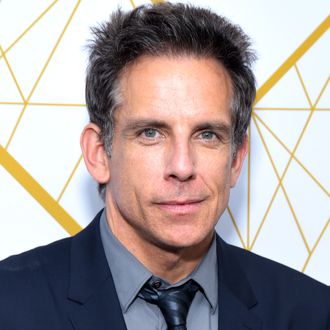 Ben Stiller, pictured here serving Blue Steel.
Photo: Michael Tullberg/FilmMagic
Ah, poetry! That's probably what you thought when you read this terrible rhyming headline, and it's also what we thought when we read the press release for the new Apple TV+ series Severance, executive produced and directed by Ben Stiller. Stiller won the 2019 DGA Award for Best TV Movie/Limited Series for Escape at Dannemora, which received wide critical acclaim, even though its real-life subject seemed to disagree. When Adam Scott isn't busy hosting an ABC game show or appearing at this year's Vulture Festival, he will star in and produce this series.
Apple describes Severance as "a workplace thriller that introduces Lumen Industries, a company that's looking to take work-life balance to a new level. Scott will play the lead role of Mark, an employee with a dark past trying to put himself back together." A drama about a man with a dark past? Hmm, ya don't say. Hopefully the inherent satire of the premise resonates in a Better Off Ted or Enlightened kind of way, which is welcome now more than ever. The series is written and created by Dan Erickson.
There's no word in this first release of when Severance will debut on the streaming service, but it does mention that it comes from the same studio as See. Maybe it's a prequel from the See-i-verse?