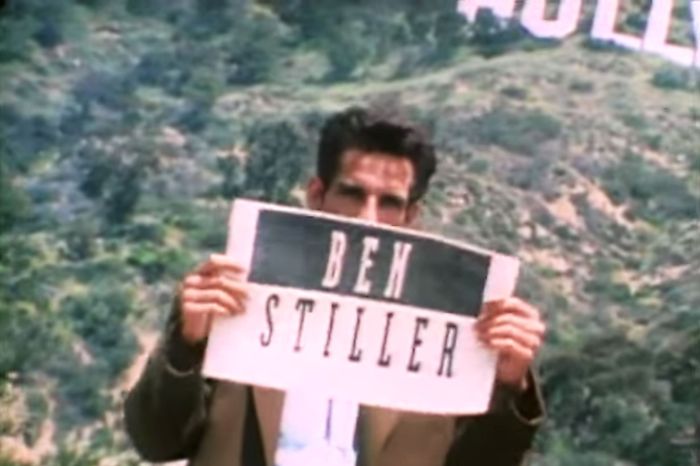 The up-and-coming star of
The Ben Stiller Show.
Photo: YouTube
Looking for some quality comedy entertainment to check out? Who better to turn to for under-the-radar comedy recommendations than comedians? In our recurring series Underrated, we chat with writers and performers from the comedy world about an unsung comedy moment of their choosing that they think deserves more praise.
Saturday Night Live writer Bryan Tucker got his start as a member of the comedy group Selective Hilarity, but it's his his skill as a sketch writer that's kept him gainfully employed for the past 20 years. After a stint as a freelance joke writer for Late Show With David Letterman, Tucker got his first proper TV writing job for HBO's The Chris Rock Show, after which he worked on MADtv and Chappelle's Show. Since 2005, he's been a writer for Saturday Night Live, a gig which has served him and the series so well that he was named co-head writer in 2015, and since 2018 he's held the title of senior writer. In addition, he's co-written a new audio drama for Audible, The 64th Man, which stars John Cena, Anna Chlumsky, Jane Curtin, Will Forte, Leslie Jones, Adam Pally, and more.
Tucker came of age as a sketch-comedy writer during the early '90s, and one of his biggest influences also happened to be airing on Fox at the time: The Ben Stiller Show. Co-created by Stiller and Judd Apatow, the series served to cement the reputations of a number of comedians and writers who would help forge the comedic sensibilities for a new generation, including David Cross, Bob Odenkirk, Janeane Garofalo, and others, and Tucker would like you to be aware that not only was it funny in the early '90s, it's held up remarkably well.
How did you first discover The Ben Stiller Show?
I guess I was maybe 18 that year, so I was just getting into stand-up and sketch. I'd done stuff for my college sketch show and done stand-up around my college campus and around my hometown, so it was that time in my life where comedy was everything to me. That was in Chapel Hill, North Carolina, and UNC Chapel Hill. And The Ben Stiller Show was, I guess, part of the … I don't know if you'd call it a movement, but it was what later became kind of the "cool" comedy.
It was alternative comedy, basically, which was not really what was happening in the clubs. It was more narrative and sketch-based. And being a guy in North Carolina who only knew comedy-club-type comedy, this was very new and fresh and different for me. So I just jumped into that show, really enjoying it and not only thinking it was funny, but thinking that it was very cool. So I would try to watch it on Fox every week, and then later I found some somebody who was selling videotapes of it, and they mailed me, like, five videotapes of all the shows. This was before they put them all on DVD, of course. But I got them so that I could watch them over and over again. I kind of wish I had a VHS player, because I think I still have those four video tapes somewhere, with "Ben Stiller Show" scribbled on the label with a Sharpie.
It's interesting looking back at it now and seeing how great he was when it came to picking targets that have held up over the years, like Tom Cruise and even Beverly Hills, 90210.
And Bruce Springsteen. Yeah, totally. He definitely seemed to pick more timeless people who would be around. He wasn't necessarily a great impressionist, but he could just, like, get the fun essence of somebody, or he'd, you know, make it all about Tom Cruise's teeth or whatever.
You know, to prepare for this, I just went back and looked at a couple of clips, and what I think it did better than a lot of other comedy shows was that it had genre parodies that were really excellent. It wasn't necessarily the characters and the jokes, but it was Ben Stiller's directing. The sketches like "Die Hard 12" or the the thing with the sexy hose … [Laughs.] You know, that hose commercial didn't really even have any characters or jokes or even dialogue. It was just the music and the way it was directed that was really cool.
It's also interesting seeing all of the people he had working behind the scenes.
That's right, yeah! Judd Apatow created it with him, and then he went on to be a huge leader of movie comedies in the 2000s. And then he also had Bob Odenkirk on the show, along with David Cross, who was a writer on the show, and they went on to become real trailblazers in sketch comedy. So two really influential styles of comedy started in that show. Also, I think people forget that they had Rob Cohen as a writer, who's done a bunch of stuff, and Brent Forrester, who wrote for many seasons on The Office and a whole lot of other things.
And Dino Stamatopoulos was a writer on the show, too.
Yeah, that's right, and he was huge on Conan. I remember moving up to New York and and people telling me, "Oh, this guy Dino Stamatopoulos is just the funniest guy!" He also was part of that cool alternative-comedy movement, and he went on to Mr. Show and Community and some really weird Cartoon Network stuff. So their writing staff was small, but almost all of them went on to big influential things. You'd see these people pop up over the next ten years in all kinds of ways, but for most of them, The Ben Stiller Show was their first big job. Maybe not their first job in TV, but their first real job in TV.
You'd already started writing sketch comedy when you found the show, but did you find that it proved to be an influential show for you in terms of writing sketch?
Yeah, I think so. I mean, I think any sketch that I could get my hands on at the time was very influential, because that was a time I was really learning and figuring out. Instead of just sitting back and being entertained by it, I was watching it critically and thinking, Well, how could I do this? You know, I was 18, and I'd just started doing stuff in a sketch and improv group called Selective Hilarity that actually later went on to tour around the country for three years, and we played like 400 shows. But The Ben Stiller Show came out at the very beginning of that comedy group, when we were writing our own sketches, so it was a great time for me to have a model to look to. I mean, it was that, it was SNL, it was In Living Color, it was old Monty Python episodes. But the shows that were at their peaks were The Ben Stiller Show, SNL, and In Living Color.
Do you remember being brokenhearted when you heard that The Ben Stiller Show had been canceled?
Yeah. I mean, I kind of knew it wasn't really the type of thing that was on prime-time network television. Except for In Living Color, I can't think of a sketch show that has survived more than a season or two on prime-time network TV. It seems like something that was made for cable or, nowadays, digital streaming, Networks tried sketch comedy here and there, I guess because of the success of In Living Color, because Ben Stiller had his show, and then John Leguizamo had a sketch show called House of Buggin'. But the networks kept trying, which I was glad of. But I don't think sketch really had its heyday until cable opened up the doors.
I guess it was the forerunner, at least to some extent, of Mr. Show, since I get the impression that's where Bob and David first worked together.
Yeah, totally. I'm not 100 percent sure, but I think they met there. And I think at least a few of those Mr. Show sketches were things that they wrote for Ben Stiller but, you know, they never got on for one reason or the other. And you can see some of their Mr. Show influences in Stiller with sketches like "Manson."
And I don't know if you saw the sketch where there was a guy, and he's just sitting on a park bench talking about a conspiracy theory, but they really leaned into the weird. I don't think they minded doing that on The Ben Stiller Show, but it was 100 percent their sensibility once they got to Mr. Show.
Did you ever have a chance to work with any of the guys from the show on SNL as hosts or anything?
Yeah, Ben Stiller hosted, and that was really cool. He just knows exactly what he's doing there — he's been around so long, and he's just such a professional. And then Bob Odenkirk comes around SNL a bunch, but he hasn't hosted. That would be really interesting. And back when I was doing stand-up, I'd do stand-up here and there with David Cross. When I first moved up to New York in '97, I didn't know what I was going to do, so I was just doing stand-up at local places, and my first really cool gig was at Luna Lounge. I remember it was hosted by Marc Maron, and Janeane Garofalo was on the bill. So that made me feel really good — that I was a kid from North Carolina who'd been looking from the outside in, and now I was in New York and was actually … not really part of it. [Laughs.] But at least next door to it!
Why should people who haven't yet investigated The Ben Stiller Show give it a shot?
Well, for one, I think it is genuinely funny and genuinely holds up. If you look at sketches like "Manson," and the guy who says, "Do it! Do it!" with people like Hervé Villechaize and Casey Kasem. Oh, and one of my favorites is Yakov Smirnoff trying to do a set after the Soviet Union has moved towards democracy, which I love. You know, some things feel dated, but not as much you'd think. Another reason is to look at people like Bob Odenkirk, Judd Apatow, and Janeane Garofalo before they became the comedy icons that they are. And it's also just great to see how interesting and well-directed it is. The Husband and Wives parody — "Woody Allen's 'Bride of Frankenstein'" — is just really well done. It looks like a Woody Allen movie. And "Die Hard 12" looks like a Die Hard movie. I don't think a lot of people were doing that, or at least they weren't doing them as well until Ben Stiller did it.
This interview has been edited and condensed.