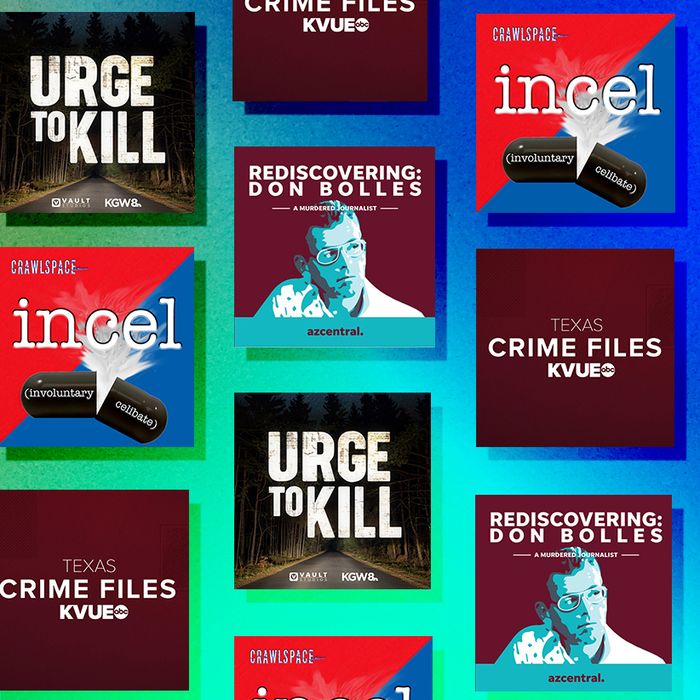 The true-crime-podcast universe is ever expanding. We're here to make it a bit smaller and a bit more manageable. There are a lot of great shows, and each has a lot of great episodes, so we want to highlight the noteworthy and the exceptional. Each week, our crack team of podcast enthusiasts and specialists will pick their favorites.
Urge to Kill: "Lot B12"
This new podcast from the Portland, Oregon-based TV station KGW begins straightforward enough: During the early-morning hours of July 24, 2016, 23-year-old Kaylee Sawyer went missing from her home in Bend, Oregon, after having had a disagreement with her boyfriend, Camron Reimhofer, and leaving for a walk. Reimhofer eventually called police when Sawyer failed to return, and after an exhaustive search, authorities found her body in the nearby town of Redmond. But things start to get weird when a prime suspect emerges — and he's a public-safety officer at Central Oregon Community College. Even weirder? He quickly offers up an erroneous confession to his wife — a Bend police officer. She's the one who turns him in, leading the murderer to flee and embark on a multi-state crime spree. From the sounds of it, host Ashley Korslien is teeing us up for one wild ride. —Amy Wilkinson 
Texas Crime Files: "The Murder of Stacey Stites"
Rodney Reed is scheduled to be executed in Texas for the 1996 murder of 19-year-old Stacey Stites on November 20, 2019. Stites's murder and Reed's trial, conviction, and sentence are the subject Texas Crime Files, produced by KVUE.
On April 23, 1996, Stites failed to show up for work at a local grocery store very early in the morning. Her fiancée's truck, which she had been driving, was found abandoned in a high-school parking lot, and later that day, her body was found in a forest, with the DNA of an unidentified male inside her. Stites's fiancée, Jimmy Fennell, a police officer, was considered the prime person of interest at first, and he failed two polygraph tests, but Reed soon surfaced as a more compelling suspect.
Because Reed's execution is pending, and for other reasons I won't mention, there's a lot of media focused on this case right now. This first episode of Texas Crime Files includes an interview with Stites's sister, in order to provide us with a fuller picture of who Stacey was, as well as details about her relationship with Fennell. The episode is only eight minutes long, but don't let that deter you — its incredible economy will leave you wanting to find out what's next. —Chanel Dubofsky
Rediscovering: Don Bolles, a Murdered Journalist: "Wiretaps and Wild Allegations"
Journalist Don Bolles had a storied career as a journalist at the Arizona Republic until he died from injuries sustained when his car exploded in 1976. Over 40 years later, journalists at the Republic discovered a treasure trove of cassette tapes of phone calls between Bolles, his colleague Dom Frasca, and a variety of characters involved in an increasingly Byzantine case of corruption and … dog races? What began as a journalist's investigation into local Mafia activity turned into a clusterfuck of wiretapping, double crossing, and assorted skullduggery. There are a lot of moving parts and people introduced in the first episode, so the second is where the action begins as the Funk family (yes, that's the name of the family who owned the dog races) begin their investigation and intimidation of Bolles. Rediscovering Don Bolles isn't just a fascinating look at a terrible crime but a time capsule of journalism, especially on the local-news level. —Jenni Miller
Incel: "The True Believer: the Case of Alek Minassian"
In Incel, investigative journalist Naama Kates is going deep into a place most of us would like to avoid — the online world of involuntary celibate men. She's talking to administrators on incel websites, former members of the community, psychologists, writers, and more with the goal of gaining insight into what's going on within. Episode eight focuses on Alek Minassian, the perpetrator of the April 23, 2018, Toronto van attack that killed 10 people and injured 16. In September 2019, the video and transcript of Minassian's interview with Toronto police was made public, and in the video, Minassian claims he was radicalized by prominent online incels, and that after speaking with them, he felt inspired to carry out the attack. In Kates's analysis, she questions whether or not Minassian did communicate with these men, and if it even matters. Would he have killed people even if he'd never gone online? There's also a not-to-be-missed interview with Jesse Morton, the founder of Parallel Networks, an organization combating hate and extremism. Morton himself is a former extremist, and his insight into how radicalization happens and how we can stop it is invaluable. (Even if you're not overtly supporting violence, he tells Kates, by being in the community, you're supporting a narrative.) There is nothing like Incel in the podcast universe right now. It's disturbing, complicated, and absolutely worthy of your time. —Chanel Dubofsky