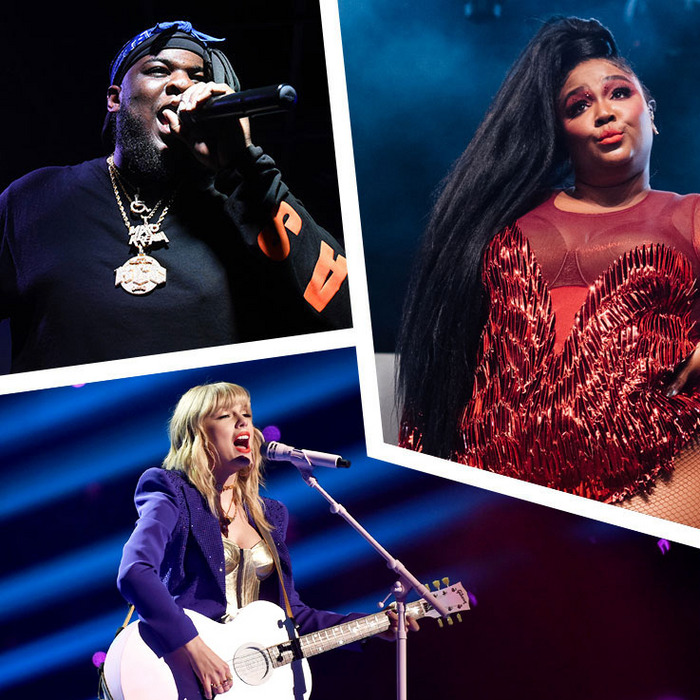 Photo: Vulture and Getty Images
This list has been updated with October releases.
It's always exciting to see what shape music will take in a new year. What invisible connections will be made, and who will become a breakout star or a cult favorite. With just a a month left, we've had exciting new music from indie veterans, career-best (so far) music from bubbling stars, and much more. It's still tricky to define the sounds of 2019, but if you're looking for music made by people in search of hard truths or bliss or some wild combination of both, the songs below will have you covered.
"Flat Tummy Tea," Freddie Gibbs and Madlib
Freddie Gibbs is one of the more consistent rappers we've got. His voice sits low and his throat sounds like it's been raked over gravel a few too many times. He's cynical, but not completely cut off from relatable concepts like love and jokes and the ridiculousness of life. He is a technical master, and that's why he works so well with Madlib, a producer who thrives on sloppily chopped, obscure samples that sometimes have so much going on that the rapping that is happening over the top of them is beside the point. "Flat Tummy Tea" sees the duo returning after 2014's very good Pinata. It'd be easy to just run through a litany of highlights: Freddie Gibbs experimenting with a double-time flow, the beat switch halfway through, the density of the track that makes it feel like it's ten minutes longer than it actually is (and that length would be welcome), but instead it's just worth saying that "Flat Tummy Tea" is, in a sense, the reason all of us love rap. Even if you don't love this song, that swagger and confidence is the backbone of the whole thing. —Sam Hockley-Smith
"How Did I Get Here," Offset and J. Cole
The world did not really need solo albums from each Migos member, but the world doesn't need a lot of things it's getting right now, so here we are. This is, however, a list of the best songs of 2019 so far, and that means that we actually did need "How Did I Get Here," from Offset's way better than it needs to be solo album. On it, the rapper hops nimbly over a spaced-out beat, seemingly bewildered by his lot in life, running through it all in elliptical sentence fragments: "Wakin' up to see the sunrise / I turned five, I got baptized / We was livin' up in College Park / Midnight, heard the gunfight / Playin' football at Forest Park / Gresham Park where your moment get defined / The story of my life / Way before I ever wrote a rhyme / Have you ever done time? / Lookin' at my kids through the blinds / Confinement mind / How you feelin' when you face a dime?" It's notable for its economy, but before you can fully absorb it, J. Cole drops in for a whirlwind of a guest verse. —S.H.-S.
"Meet Again," Maxo Kream
Sometimes you just hear a song and can only think, Now there's a guy who's seen some shit. That's Maxo Kream's "Meet Again." In a few short years, the Houston rapper has quickly demonstrated a distinct handle on the fundamentals of rap storytelling. "Meet Again" gives those meeting Kream for the first time his autobiography via detailed excerpts from letters to an incarcerated friend about all the life passing him by on the outside. His updates range from the comically rude ("I seen your stupid baby momma, she still actin' like a thot") to the soul-crushing ("You can't be there like a father and it's fuckin' with you mentally"). Kream tells it to him straight: Everyone they know — Kream included — is becoming a casualty of the system. Not a word of it is fiction. Just last December, in one clean sweep, 20 of his friends were arrested in connection with one of his music videos. The sad truth is, for Kream, they're just another 20 people he'll now have to write. —Dee Lockett
"Saturdays (Again)," Avey Tare
Quick question: Where does your mind go when I say that this song sounds sort of like the Gipsy Kings? If that turns you off, I get it. Gipsy Kings have their positives, but they also bring to mind that vague connotation of "world music," which is mostly defined not by the fact that it is music of the world (though it is), but because it's music that can be lumped into an unfortunate catchall and be sold, at, like, Whole Foods. (Does Whole Foods still sell CDs? They used to!) But I digress. "Saturdays (Again)," by Animal Collective's Avey Tare is a gorgeous, syrupy psychedelic track that recalls, yeah, the Gipsy Kings, but is also reminiscent of Campfire Songs–era Animal Collective. If you don't know about that album, it was improvised and recorded on a bunch of MiniDisc players (remember those?) on a screened-in porch in Maryland. This wasn't recorded on that porch, but no one's stopping you from heading to the nearest porch and blasting it until it feels like it was. —S.H.-S.
"Sleepwalkin,'" Better Oblivion Community Center
Better Oblivion Community Center is the project of Conor Oberst and Phoebe Bridgers. The former is a veteran of bummer songs about love and loneliness, the other is newer but no less adept at plumbing the depths of human emotion, only she does it with a perpetual smirk that doesn't so much obliterate the heaviness of what she's singing about as it does make it feel more real. "Sleepwalkin'" sees Oberst and Bridgers trading verses before building to what I imagine will become a signature lyrical moment for both of them: "Is this having fun? It's not like the way it was." The question mark I typed is grammatically correct, but it doesn't quite catch the quavering flatness that the pair uses in that moment. It feels more like a period. You know that they already know the answer to a question that doesn't really need to be asked. —S.H.-S.
"Thotiana (Remix)," Blueface ft. Cardi B
Like any popular rap song, there are plenty of remixes to choose from here. Maybe you'd prefer the one with YG, or the maybe unofficial one with Tyga, or whatever "Thotiana Remix ft. Disney's Goofy (PARODY)" is supposed to be. They all have their positives (maybe not the Goofy one), but I'm going with Cardi B's contribution to Blueface's wan (in a good way!), hypnotic (also in a good way!), and disorienting (still in a good way!) "Thotiana," a song that sounds like it was made in a hot car with all the windows rolled up at 5 p.m. on a blazing summer day. It's intangible, barely there, and you'll be confused about why you keep coming back to it. Blueface is onto something. —S.H.-S.
Solange ft. Playboi Carti, "Almeda"
What makes Solange so distinctly Solange is her effortless ability to cull freedom from any form of entrapment. Looking at the way black people have increasingly been snuffed out of black culture for the purposes of commodification, for example, she can still offer hope by snatching back the pride in our ownership. "Almeda," a song off of her excellent latest, When I Get Home, extends the message of A Seat at the Table's "F.U.B.U." and lists as gospel the rich qualities of blackness (be it our liquor of choice or the versatility of our hair) that make us us, which can never believably be chopped and screwed by any other culture (unlike the song's beat, an homage to her Houston rap roots). Hunter Harris said it best: "'Almeda' plays with a special alchemy of everything that feels banal, but special. Brown skin, black braids, brown liquor — sip, sip, sip." —D.L.
Lizzo, "Soulmate"
Well, I've never made a single song in my life, so who am I to say Lizzo's "Soulmate" is one of the best songs of the year? I don't know, man, sometimes facts are facts. Lizzo gets a lot of praise and, suddenly, now more and more flak for her very specific branding of self-love. But she only does it because (a) she does it so well she oughta patent the phrase, and (b) because sometimes this shit's deeper than an Instagram feed. For Lizzo, loving herself is what keeps her alive and fulfilled. Loving herself is what got her this far and if it's carried her to this level of fame, why wouldn't she preach that gospel to uplift anyone else who needs to hear it? This is the best lyric I've heard all year and I will repeat it to myself in the mirror every day: "True love ain't something you can buy yourself / True love finally happens when you by yourself / So if you by yourself, then go and buy yourself another round from the bottle on the higher shelf." "Soulmate" is not a song about not wanting anyone else; it's about not needing anyone but yourself. —D.L.
Beyoncé, "Sorry – Original Demo"
So rarely do artists let us see their raw emotions in real time, when the wounds are still fresh, exposed, and hemorrhaging. Beyoncé was a mentally battered woman on Lemonade, and it took guts to admit those feelings of defeat she suffered in such a public way; it also took time and a lot of clarity, being removed from the pain and having reached a resolution. It makes the vitriol and spite on the version of "Sorry" we've known for three years now seem performative — though still very much rooted in genuine disgust — in comparison to its original demo, which she's now shared with Lemonade's wider streaming release. The Beyoncé we hear on the OG "Sorry" didn't have the emotional wherewithal to spit snappy one-liners for IG captions (you won't find "suck on my balls, pause" or "boy bye"). Her snarling "hell nah" is just a meager "hell no" here. There's no sheen on the production yet either, just placeholder synths. Bey sounds spent, but also more in touch with her humanity in this stream-of-consciousness, spoken-word approach ("tryna keep my family right" just kills). She's showing open nerve endings; showing how she processes and creates spectacular art out of spectacular trauma; and also showing, once again, that she works damn hard at perfecting her craft. Neither version is superior to the other. They merely represent Beyoncé at different stages of grief. —D.L.
Tyler, the Creator, "Earfquake"
Tyler, the Creator is at his best when he's exploring the ways in which romantic relationships, at their peaks and valleys, can feel like personal natural disasters, and how you can never really know which end of that stability spectrum you're at because it all kind of starts to feel the same over time. That early days rush you get when you realize that you might've found a good thing is the same as the one you get when they stick around despite the inevitable bullshit that'll come with the territory of emotional intimacy. In fact, it's more potent because now there's dependency on the rush — and you will always crave more, do anything to maintain it. "Earfquake," off his brilliant IGOR, is a three-minute ride on that roller coaster. Tyler (with an assist from Uncle Charlie Wilson) croons about chasing after someone who only ever splits his heart into pieces. The person he's singing to seems to understand why this is a problem ("Riding around, you're telling me something is bad"), but Tyler ignores all the signs and blames himself. (Anything to find that rush again.) There was endless backlash at the beginning of Tyler's career over his preference for the grotesque, but, really, he's only now scratching the surface on the most horrific subject matter there is: love. —D.L.
Jai Paul, "Do You Love Her Now"
The entitlement fans project onto artists over their work can be detrimental to the work. In some cases, like for the Rihannas of the world, the pressure to deliver on that "give it to me now" deadline is easily silenced with a few snappy Instagram clap backs. But for smaller artists, the feeling that you owe your creativity to strangers is suffocating. It's what forced Jai Paul, the already enigmatic British singer-producer, further into hiding after he first caught the music-blog world's attention at the top of the decade, only to have a large chunk of his work leaked and presented as his debut album without his consent. (Imagine what that sort of betrayal might've done to, say, Frank Ocean when it was still early days.) Six years later, Paul has returned to reclaim his work; he's officially released that album on his own terms and shared with it two previously unreleased songs, "He" and the stunning "Do You Love Her Now." The latter, a psychedelic burst that's equal parts rock ballad and jam session, reflects on missed opportunity, taking intimacy for granted, and setting boundaries and distance. He and Paul brothers collaborator Fabiana Palladino briefly sing back and forth, representing two sides of a romantic relationship that has frayed. But it's not hard to read a little more into it knowing what Paul's career endured. It's a lesson in the beauty that can come when we just let artists breathe. —D.L.
Katy Perry, "Never Really Over"
The wait for Katy Perry to get back down to the business of deliciously executed pop songs is over. After a seemingly never-ending series of missteps and steps back, her newest single "Never Really Over" re-centers the singer to the same sensibility that put her in the upper echelons of this generation of pop stars in the first place. It's a smart pairing with a proven hit-maker, Zedd, that plays to her strengths — world's better than their first collaboration at that — and the exact kind of artist-producer connection that you imagine she's been searching for post–Dr. Luke. Zedd provides the finger snaps and synth swells but does the more important work of getting out of her way. It's Perry center stage doing what she does best: flipping downers of situations (a.k.a. heartbreak) into upbeat pop smashes. Welcome back, Katy. —D.L.
Beyoncé ft. Blue Ivy, Saint Jhn, and WizKid, "Brown Skin Girl"
It's incredible to think of this as an off year for Beyoncé, one where maybe she doesn't release a solo album. Because even in her relatively quieter times, she's prolific. This is already her second appearance on this list this year; the first was for a demo from the Lemonade sessions she shared with the album's wider streaming release earlier this year. She's also dropped the live album Homecoming for her Netflix movie about her legendary Coachella set; released a new merch line for her stans; and co-starred in the Lion King remake, for which she has, of course, gone the extra mile and made her own entire companion soundtrack. (Remaking the original music would be child's play.) Every song on it is a standout, really, but "Brown Skin Girl" is resonating so deeply with black women across the diaspora because it, like so much of Beyoncé's work, was written exclusively for us. It intends to celebrate black beauty while reasserting the standards of who gets to be black and beautiful: "There's complexities in complexion," Beyoncé sings, and, later, "Your skin is not only dark, it shines and it tells your story." Colorism exists to erase and strip the beauty from those with "too much" melanin. "Brown Skin Girl" exists to remind that we can never have enough. —D.L.
Miley Cyrus, "Slide Away"
Cyrus's "Slide Away" manages to feel quiet and intimate without any flatness. Producers Mike WiLL Made It and Andrew Wyatt mix hip-hop drums, warm guitars, sweeping strings, and layered samples as Miley eulogizes her marriage to actor Liam Hemsworth, a split made public mere days ago as rumors swirl that the singer is seeing Brody Jenner's ex Kaitlynn Carter. "Slide Away" isn't vindictive or tabloid-y. It's just about knowing when to cut your losses and move on. The music suits Miley's voice, pushing her without overwhelming her. The mix doesn't sound like anything else from this decade; this is the kind of record the gifted British singer-songwriters landed on at the end of the '90s, when everyone started jet-setting around genres and playing with samples. It's much more like Blur's "Tender" or the Verve's "Bittersweet Symphony" than anything on Bangers, Dead Petz, or Younger Now. It's a fitting end to a ten-year period of wild swings and big changes for Miley to find sturdy middle ground between jibing her interests and making a record that sounds like all of her, all at once. Time will tell. —Craig Jenkins
Taylor Swift ft. the Dixie Chicks, "Soon You'll Get Better"
The push and pull between Swift's expressions of strong yearnings and wounding realities has changed from the neat binaries (trueheartedness versus romantic betrayal; earnestness versus bullying) that populated her first few albums and, for some, grew tiresome. This time, on Lover, she's conveying a desperate feeling of helplessness to make everything okay and a youthful need for her loved one to reassure her by matching her relentless optimism, but she's also reflecting on the situation from a remove. "I know delusion when I see it in the mirror," Swift sighs. "You like the nicer nurses / You make the best of a bad deal / I just pretend it isn't real." Maines, Maguire, and Robison help deepen the melancholy awareness. During the bridge, their harmonies crescendo around Swift in knowing denial. "I hate to make this all about me," Swift begins. "But who am I supposed to talk to?" they all protest. "What am I supposed to do if there's no you?" Swift, we now know, still connects with the confessional approach that laid the foundation for her country career, and even sees possibilities in it. —Jewly Hight
Lana Del Rey, "Looking for America"
Too often we've been left shell-shocked and emotionally battered by this country's continued descent into terroristic gun-toting madness. This song, a pre-album loosie from Lana, won't put a stop to our collective tears. Which is fine. These are times to cry and mourn and feel the exhaustion, but to also channel the pain into action. Lana Del Rey took a flight back from Montecito, phoned her producer Jack Antonoff, and immediately hit the studio to process her feelings about the massacres in Dayton and El Paso. The result is "Looking for America," continuing a streak of excellent songwriting from Lana. She typically has deep affection for the past, particularly as it relates to American iconography and patriotism, but "Looking for America" can't be nostalgic for an America that has never existed. This is a rare moment where Lana, as a voice of reason, is looking ahead: "I'm still looking for my own version of America / One without the gun, where the flag can freely fly." It's not what America was or is; Lana sees what America can be. I hope she's right. —D.L.
The Highwomen, "Highwomen"
"Highwomen" is a sister song to Johnny Cash, Kris Kristofferson, and Waylon Jennings's 1985 single, "Highwayman," which detailed "Wichita Lineman" writer Jimmy Webb's lurid dream about a life on the run. Played by outlaw-country elders in a commercial lull, it is a word about resilience. The updated version, from Brandi Carlile, Maren Morris, Natalie Hemby, and Amber Shires's new supergroup, scans over 300 years of oppression in less than four minutes, the message being that in spite of radical changes in the human experience, the main theme — people in power keeping other people out of power — endures. These women just wanted to live, love, and be loved, but the planet couldn't handle that. Coming from musicians working in an industry so hungry for fresh perspectives on gender that it's spawning singles like "Different for Girls," "Woman, Amen," "Speak to a Girl," "Woman," "Girl," "Women," and "Girl in a Country Song," "Highwomen" is protest music. —C.J.
Selena Gomez, "Lose You to Love Me"
There's that one good stretch we all take first thing in the morning, to open up the senses, sage the soul of any unrest that might've disturbed our nightly reset, and greet the new day. Now take that stretch and all its remedying and apply it to the feeling of washing your hands of a taxing longtime relationship. That's Selena Gomez's "Lose You to Love Me" — her "Thank U, Next" moment of clarity after an extended foggy period that saw her face life-threatening illness, mental-health struggles, a by-both-accounts toxic-sounding on-and-off relationship with Justin Bieber, and a rebound that fizzled out as quickly as it ignited. Selena Gomez has always been a decent pop star with a proven track record of bops, but not since "The Heart Wants What It Wants" — the last time she publicly got introspective about the Biebs — has her music been so revealing about who she is as a person. Closing some of that emotional distance with her listeners is a tremendous benefit to the work. Hearing her come out on the other side of the grief of heartache to reach closure ("Now it's goodbye for us," she sings with convincing certainty after laying all her pain bare), for the first time, her journey these past few years feels like a shared one. —D.L.
Summer Walker ft. Usher, "Come Thru"
The writing on Atlanta star Summer Walker's debut album, Over It, is matter-of-fact to an almost startling degree. Over It's obligatory '90s R&B fan service includes a killer flip of Vegas singing trio 702's "Get It Together" in the early highlight "Body," where Walker informs a crush in line one that she has options, as if to inform you that she could be anywhere else in the world, so it's extra special that she wants to spend her time with you. "Come Thru" is a cuffing anthem that samples Usher's 1997 breakout jam "Make Me Wanna" that goes as far as calling the Atlanta legend in to update his own song in verse two. It's a fascinating choice. At 23, Walker is just a few months older than her guest's My Way album. The thing about great love songs is that as long as people keep breaking up and making up, music about the experience will never feel far away. It's not so much that these sounds are cyclical. We're the ones moving in circles. —C.J.
Harry Styles, "Lights Up"
The abrupt return of Harry Styles sounds like the kind of well-tailored pop One Direction would've gotten to if it had a few more years to work with. But, like Styles, it's packed with organic flourishes, guitars galore, gorgeous piano notes scattered over top of the bridge and chorus, and a barely audible touch of what sounds like Mellotron, ground control saluting our fallen Major Tom. Styles was enthused about Van Morrison's Astral Weeks and Joni Mitchell's Blue in his most recent interview, both stripped and illuminating folk-rock classics, so there is the chance that the pure pop vibes here are a ringer for stiffer and starker music down the line. Time will tell. —C.J.