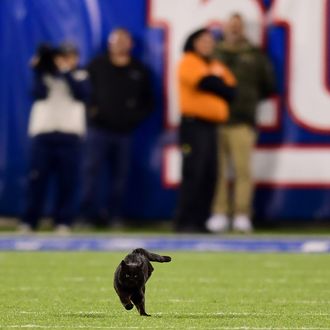 HE MADE IT TO THE CDW RED ZONE.
Photo: Emilee Chinn/Getty Images
We here at Vulture don't cover the cultural phenomenon of "sports" often, but we're willing to make an exception for Kevin Harlan, a noted deity among the AM and FM waves. Go football! The tenured radio announcer for Westwood One Sports was minding his own buttery-voiced business while working Monday night's Giants versus Cowboys game, when, in a spectacular moment of feline insubordination, a black cat took to the field and began taunting the players (and state troopers) with its furry agility. Harlan didn't miss a beat, narrating the minutes-long diversion with as much enthusiasm as witnessing Walter Payton rise from the dead at the 50-yard line. Come for "THE CAT IS ELUSIVE," stay for "THE CAT IS IN THE CDW RED ZONE," and hit the replay button once more for "THE FANS ARE RUNNING FOR THEIR LIVES." Looks like I have my new ringtone.