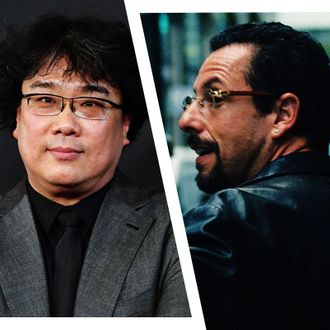 Photo: Getty Images and A24
Only your finest uncut gems for Bong Joon-ho! The leader of the Bong Hive just revealed his preference for gems sans cuts in a Reddit Ask Me Anything thread about his new film, Parasite. For those who still like their gems [*ahem*] cut, Uncut Gems is an upcoming Safdie brothers movie starring Adam Sandler, Idina Menzel, Lakeith Stanfield, and NBA star Kevin Garnett. The film isn't out in the United States until December 13, but Bong is already proudly stanning. He told Reddit fans that, aside from Parasite and Marriage Story, by Noah Baumbach, "energetic" Uncut Gems is his favorite film of the year.
"I am a huge fan of Adam Sandler!," Bong replied to another Reddit question. "I really loved him in Punch-Drunk Love, The Meyerowitz Stories, and Uncut Gems. I would love to work with him if the opportunity comes."
And with that, the Bong Hive and the Uncut Gems army are united! This awards season, no weapons or cut gems formed against them shall prosper.