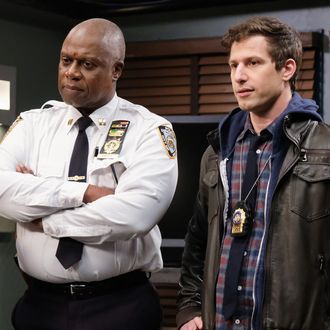 The only good cops.
Photo: John P. Fleenor/NBC
Call it the show so nice, they renewed it twice! Brooklyn Nine-Nine, the buddy-cop comedy canceled by Fox in May 2018 and rescued by NBC, will get an eighth season on its new network — before its seventh season airs. In a release, NBC even calls Brooklyn Nine-Nine a "critically acclaimed and Golden Globe Award–winning comedy," giving the show's name the respect it truly deserves. At the end of season six, Terry Crews's Terry Jeffords was kept at the 99th precinct instead of getting transferred to Staten Island, keeping the "buddy" in buddy cop. While we won't get any new episodes of Nine-Nine until February, we'll take the promise of two more seasons of Crews and crushable comedian Andy Samberg on our screens.
Update, 2:15 p.m.: Brooklyn Nine-Nine posted a video on Twitter of the cast learning that season seven wouldn't be their last. Enjoy Terry Crews excitedly throwing a notebook into the air and banging the table!