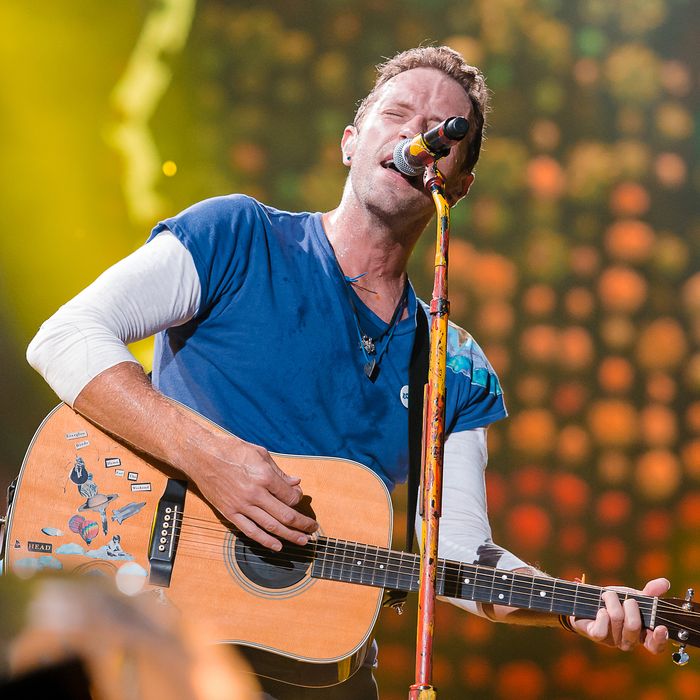 Chris Martin breaks the traditions of his woke savior predecessors in stadium rock with a record that tries to give everyone a seat at the table.
Photo: Mauricio Santana/Getty Images
Coldplay is comfort food. The riffs rock softly but firmly, the way a cradle does. Lead singer Chris Martin's voice is pillowy and encouraging, like a hug. One of his most memorable lyrics goes, "I will try to fix you." He means it. If you've forgotten about the gale-force power of "Fix You," revisit this video of the band playing it to the 40,000-seat Allianz Parque in São Paulo in 2017, as couples, friends, and families in the crowd hold each other and weep openly through the bridge, or this clip from ABC's Brothers and Sisters (spoiler alert!) of a politician having a medical emergency on the way to the hospital where a surrogate is in labor with his adopted child as the song reaches its climax. You'll catch yourself remembering someone you miss, and you will cry. This is Chris Martin's superpower, the well from which Coldplay's hits spring.
Coldplay doesn't want to be this band. They've been running from the sleepy, sad-bastard excellence of 2000's Parachutes ever since. 2002's A Rush of Blood to the Head ramped up the guitars; 2005's X&Y upped the atmospherics and spindly post-punk guitar theatrics in preparation for the 2008 coup Viva La Vida or Death and His Friends, for which they called in the legendary Brian Eno for a crack at the big music he coaxed out of U2 20 years prior as the Dublin quartet carried the banner for stern, sentimental Irish rock and roll around the world. 2011's Mylo Xyloto leaned too far into electronics, and 2014's Ghost Stories overcorrected for the prior album's cloying pep by veering into hushed (and sporadically sort of effective) folktronica. A year later, A Head Full of Dreams recalibrated again, blending the folk, pop, electronic, and post-punk sounds of the preceding albums into a hodgepodge that never gelled, quality Beyoncé feature notwithstanding.
That was supposed to be the end of the band. Coldplay serenaded the world one last time and released a live album cataloguing shows from the end of the 2017 tour along with a career-spanning documentary by longtime friend of the band Mat Whitecross. The relative quiet since then was broken last month with the surprise announcement of a double album called Everyday Life, out today. It's a hard reset, and the band's best release since 2008's Prospekt's March, a solid collection of songs that didn't make Viva. Like David Gordon Green's 2018 Halloween sequel, the new album supposes all of the weird shit that went down between the band's heyday and today never happened, and gets back to the business of shattering hearts. "Church," the new album's first proper song, carries Coldplay back to the scene of the reassuring Parachutes opener "Don't Panic." "Panic" sought solace in darkness, and "Church" revisits the idea with a twist, blurring lines between romantic and religious love, like Peter Gabriel's "In Your Eyes."
Everyday Life revisits Coldplay's back catalogue, recentering its sound in gentle acoustic guitars, evocative piano melodies, and wistful, lilting vocals. But it inverts the old albums' introversion. They're not reminding us that "we live in a beautiful world." They're shining a light on the ugly parts. Everyday Life is troubled by the divisive state of world affairs but also anxious to be a security blanket under which we bide the worst. "Trouble in Town" speaks somberly and dramatically to racial unrest ("And I get no shelter / And I get no peace / And I just get more police"), swelling to a chilling crescendo as audio from a cell phone recording of a Philadelphia racial profiling incident plays. The next song, "BrokEn," flanks Chris Martin with a choir that echoes his prayer for guidance through turbulence. "Guns" is snide talking blues about the folly of fighting fire with fire: "All the kids make pistols with their fingers and their thumbs / Advertise a revolution, arm it when it comes / We're cooking up the zeros, we've been doing all the sums / The judgment of this court is: We need more guns." The observations are quick and to the point; the result is a bird's-eye view of worldwide disorder.
Although it's being called a double album, Everyday Life is shorter than X&Y and A Rush of Blood. Its 18 songs pass in a flash, because Coldplay has rediscovered brevity. Many seem like sketches, voice notes, and solo acoustic performances. Most are done in under three minutes, and only a few come across as full-band to-do's, to a point that makes the singles seem jarring. "Orphans" is a chipper pump fake that seems engineered for the express purpose of giving fans something to sing at shows, the obvious Max Martin moment every pop album craves. "Arabesque" is a different game, a big-band moment built, as Martin recently told BBC Radio 1's Annie Mac, on a groove left over from the month in the Viva sessions where Eno ordered him out of the studio while he taught the band how to swing. It's the undisputed centerpiece of Everyday Life, from the street recordings of cities in motion to the message of unity in the lyrics: "You could be me, I could be you / Two angles of the same view / And we share the same blood."
"Arabesque" fingers Everyday Life as a moment, like U2's Rattle and Hum, where a band that has always cared about justice starts to delve into black music and black political outrage. "Arabesque" delivers its message of peace over a loose Afrobeat groove and exquisite arrangements from Nigerian music veteran Femi Kuti and his son, Made. (Fela Kuti appears via a sample of the posthumous biographical doc Music Is the Weapon, uniting three generations of the family in one song). "Èkó" celebrates the beauty of Lagos with help from hometown hero Tiwa Savage. "BrokEn" tackles gospel, and "Trouble in Town" closes on a Sowetan children's chorus. Elsewhere, there are samples of American jazz heavyweight Alice Coltrane and Nigerian composer Harcourt Whyte.
A more shameless act would set off our cultural-appropriation sensors by beating us over the head with what they learned about social justice and dance music as world travelers. The game-winning play is making sure this shit sounds archetypally like Coldplay. The other smart move is bringing in voices from other cultures. Input from British musicians and choirs, vocals from Belgian singer Stromae, a tribute to the Iranian poet Saadi, and a song by the late Scottish singer-songwriter Scott Hutchinson of Frightened Rabbit make Everyday Life feel like a travelogue, or a town hall. Chris Martin breaks the traditions of his woke savior predecessors in stadium rock with a record that tries to give everyone a seat at the table, that sacrifices hit potential for the sake of a message he believes in. It's a big bang for a band believed to be dead or dying.