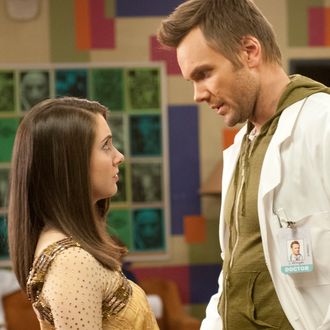 Photo: NBC/NBCU Photo Bank/NBCUniversal via
Greendale Community College's most notorious study group reconvened once more this Sunday at Vulture Festival. Joel McHale, Alison Brie, Gillian Jacobs, Danny Pudi, Jim Rash, Yvette Nicole Brown, Ken Jeong, Chris McKenna, and Dan Harmon took the stage to reflect on their favorite episodes and behind the scenes moments from the show's six-season run.
The series' long-running semi-serious rallying cry of "six seasons and a movie" was addressed point blank when our moderator Jesse David Fox asked what it would take to produce a Community film. "One million dollars for Donald [Glover]," joked McHale.
"Who's supposed to say 'everyone do this?'" wondered Harmon. "That's what I've always said. How does it happen?"
"Sounds like it starts with you, Dan," retorted Brie.
Harmon groused that if he wrote the script, then half the cast would likely back out. To that, the whole cast present publicly vowed to attach themselves to the project should it ever be written.
McHale's joke wasn't the first time Glover's absence from the panel was acknowledged. Earlier in the event, the actors shared their fondness for their former castmate. Brown called him "the most talented person [she'd] ever met," noting his skills went well beyond acting, writing, and music, into disciplines like baking and crochet. Brie mentioned that one of the coolest things about working with Glover was getting to hear Childish Gambino songs before the rest of the world.
The anecdotes about the other missing cast member, Chevy Chase, weren't quite as kind. Harmon referred to the actor as a "self-described legend," and divulged that many of the dialogue for Chase's character, Pierce Hawthorne, was pulled from meetings in Chase's trailer.