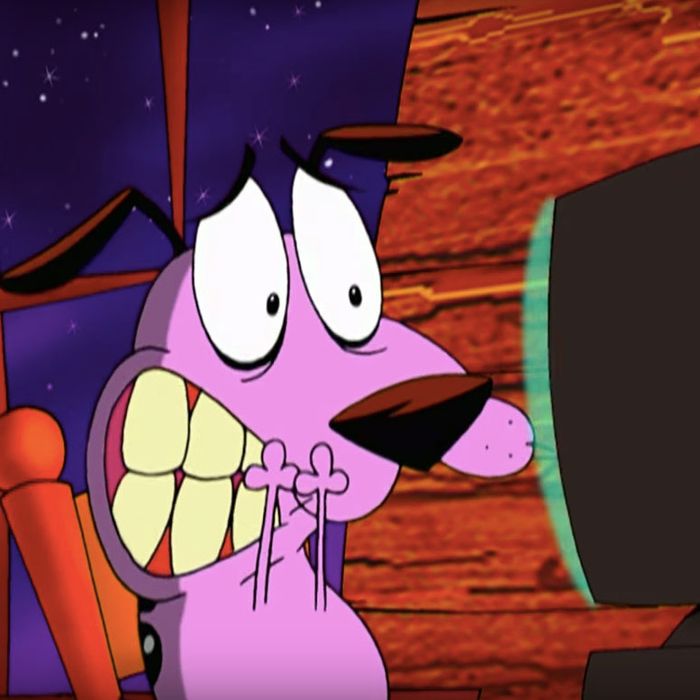 "The things I do for love!"
Photo: Cartoon Network
After landing in the barren plains of Nowhere, a dead-eyed alien chicken infiltrates a farmhouse. The farmer's wife, Muriel, goes out to the chicken coop, where the alien has strangled all their birds and laid its own eggs with fire-red spots. Oblivious, she scoops them up for her husband, Eustace, who licks his chops greedily and wolfs them down.
In mere moments, he transforms into a grotesque half-man, half-chicken hybrid. Feathers burst from his body, Alien-style, and from his nose emerges a beak with savage, jagged teeth. This monstrosity turns to his poor wife, his red eyes glistening with a rabid hunger. Yet just before Eustace can turn Muriel into a demonic extraterrestrial like himself, their little pink dog bursts in and blasts him with a laser gun. The creature vaporized and the chicken sent packing, the dog brings Muriel her rocking chair, where the two share their afternoon nap.
Anyone who was a child in the '90s will recognize the plot of The Chicken From Outer Space, a short film that became the pilot episode of Courage the Cowardly Dog, one of the most adventurous and disturbing children's series ever produced.
The short was written and directed by John R. Dilworth, an animator and a graduate of New York's School of Visual Arts. Dilworth's studio, Stretch Films, had achieved international recognition for its 1995 short, The Dirdy Birdy, a raucous love story between a butt-waving yellow bird and an aloof blue cat. But the hand-drawn animation that went into making Birdy was time-consuming and expensive, so, as Dilworth recalled recently from his home studio, he was "broke" after producing it.
Thankfully, acclaim for Dirdy Birdy was loud enough to earn the filmmaker a meeting later that year with the president of Hanna-Barbera Cartoons, Fred Seibert. Dilworth presented the storyboards for his latest idea — a short animation featuring an alien chicken, an elderly couple, and their wide-eyed pink dog — and Seibert offered to fund it. On February 13, 1996, The Chicken From Outer Space was nominated for an Oscar for best animated short film; five days later, it premiered on Cartoon Network as part of Seibert's "What a Cartoon!" series.
In what Dilworth calls "the antebellum" between Chicken's nomination and the Academy Awards a month later, he flew to Los Angeles with an idea for a feature film and an eye-catching outfit to match. "For one week, I wore a space suit with silver boots — the whole works — and never took it off," he says. His feature was never made and Chicken ultimately lost the Oscar to a Wallace and Gromit short, but Dilworth did catch the attention of a Cartoon Network executive named Linda Simensky, who decided to take Courage the Cowardly Dog to her network as a potential new series. Three years later, on November 12, 1999, the show finally debuted.
At the time, the golden age of Cartoon Network was in full force. The network had recently launched several hugely popular Hanna-Barbera shows — Dexter's Laboratory (1996), Johnny Bravo (1997), Powerpuff Girls (1998) — whose spastic pop aesthetics and preadolescent comic verve had breathed new life into children's animation. But from the moment the title credits of Courage the Cowardly Dog hit the airwaves, it was clear that the show was a dog of a different color. Terrifying and funny, pastel-colorful and utterly grim in equal measure, Courage was the network's first sci-fi horror comedy series.
That first episode after the pilot, "A Night at the Katz Motel/Cajun Granny Stew," is as haunting as cartoons get. In the first segment, Muriel (voiced by Thea White) and Eustace (the late Lionel Wilson) are caught in a thunderstorm while stuck on what Eustace gripes is "a crummy vacation," much to the terror of Courage (Marty Grabstein).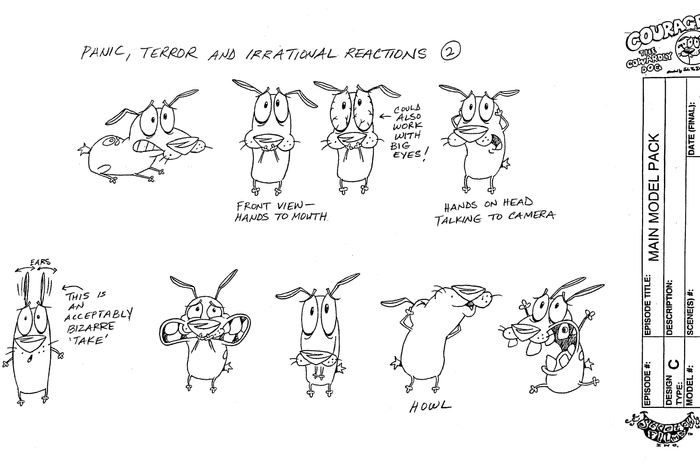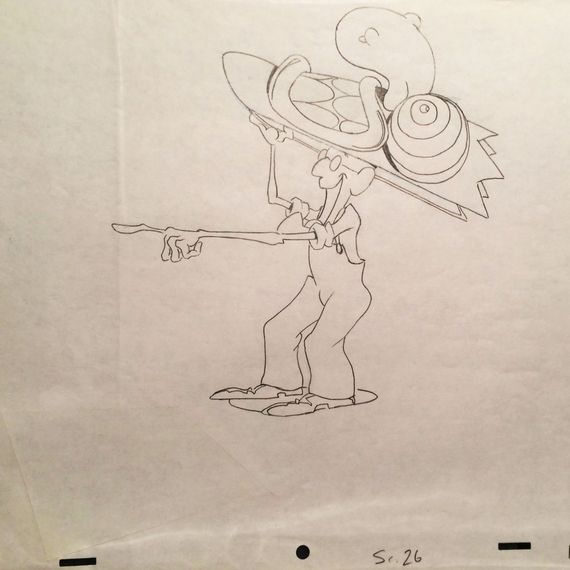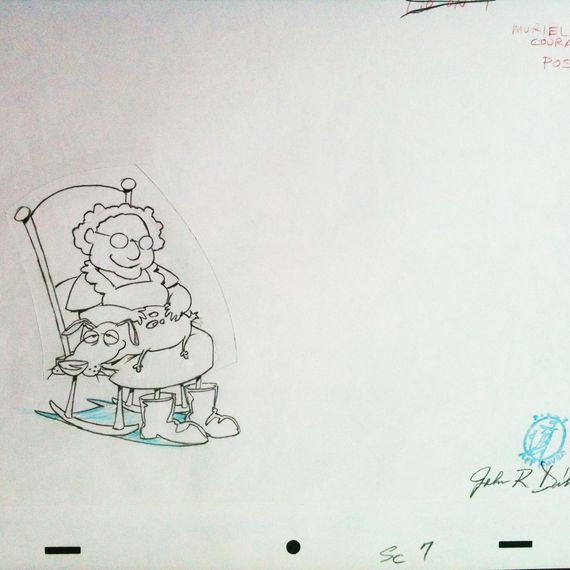 In their beat-up jalopy and modest clothes, Muriel and Eustace are immediately recognizable Americans: grandma, grandpa, and their nervous little dog. Muriel is nurturing, protective, and perhaps a touch naïve — the embodiment of a loving force. (According to Dilworth, Muriel's "white hair, her light, the way she speaks" are all based on a real Scottish woman. "My joy was during the production, I was phoning Edinburgh and having my regular conversation with her and just writing down all the amazing stuff she would say," he recalls.) Eustace is her opposite, self-oriented and sour, with a sneer of jaded entitlement pasted beneath his hat. While Dilworth stresses that the character was never intended as a direct reflection of any specific person or political affiliation, he admits that Eustace now seems a "prescient" embodiment of attitudes quite popular today. His cap is brown in that first episode, but in 2019, it would probably be red.
They stop off at a deserted motel run by a smooth-talking bipedal cat named Katz, who demands that Courage be taken outside. Eustace obliges, sadistically tying up the dog before jumping into bed without a word to Muriel. No sooner is he sound asleep than Katz offers "dinner" to his "loves," four giant, goo-slobbering, people-eating spiders. One spider pops out of the faucet while Muriel is running a bath; another pinches Eustace for the family web. Only after Courage snaps his leash and plays a vicious game of racquetball with Katz — which ends with Katz squashed decisively under a door — are the humans saved. Throughout the whole nightmare, Eustace snores dreamily.
For young viewers accustomed to the sparkly simplicity of Blossom, Bubbles, and Buttercup, such imagery offered awe and terror in equal measure. Dilworth put many of his lifelong fascinations — what he calls his "cosmos" — on display in the episode: allusions to Salvador Dalí and Tex Avery; people who behave like animals; animals who behave like people; a playful fusion of photographs, animations, music, and text; and profound expressions of affection and companionship best embodied by Courage's catchphrase, "The things I do for love!" Like Scooby-Doo, another easily spooked cartoon dog, Courage was a winning surrogate for those whose phobias were almost as powerful as their loyalties. Apparently, it was a great many people: When "A Night at the Katz Motel/Cajun Granny Stew" first aired, it gave Courage the highest series-premiere ratings in Cartoon Network history up to that point.
Suddenly, Dilworth was responsible for co-writing and directing every episode of a hit series made by a team of almost 100 people. He quickly landed on a "formula" for making the show: He would accept 70 percent of the show's quality. "And it worked!" he says gleefully.
Between 1999 and 2002, the Courage staff followed this recipe to craft some of the most intense imagery ever seen on animated television. In one landmark episode, the ghost of King Ramses rains plagues on Nowhere, including a screeching song about "The Man in Gauze" that's since become meme famous. Muriel and Eustace were haunted by flesh-eating mer-people, hypnotizing flan salesmen, and their own shadows. The show even explored the danger of shame in queer relationships in the double-length, fourth-season episode "The Mask," in which a woman is banished from her loving best friend's house by an abusive male gangster and decides to take her rage out on Courage. Such daring was only possible, Dilworth says, because "we were able to deliver all our 104 shorts on time, on budget, and with very little for the network to worry about."
Despite its creative success, the show's blend of body horror and Chaplinesque comedy ultimately proved to be too niche. In 2002, Cartoon Network opted not to renew Courage after its contracted four-season run. Dilworth refuses to offer a hypothesis for why, laughing, "Do I look like a TV cartoon executive?" Yet he does acknowledge that the show always had an eccentric appeal: "We don't fit the Establishment. Ed, Edd, and Eddy went to five seasons. Other cartoons go much longer. Look at The Simpsons. Look at SpongeBob."
Two decades later, the idea of a children's series unafraid to throw mythology, anthropomorphism, collage, surrealism, and vaudeville into one big, scary, delightful pink stew still astounds. That such a show ran four years on a channel then known for its daffy cartoons now seems like a minor miracle. Though Courage did kick off a streak of mature, dark animation on the network — from the neo-gothic Evil Con Carne shorts to the adult world-building of Samurai Jack — those series, too, were canceled before their time. Tellingly, in the 15 years since Courage went off the air, Cartoon Network hasn't picked up another horror cartoon.
Still, the animator is hopeful that lightning will strike again for his cowardly dog. Dilworth says that Stretch Films, which recently produced 2017's Goose in High Heels and the upcoming Howl If You Love Me, is currently in development with Cartoon Network on a prequel to Courage. While he says he is sworn to secrecy on the matter, he's "very, very excited" to be working with longtime collaborators like his sister, Michelle "Belley" Dilworth, co-writer–animator William Hohauser, and composers Jody Gray and Andy Ezrin, all of whom contributed to the original series.
But, Dilworth cautions, he is under no illusions about his chances after several previously attempts at a reboot were scrapped. "I've been a bride on the altar four previous times with other studios. As you know, in showbiz, anything could happen," he says. Should a prequel come to fruition, Dilworth says he intends to allow its characters and themes to "project further out into the future" than even Courage the Cowardly Dog could. "If you feel that Eustace was a harbinger of things to come, what can we explore today for tomorrow?"