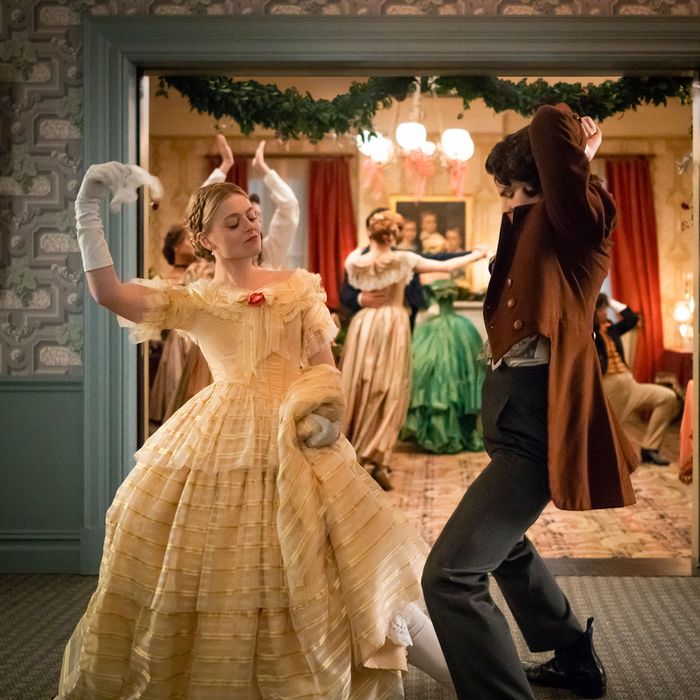 Photo: Michael Parmelee/Apple
Mama and Papa Dickinson are going out of town for the night, so the Dickinson teens — as is the law of all television teens — must capitalize on their absence not by just kicking back, wearing face masks, and having a quiet night to themselves free from parental interference, but instead THROWING A RAGER. Because this is an old-timey rager, everyone will still be impeccably dressed, speak of marriage and virtue, and stick to booze and opium.
First Em has a nightmare, and I have to say I am almost always opposed to dream sequences in TV shows unless they are extremely weird (Twin Peaks) or the whole point is that they are comically on the nose (Blair Waldorf, in agony, "This is MY dream!"). Otherwise it feels a little like cheating. Em dreams that she is drenched in a storm, the sexiest and most dramatic of weather scenarios, clinging to the far side of a boat when Sue — who, even in Em's wildest fantasies, only has that one dress — flings herself overboard. This is probably not a premonition of anything, nothing to worry about here.
Em wakes up to leave a poem about wild nights on her desk, addressed to Sue. You can't just leave salacious content like that lying around! Like, if you manage to snag a contraband VHS copy of Cruel Intentions from an indulgent older sibling, you can't just leave it on your bed where your parents will TOTALLY see it before your sleepover even begins, stealing it back from you before you can have your innocence shattered/mind blown! You guys know what I'm talking about. Someone who is not Sue is definitely going to see this letter.
Em's parents leave, referring to Vinnie only as "other child" and demanding the daughters "clean constantly" while they're away. Does it shock you to learn that this party is Em's idea? She says a party is like a shipwreck because it's supposed to fuck you up. I … am not sold on that analogy, but sure.
Austin wants to announce their engagement at the party, but Sue claims to feel bad about the whole thing because she is penniless and has no dowry. I'm no expert here, but wouldn't that be all the more incentive for her to lock down her betrothal to this moneyed young man? Are we supposed to think Sue wants to downplay it because, deep in her soul, she's torn between her haystack trysts with the socially acceptable Austin and her volcanoes-in-a-twin-bed connection with Em? Or is this just genuinely her concern — that she's "offering nothing" to her husband-to-be? Austin says Sue offers TRUE LOVE and he will NOT hear Sue's offer to go to Boston and earn some money as a governess.
George arrives early, as I figure must be his standard practice, bearing white lilies for Em. "They're the symbol of death," she says. "I love them." George has one other gift: opium, which apparently comes in little dropper bottles like serums from the Ordinary. He thought it was going to be a just-the-two-of-them thing; he is going to be very disappointed.
Jane, the rich popular girl whom Vinnie worships, shows up to talk shit about Sue for being an orphan. Later on, one of her peons attempts to stir some insubordination but the others shut her down: Jane Humphrey is rich, pretty, and the only reason any of them are invited to this party. I do think there's something interesting to do with the fact that we are in a culture and time where most people are just a tragedy or dithering grandpa away from being in Sue's spot, so it's not quite as simple as "just don't let that girl talk to you that way in the cafeteria," because everyone needs to align themselves with wealthy families in order to survive. But we don't really dwell on it here.
Also in attendance is Joseph, Vinnie's crush, looking all broody and hot with his best effort at Chalamet hair (not bad!). Vinnie's flirtation skills could use some work ("I made a pillow for my cat"), but I'm really rooting for her. She gets better as the night goes on (re: does she play the harp? "I like to think it plays me."), and eventually she does, in fact, make out with him. Go, Vinnie, go! At this point I realize that, in the past, someone just had to be playing piano all the time or there was no music at the party. Wow, what a drag the 1800s must have been. No one really cares about Em, it seems, except as a means of getting closer to the eligible Austin.
I love the party banter we overhear — "It's very Jeffersonian." "SO Jeffersonian!" — between Austin and George. Joseph, the townie, keeps "trophies" of girls in his wallet (locks of their hair … ew). But enough pleasantries: It's opium time! Em does approximately 10,000 drops. Everyone joins in. Opium looks … fantastic? Everyone seems to be having a great time, feeling each others' faces, hallucinating giant bees with the voice of Jason Mantzoukas (!). Em is slow-dancing with the bee (so, by herself, it's all very Lorde) until George "cuts in." If they were married, he tells her, they could have parties like this all the time! I do feel for George, who probably has no reasonable way of knowing why Em is not interested in him and does seem to genuinely support her writing and all-around craziness. They make out and Em IMMEDIATELY keels over and runs away. Don't take it personally, George! There are forces here beyond your control!
Also on the dance floor is Jane, who wants in with Austin, who reacts to this extremely low-stakes scenario by steamrolling his bride into announcing their engagement right now. Everyone claps awkwardly and Sue bolts to find Em. NOT a great look for the engagement announcement. Would do terribly on your Insta Stories.
Em pulls up layer after layer after layer of her puffy, unending dress to find out … Nooooooo! She got her period. And we really do see some red blood! Between this and Pen15 we are just ONE show away from a trend! Em leans into the melodrama of it all, crawling across the "ribbon-infested hellscape" that is Lavinia's room. Sue bursts in and Em reports: "Life is an endless sea of pain." Sue, comforting Em in this emotional and hilarious and traumatic time, really is Em's "favorite person in the world."
Meanwhile, Austin and Jane are having a little chat on the porch. Jane is very Gaston about the whole thing — Austin is the most eligible man in town, don't they make sense together, she's liked him for a long time, blah, blah, whatever — and, oh, one more catch: Sue is in love with Em. That Jane has picked up on this makes me like her more than I did 15 minutes ago. How perceptive, Jane! And yet Jane did not use this information to publicly humiliate either girl, only to privately clue in the clueless Austin, which, yes, is a move made out of self-interest, but I will still give her credit for this mostly compassionate and quiet delivery. So Austin runs in, horrified, searches the house for his bride, and — dun, dun, DUN — finds the "Wild Nights" poem, because of course he does.
Austin walks in on Em and Sue in a very passionate and not-sisterly kiss. I mean, I guess it's sisterly in a Flowers in the Attic kind of way. But that book won't be published for about 100 years, so. Sue, who has been denied her agency in both of these relationships (though she totally digs the attention, right?) has a sudden urge to take her life into her own hands, which means, improbably, sprinting into the night to go to Boston … I guess, on foot? With no supplies or food or bags or directions or anything? At 3 a.m. or whatever? Unclear. Godspeed, Sue! We'll see if she actually makes it to her destination or just falls asleep in a nearby meadow and wakes up with an opium hangover.