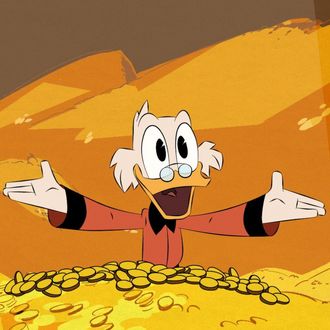 When you wish upon a star — and do a tie-in deal with Verizon — a lot of people will sign up for your streaming service. And that's what has happened with Disney+: The Mouse House's new direct-to-consumer video platform already has 10 million subscribers, just 24 hours after launching, the company announced on Wednesday. It's an audacious and very positive start, and probably helps explain why so many folks encountered trouble getting it to work yesterday. There's one big asterisk with the Wednesday number, however: A good chunk of those 10 million subscribers likely aren't paying for Disney+ — at least not yet.
For one thing, because Disney is offering a free seven-day trial for anyone who signs up, it's possible that some of the 10 million who registered yesterday may yet decide to cancel before billing kicks in next week. What's more, last month Disney and Verizon announced a promotional deal in which the latter company's unlimited-cell-plan customers, as well as many of its broadband and Fios homes, get free access to Disney+ for a full year. Wall Street analysts had estimated that the deal could add as many as 17 million subscribers, which means any number released by Disney is going to include folks who aren't paying directly for the service. A person familiar with the Disney data says the company is only counting customers who've actually activated the Verizon offer or have otherwise registered for the service, either with a credit card or through a third party such as the Apple or Google Play app store. Also, even if Verizon customers aren't paying for Disney+, Verizon is still paying Disney a wholesale rate for every member who activates the offer, a person familiar with the deal said. That means Disney is getting at least some cash for those eyeballs.
Reps for Disney and Verizon both declined to break out exactly how many of the 10 million customers can be attributed to the Verizon free offer. However, a Verizon insider told Vulture that the company has "seen very high interest" in the free Disney+ offer and is "pleased with sign-ups within the first 24 hours of launch." What's more, given the prelaunch estimates that up to 17 million people will have access to the free Verizon deal, Disney may yet be able to sign up millions more customers from the agreement in the days and weeks to come. And no matter how it came about, snagging 10 million sign-ups within the first day of operation has to count as a massive win for Disney+, particularly its marketing machine. It means consumers got the message that Disney is in the streaming business and they're at least curious enough to check out its offering.
(Maria Elena Fernandez contributed to this report.)