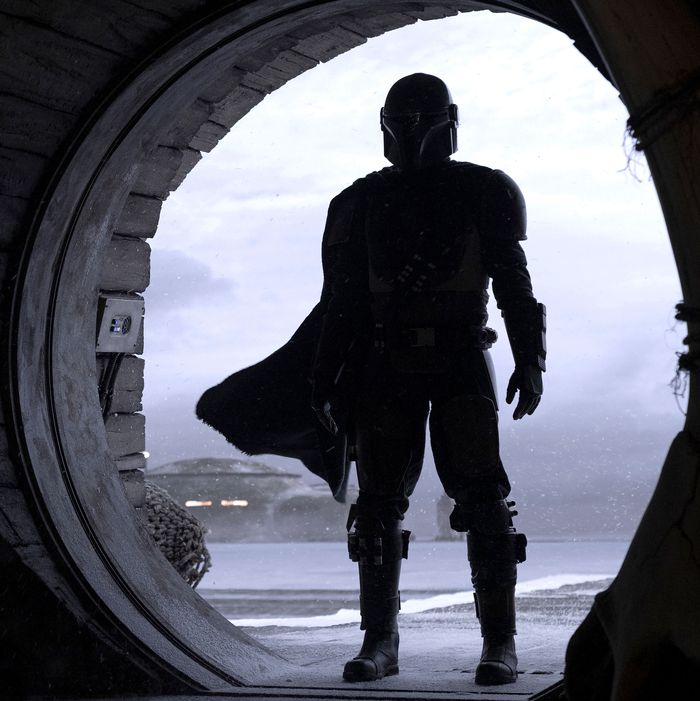 This guy can't wait to try Disney's streaming service.
Photo: Francois Duhamel/Lucasfilm Ltd.
In August 2017, Disney CEO Bob Iger stunned the entertainment industry when he announced plans to pull the company's collection of blockbuster movies from Netflix and instead put them on a new, Disney-branded streamer. Instead of collecting hundreds of millions in potential revenue from Netflix, the Mouse House would start spending billions of its own dollars to build and program its own digital TV platform. A little more than two years later, the result of Iger's big structural change is here: Disney+ launched on Tuesday morning, serving up all things Disney, from Dumbo and Descendants to the latest Star Wars and Marvel blockbusters, for the relatively modest cost of $6.99 per month (or free for a year for some Verizon and Fios customers).
The conventional wisdom among many industry insiders and numerous Wall Street analysts is that Disney's bet will pay off and that the company's goal of getting between 60 million and 90 million worldwide subscribers by 2024 is realistic. And while the streaming landscape is increasingly crowded, with Apple jumping in earlier this month and new services from WarnerMedia and NBCUniversal coming next year, there's plenty of reasons to believe that the consensus is correct. Disney is a company with a very long track record of Getting Things Done, whether it's building theme parks around the world, launching cruise lines, or crushing the box-office competition with remakes and spinoffs of movies from decades earlier. But that doesn't mean there aren't still some big unanswered questions about the Disney+ path to success and Disney's overall streaming strategy. Here are four to keep in mind as Disney+ debuts.
Will Disney+ appeal to casual fans and people who don't have kids?
While it's cheaper than most streaming services, Disney+ won't aim to satisfy every taste like Netflix or WarnerMedia's soon-to-launch HBO Max. It'll have hundreds of classic movies and TV shows, sure, and within a few years, Disney execs have said they expect the service will have dozens of original productions as well. But as that now-famous Twitter thread and YouTube video underscored, the Disney+ offering will mostly be family-friendly fare and content drawn from Disney's wonderful world of tentpole franchises: Marvel and Pixar film studios, Star Wars, National Geographic, and Disney itself. If you're looking for the next Breaking Bad or even something relatively sunny such as Schitt's Creek, you won't find in on Disney+.
Given how much Disney movies have dominated the box office in the past decade, and how many homes have kids under 18, it probably doesn't matter that the service won't scratch every entertainment itch. There's clearly a huge potential audience for what Disney+ is offering. But over the long term, Disney+ may not have the same wide appeal as a more general-interest streamer such as Netflix. If you don't have younger kids or genre-crazy tweens in your home, and you yourself are not a hard-core Marvel or Star Wars stan, Disney+ may not be worth it once you get past the thrill of rewatching whatever old movies and TV shows speak to your childhood. Apple has gotten knocked for not having any old shows and movies on its slightly cheaper $4.99 per month service, but for many adults, the promise of one or two interesting new scripted series every month might actually be a more appealing offer.
This isn't some fatal flaw for Disney+, however. Limiting the scope of the service is arguably a brilliant play. For one thing, it lets Disney+ stand out from Netflix and HBO Max, both of which want to be one-stop TV shopping. By contrast, Disney is saying, "We'll charge you less, but give you more of something we know millions of you love" — that is, G- to PG-13-rated entertainment with familiar stars and beloved characters. And if you're a hard-core fan of the Walt Disney Company itself, Disney+ is going to be the ultimate fan club. (One of the launch-day originals is called The Imagineering Story, and it's literally just an advertisement for a backstage look at Disney theme parks.) Disney+ isn't just a digital depository for the Disney library; it's a temple at which the Disney, Marvel, and Star Wars faithful can gather and worship. That may limit the ultimate subscriber tally, but it's hard to imagine any other streamer boasting a more loyal and engaged membership than Disney+.
Deepening the strong bonds Disney already has with its customers is a key reason the company is investing so heavily in streaming. It could've kept collecting hundreds of millions of dollars by licensing its content to Netflix and other platforms. But Disney+ will let the Mouse House understand and reach its best customers like never before. Watch a lot of Marvel programming? Disney+ will be able to email you a customized pitch for some new Marvel-themed attraction at one of its parks, or offer you a chance to see the next Marvel movie in theaters first (perhaps at a premium price). Maybe an episode of the Pixar-produced Disney+ series SparkShorts breaks out with audiences, something Disney will be able to track with granular detail now that it owns its own big streaming platform. The company can respond quickly and green-light a feature film based on the short, confident it already has a built-in fan base. Bottom line: While Disney+ will ultimately live or die based on the subscription revenue it gets from consumers around the world, in the short term its biggest value to Disney may be as a resource to pull customers deeper into the Magic Kingdom.
The Disney+ library is overflowing with hits, but will its originals click?
The prelaunch buzz surrounding Disney+ has been decidedly upbeat. Some Wall Street analysts and media business reporters have fallen over themselves gushing about the service's relatively low price, its deep library of beloved movies, the potential appeal of originals tied to the Marvel and Star Wars brands, and even Disney's legendary marketing prowess. The praise is not undeserved: Disney+ will quickly find its way into tens of millions of homes — that Verizon deal will give it access to an estimated 17 million customers — and it will almost certainly establish itself as an essential streaming service for many families. But it's also easy to see how the narrative surrounding the service could quickly shift: What if Disney+ originals are not that good?
It's not a great sign that the streamer opted against showing critics any episodes of The Mandalorian, the superexpensive Star Wars universe–set action adventure debuting its first two episodes during launch week. Disney+ offered the excuse of not wanting to risk spoilers, but given that recent Star Wars feature films — which boasted far greater spoiler stakes — were screened in advance, that seems a weak rationale.
Similarly, it's worth sounding a note of caution over the fact that one of the biggest suppliers of new programming for Disney+ will be Marvel Studios, which is developing no fewer than eight projects for the streamer. While Marvel has done amazingly well churning out box-office blockbusters, its TV track record has been much more mixed. On the positive tip, Disney's Hulu has liked Marvel-produced Runaways enough to keep it going through three seasons. But the studio's shows for Disney-owned ABC and Freeform have been critical and commercial duds, with the long-running ABC drama Agents of S.H.I.E.L.D. surviving for seven seasons mostly because of corporate synergy. We don't have audience data for Marvel's six Netflix productions, but while a few generated strong buzz at times, none was strong enough for Netflix to keep going beyond three seasons. (In fairness, corporate politics made it tough for Disney and Netflix to remain in business once Disney+ was announced, but had any Marvel show truly been a blockbuster, Netflix probably would've found a way to keep it going.)
None of this means Marvel's Disney+ productions — The Falcon and the Winter Soldier limited series, planned for sometime next year, is the first to begin filming — won't reverse the recent trend and become big hits. It's a potentially encouraging sign that Marvel chief creative officer Kevin Feige and the Marvel film division are producing the new Disney+ project, rather than Marvel's in-flux TV division. (Longtime Marvel TV boss Jeph Loeb left the company last month, according to The Hollywood Reporter.) Similarly, the decision to keep Mandalorian from critics doesn't mean it'll be a disaster.
But even assuming the worst-case scenario — that Disney+ originals look better on paper than on the screen — it might not matter much for the streamer's bottom line. Disney+ is not a prestige play like HBO Max or even Apple TV+. Execs aren't counting on accolades from critics or awards from their industry peers to get people to smash that subscribe button. A round of bad reviews could slow momentum early on, since a sizable segment of potential subscribers will want to see evidence that Disney+ offers more than just movie and TV reruns. Long term, however, Disney+ cares less about landing on top-ten lists and more about pleasing core fan bases and casual viewers who just want to spend a few hours in galaxies far, far away.
How does Hulu figure into Disney's streaming ambitions?
While Disney+ has clearly been the chief priority this year for Disney, its launch is just the opening battle in the Mouse House's plan to fight the streaming wars on multiple fronts. The company took full operational control of Hulu earlier this year, and it's made it clear that it considers the combination of Hulu and Disney+ to be its true answer to Netflix and other big streaming rivals. It's even marketing a bundle of the two for $12.99, throwing in ESPN+ for free. (Side note: ESPN+ isn't the digital version of ESPN, but rather a more limited offering focused on expanded coverage of sports such as tennis and boxing.) "What we said when we decided to launch ESPN+ and Disney+ is that rather than creating one gigantic fat bundle of sports, general entertainment programming and family programming, we thought we'd serve the consumer better by segregating all three," Disney CEO Bob Iger told analysts and shareholders during the company's first-quarter earnings call back in February.
The company hasn't hinted at any changes to ESPN+ (or of making the main ESPN available outside of cable), but with the wraps being taken off Disney+ this week, there are signs that Disney is now shifting its focus to bulking up Hulu. During another earnings call last week, Iger announced the creation of FX on Hulu, a new initiative to better integrate the Disney-owned basic-cable network with its digital sibling. Four shows originally targeted for FX (Devs, Mrs. America, A Teacher, and The Old Man) will now become Hulu exclusives, though they'll still be branded as FX originals. FX chief John Landgraf and his team will also start developing shows specifically for Hulu. Starting next year, Hulu will get next-day reruns of FX shows, much the same way ABC, NBC, and Fox prime-time shows live on Hulu after their broadcast premieres. And Hulu's library of classic TV is being expanded with the addition of past seasons of a couple dozen current and retired FX series (some of which were quietly added to the Hulu roster months ago).
FX isn't the only Disney-owned company being enlisted to help make Hulu an even bigger player than it already is in the streaming space. Iger last week also said that Disney's adult-oriented film label Fox Searchlight would start to develop features for the streamer, potentially providing Hulu with the same sort of buzzy awards-season movies that regularly appear on Netflix and Amazon. Right now, Fox Searchlight movies end up on HBO (and soon HBO Max), but the so-called output deal between the two companies appears set to expire around 2022. Disney hasn't said whether it will renew that agreement, but given its decision to kill a similar deal with Netflix for Disney-branded films, it wouldn't be surprising if all Fox Searchlight movies eventually end up on Hulu.
Taken together, the FX and Fox Searchlight moves hint at how Disney plans to make Hulu part of its core streaming offering, and thus in many ways nearly as central to its streaming future as Disney+. The latter may always be the heart of the company's streaming (magic) kingdom, but Hulu can be an equally vital organ: It's how Disney attracts the next Shonda Rhimes or Ryan Murphy, producers who want to win Emmys and Oscars with works that resonate in the culture in ways blockbuster family entertainment doesn't. And as Iger's comments earlier this year suggest, it's also how Disney gets more money from consumers. If you want the full Walt Disney Company film and TV experience — something more akin to a Netflix subscription — you'll need to sign up for both Disney+ and Hulu.
What's the future of Disney's old-school broadcast and cable entertainment networks?
Last week's Hulu announcement made it clear that Iger values the creative spark that Landgraf and his FX team bring to the Disney kingdom. But left unsaid was how the decision to turn some high-profile FX originals into streaming exclusives reflects the growing realization that Disney's cable and broadcast networks are far less important than they were even five years ago. All the money FX spent to develop and make the buzzy Cate Blanchett miniseries Mrs. America will instead be used to get folks to sign up for Hulu. You don't do that if you think FX's best days as a cable network are ahead of it.
Fact is, Disney is jumping into streaming so aggressively because it knows the era of automatic revenue increases from cable subscription fees is over. Consumers are continuing to cut the cord, so Iger and the CEOs of the other major entertainment conglomerates are trying to balance the need to shift to the future of TV distribution (selling services such as Disney+ directly to viewers) with the billions in revenue they still earn from your cable bill. This means funding linear networks just enough to keep cable companies (and advertisers) happy while shifting more talent and resources over to streaming.
In addition to FX, Disney has several major linear networks with cloudy outlooks over the next decade. Most at risk short term is probably Freeform, whose target audience of tweens and young adults (remember "becomers"?) was the first to ditch traditional TV for that cord-free life, assuming they ever even had a cable subscription. The network this year canceled three big shows (Shadowhunters, Pretty Little Liars: The Perfectionists, and Marvel's Cloak and Dagger), and while there are new shows on the horizon (a much-hyped reboot of the Fox network's '90s hit Party of Five debuts in January), the network's originals slate is a shadow of its former self. Though there's no need for Disney to consider shuttering Freeform anytime soon, it's doubtful the channel will continue to invest as much as it had been in expensive originals. The same goes for Disney Channel, which now seems somewhat redundant in the age of Disney+. There's a reason the latest chapter in the High School Musical franchise is being made for Disney+, not the cable channel.
Then there's ABC, which is used to playing second fiddle to other Disney TV properties. Monday Night Football, for example, was a huge ratings and revenue driver for the Alphabet for decades until Iger decided to shift it to ESPN in 2006. And ABC execs can only dream of the programming and marketing budgets now in place at Disney+. But the combination of Disney+ and Hulu might actually be a good thing for ABC. As Iger noted last week in a call with investors, the streaming platforms will offer a way for Disney to spread out the costs of its linear shows (and movies) over platforms it controls: Rather than sell reruns of a show such as Grey's Anatomy to Netflix, Disney can put the show on its own streamers and reap all the upside.
Case in point: Last week's Little Mermaid Live special will soon head to Disney+, where it can be used to help attract new subscribers. Industry insiders say the special was not at all cheap to produce, but Disney+ is chipping in several million dollars for the streaming rights, making it more affordable to ABC. Iger has hinted at other changes coming to ABC, last week telling shareholders that viewers are "likely to see more sports on ABC as the value of live [content] grows." He didn't offer any details of what that might mean, but with ESPN's deal for Monday Night Football up in 2021, there's already been speculation that the franchise could return to ABC in some form. That Iger would even hint at such a move likely means Disney isn't ready to give up on linear TV just quite yet.