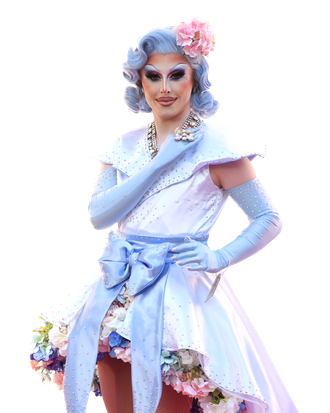 Photo: Karwai Tang/WireImage
Blu Hydrangea didn't make the biggest impression in the first episode of RuPaul's Drag Race U.K. (No tea, no shade.) After she sent home Scaredy Kat in the second episode lip sync, it seemed entirely possible that she wouldn't be leaving too long after. But then a switch seemed to flip, and Blu Hydrangea transformed into a new drag queen in front of our eyes. The new Blu was loud, effervescent, and shady as hell, a perfect narrator and a queen who actually dabbled in the sabotage game. In other words, a classic Drag Race character.
Not to mention she gave us the horny Mary Berry performance we never knew we needed in Snatch Game, walked the runway with her face painted like an eyeball, and earned a RuPeter badge for shouting a fantastic verse in her cut of "Break Up (Bye Bye)" with the Frock Destroyers. So when the pride of Northern Ireland was finally sent home after lip syncing against Cheryl Hole to a Girls Aloud song (a fate I would wish on nobody), we just had to catch up with a queen who'll be missed for the rest of the season.
How was the elimination for you?
It wasn't too bad. I watched the episode with Crystal and Cheryl, and they're very supportive. I'm happy with how it all went. If I had to go out, at least it wasn't on a complete fail.
I thought it was very close, and it was also my favorite episode of the season so far. So I think it was a high note to go out on.
I think so too. Yeah, I'm proud of that.
It feels like there was this big shift from you being one of the shyer queens to being very outspoken and shady. What happened?
You have all the confidence in the world until you meet your competitors and you realize how talented and incredible they all are. And then you put yourself aside and you have to wonder if you are up to par. By the third episode, I felt a bit more comfortable with the challenge, so I was able to let loose a little bit. And from then on, it was downhill from there, really! [Laughs.] The shade started coming out, Mary Berry was there, the Frock Destroyers, I mean just absolute mayhem.
Along with this shadiness that kind of bubbled up over time, one of the things I liked about watching you is that you weren't afraid to stir the pot.
The people at the BBC actually told me that too. Like, "Who's gonna stir all the drama now?" But yeah, I just enjoyed doing it. And I mean, it is just a TV show. It's not life or death — we're there to have fun. We're there to be entertaining, and I was happy enough just saying whatever came to mind, whether it's shady or not. Why the fuck not?
Are there any reads that you didn't get to use on the other girls in front of the camera that you've been sitting on since?
Not really. I mean, they all know how shitty they are, so I don't really want to add to their sadness about how ugly they all look. I probably said it all to their faces.
So tell me more about horny Mary Berry, please. It was so unexpected. Where did this idea even come from?
Over here, we have videos of her online saying soggy bottoms and all this. And I'd always thought Mary Berry would be funny. I mean, I did go overboard, and I hope that I never have to meet Mary Berry or look her in the eye, 'cause I don't think I'd be able to. But I had fun doing it and I was pretty proud of it, 'cause it was not in my range to do that kind of stuff.
But that's what the show's about.
Yeah, exactly. I definitely didn't think that I'd be charting with a song.
That's exciting as well, and also seemed to be out of your comfort zone at the time.
Totally, but at the end I had two really good mentors beside me, Baga and Divina, particularly Divina. And I got my first win, my only win, but I'm very proud of that. And if you had told me that I was going to be in the top 10 of the charts in the UK, I would've probably laughed at you. But now I am. It's really funny, it's really hilarious.
Where do you keep your RuPeter badge now?
I brought it to a few shows, I'm starting to get a little bit of pressure to wear it. I might put it on the mantlepiece or somewhere, because I want people to see it when they walk in. [Laughs.]
One of the most powerful moments of the whole season for me was when you were talking about how Northern Ireland didn't have marriage equality yet. But then, by the time the episode aired, the law had just passed, so it felt like this really amazing moment. What was that day like for you?
It was insane because, watching yourself back in a time where it didn't look like it was going to happen, it was a lot more of a bleak time. I'm just glad that I got the chance to even open the conversation up. I know that it might have been slightly out of date by the time that it aired, but I still feel like it was just as important.
The actual day was amazing. I spent it in one of the local bars — we only have two gay bars, it was one of the two. We had a countdown, like Christmas Eve, and it was like a massive celebration. And now my partner and me can get married.