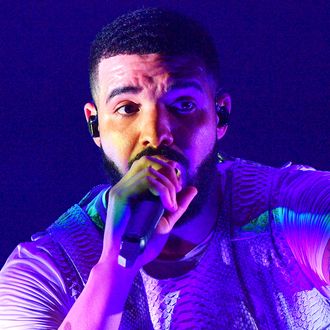 Tough crowd.
Photo: PRINCE WILLIAMS /WireImage
Things took a turn for the petty (and not Mrs. Petty, or the OG Petty) at this year's Camp Flog Gnaw, when fans, expecting a much-hyped arrival of a VIP to close out the weekend's festivities, were instead greeted on the stage by … Drake, a noted famous person with a lot of awards and a new cannabis line. That surprise seems pretty cool (!) to Vulture, but alas, the crowd wasn't as forgiving — they proceeded to turn against Drizzy with boos and jeers, which, as NME notes, was because it was heavily rumored that Frank Ocean would be the secret headliner. "Look. It's been love. I love y'all. I go by the name of Drake, thank you for having me," the rapper told the crowd when the choruses of hate wouldn't cease, and he left the stage before finishing his set. Cringe and watch it all unfold below, if so inclined. But remember: He's not scared by the boos, because he knows most of the attendees aren't ghosts.
Update, November 11, 1 p.m.: Tyler is just trying his best, okay? "I THOUGHT BRINGING ONE OF THE BIGGEST ARTIST ON THE FUCKING PLANET TO A MUSIC FESTIVAL WAS FIRE!" he tweeted the day after the show. "BUT FLIPSIDE, A LIL TONE DEAF KNOWING THE SPECIFIC CROWD IT DREW. SOME CREATED A NARRATIVE IN THEIR HEAD AND ACTED OUT LIKE ASSHOLES WHEN IT DIDNT COME TRUE AND I DONT FUCK WITH THAT." In another tweet, he added, "MOSTLY EVERYONE WAS HAVING A GREAT TIME, THOSE SHITS IN THE FRONT AREA WERE THE ONES BEING MAD RUDE, WHICH, I CAN SEE WHY, BUT, NAH, FUCK THAT, YALL REPRESENTED ME AND FLOG TO MY GUEST AND MADE US LOOK SOOO ENTITLED AND TRASH."
Can't we just let Tyler enjoy himself? Just look at him dancing at Drake's set! "I LOVE THAT SONG AND THOUGHT THAT WOULD NEVER HAPPEN," he also tweeted. "IM FUCKING PISSED HOTLINE BLING WAS NEXT THATS MY FUCKING SHIT IM GONNA PLAY THAT IN THE SHOWER RIGHT NOW." Hope you enjoy it, Tyler.
Update: On Monday night, Drake posted on social media to announce his upcoming decade-long residency at Camp Flog Gnaw. He's probably joking, but was it all worth the risk? Spite has driven people to do crazier things.