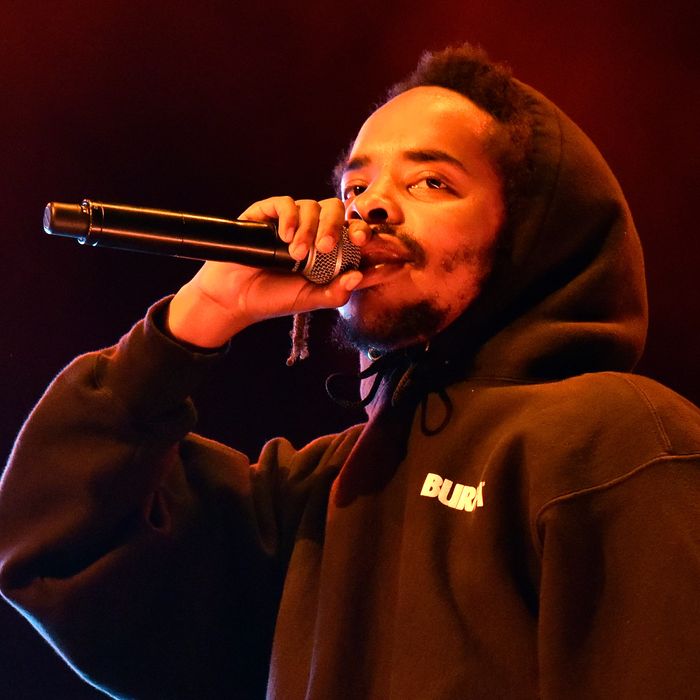 Feet of Clay
tells more of the story of Earl Sweatshirt shaking the fog of loss and sadness detailed last year with
Some Rap Songs
.
Photo: Tim Mosenfelder/Getty Images
You have to see an album played live sometimes for it to really click. I listened to Earl Sweatshirt's Some Rap Songs a zillion times last fall and loved the record (and the opportunity to speak to the man himself about it), but watching him play it at Irving Plaza in the early spring leg of his Fire It Up! Tour this year elevated it from one man's great idea to a communal experience. You could see Earl, eyes closed, reciting enigmatic passages to his flock, like a druid. You could hear fans yelling back every word. You could watch excited underground rap figures spilling out from backstage, cheesing in excitement at the spectacle in front of them. Maybe it was the bro's elite edible kicking in. But maybe Fire It Up! showed off the growing power of a generation of underground rappers blending trap, traditional boom bap, sample wizardry, and abstract poetry into their own new deal, a little bit ComplexCon and a little bit Anticon.
Equally striking about the Earl show was the surplus of new and unreleased material he performed. Those songs make last week's surprise EP seem less surprising. Feet of Clay is a step further into the wilds Earl has walked in his Tan Cressida years, where the question of what a rap song does or doesn't need to do has been answered in a stream of ever shorter and stranger observations on mental health and politics. If you hated SRS — and why would you? — go back inside. If you thought I Don't Like Shit, I Don't Go Outside was too peaceful, and the borderline cheerful moments on SRS surprised you, get in here. "74" starts things off bleakly: "Selling kids culture with death circling like carrion / The more the merrier, phone got you living vicarious / Ice melting 'cause it's so hot / The veil lifts, the pain salient."
Feet of Clay's title references the dream of the Babylonian king Nebuchadnezzar, told in the Bible's Book of Daniel. The king envisions a giant statue made of precious metals, with a golden head, a silver chest and arms, a bronze stomach and thighs, and calves made of iron. The feet are assembled using a mix of iron and potter's clay, material weak enough to cause the statue to come crashing down at the first sign of stress. Your movement's only as sturdy as the foundation on which it rests. Feet of Clay tells more of the story of Earl Sweatshirt shaking the fog of loss and sadness detailed last year with SRS. "East" laments self-medicating with alcohol ("My canteen was full of the poison I need / The trip as long as steep") over a beat that feels like an intense case of the spins. "OD" mourns the fallen: "My family business anguished, now I need atonement / I set the goals, half my wings is broken / I spread the other for my brodie OD."
Friends lift Feet of Clay's spirits. Alchemist's sage chop of an old Mtume intro eases the loneliness of "Mtomb." North Carolina newcomer Mavi delivers a guest verse on "El Toro Combo Meal" that's so stellar Earl comes on and keeps it (relatively) light, shouting out the late Ras G and naming off favorite Detroit Pistons of the past while the clock runs out. On the closer "4N," Newark mystic Mach-Hommy returns the favor extended on projects like last summer's Wap Konn Jòj! — whose disorienting, psychedelic "Mittrom" featured Earl — with a lilting hook and a verse juggling pop-culture references and proclamations of doom, in keeping with the spirit of the record. Feet of Clay is Earl and his favorite collaborators spitballing ideas over scenes of disarray. "We posted up live from burning Rome," he says in the short interview from the EP's Apple Music editor notes. If it's an inferno we're descending into, at least we picked the right Dante.