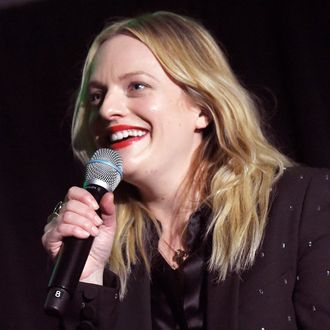 Just picture this woman in a cozy holiday sweater.
Photo: Vivien Killilea/Getty Images for New York Magazine
Some days you want to make a complicated, unnerving movie about rock music and addition, some days you just want to curl up and watch a love story about a high-profile executive whose cold heart is softened when she's sent to close down a local mall but ends up falling in love with the mall's Santa. During Vulture Festival's Anatomy of a Performance with Elisabeth Moss, the Her Smell star mentioned a not-so-guilty pleasure: she has the Hallmark movies app downloaded on her phone. "[I downloaded the app] for Christmas last year because I needed a way to watch Hallmark Christmas movies," she said. "I needed a way to access all my Christmas movies because I love Hallmark Christmas movies and I watch as many of them as possible." Moss is a romantic comedy stan, a Nancy Meyers-Nora Ephron devotee, and said her dream would be to be in a big Southampton home caught up in some pristine love triangle. "I'm into it, I want to do it. People who write should definitely write one for me," she said. "I actually would love to do a Hallmark Christmas movie!"
So what would an Elisabeth Moss Hallmark movie look like? "I'd be a shop-owner, and there'd be a Christmas tree farmer, you know, I'd hate him at first," she said. But then, perhaps more realistically, given her penchant for the dramatic: "In my Hallmark movie I'd probably end up loosing the baby somewhere," Moss laughed. "There'd be a lot of mascara, and then I'd stab someone." Okay by us!