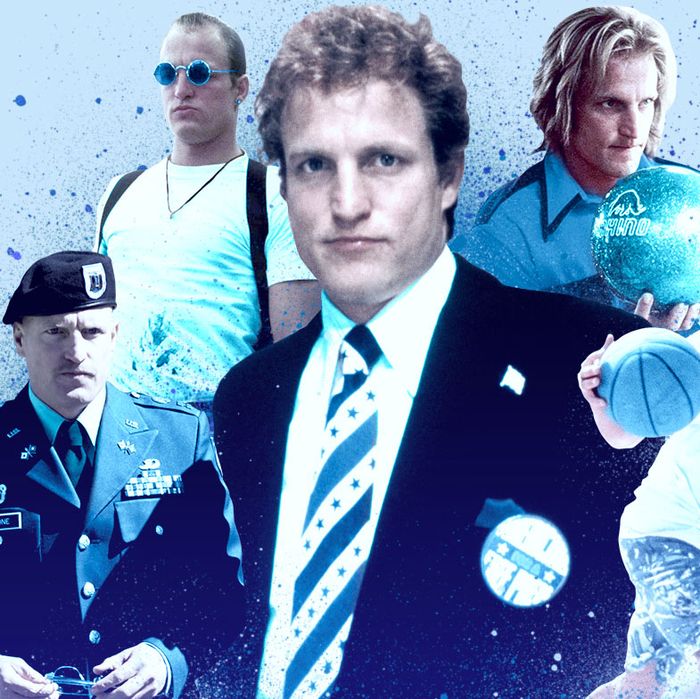 Photo-Illustration: Vulture
This story was originally published in 2018 and has been updated to include Harrelson's most recent work.
In an alternate (and much worse) universe, Woody Harrelson is one of the forgotten ones, like, say, Marc Price, the actor who played Mallory's dim-witted boyfriend Nick on Family Ties. Harrelson scored the role of a lifetime as the replacement for Coach on Cheers, a show that was already hugely popular and just getting started. It meant instant stardom for Harrelson, and he could have, on a succession of increasingly lame television shows, spent the next 30 years playing wacky dolts who never understand anybody's jokes.
But from the beginning, Harrelson was ambitious and quixotic. After the mainstream success of White Men Can't Jump and Indecent Proposal, he took on the impossible role of Mickey in Natural Born Killers. You could never pin him down after that: In comedies, dramas, lighthearted romps, and deeply dark thrillers, Harrelson is always doing something a little bit different than what anyone could have reasonably expected him to. The last few years have been a renaissance for the man, who's scored major roles in LBJ, The Glass Castle, War for the Planet of the Apes, Wilson, Solo and this last weekend's Midway. And, don't forget, he also landed an Oscar nomination for his work in Three Billboards Outside Ebbing, Missouri.
In the spirit of that stellar run, we've ranked Harrelson's 50-plus movie roles, from worst to best. Of note: We omitted bit parts (sorry Austin Powers: The Spy Who Shagged Me), animated flicks, and TV movies, which is a shame: He's terrific in Game Change. And we lament that we missed his livestreamed movie Lost in London. But we can't wait to see how he'll surprise us next.
54. Surfer, Dude (2008)
Before the McConaissance, Matthew McConaughey was just a guy who smoked a lot of weed, played some naked bongos, and had a career midlife crisis. The apex of that stage was this stoner comedy, which he produces and stars in — though it rather obviously is just an excuse for McConaughey to hang out with his friends, namely Willie Nelson and Harrelson. Harrelson plays McConaughey's manager in the film, but he's really just showing up, smoking some weed, and acting like an idiot like everybody else. It is still pretty mind-blowing that this movie exists.
53. Scorched (2003)
Released in six theaters, two years after it was filmed, for only three days, Scorched is one of those movies everyone involved (including John Cleese, Alicia Silverstone, and Rachael Leigh Cook) forgets they were even in by the time it's released. Harrelson is one of a gaggle of dumb bank tellers who all decide to rob their bank on the same day, separately, and he's wearing a silly mustache and an ugly tie and appears to be only vaguely aware of what is going on.
52. Anger Management (2003)
Harrelson can play broad comedy as well as anyone, but it's always with a warm-hearted spirit: You always sense he loves the characters he plays. Which is why it's probably safe to blame Adam Sandler and company for the ugliness of his walk-on performance here as a "she-male" picked up by Jack Nicholson to seduce Sandler, who of course is cartoonishly disgusted. We know Harrelson was just playing along here, but … yikes.
51. The Cowboy Way (1994)
Part of the post–White Men Can't Jump "just put Harrelson with a dissimilar actor and call it a buddy comedy" period, The Cowboy Way might be the worst of them, with Harrelson and Kiefer Sutherland as a couple of New Mexico rodeo stars who travel to New York City to solve the murder of one of their best friends. The movie's approach to comedy is perhaps best illustrated by the poster, which features Harrelson and Sutherland on horseback in the middle of traffic in New York City, looking befuddled. A fish-out-of-water premise as hackneyed as this probably wouldn't have worked even with the best execution, but this movie is barely even trying.
50. After the Sunset (2004)
Another of Harrelson's "I'll take this role so I can hang out in a tropical location for a couple of months" excursions — this time it's the Bahamas — this empty, dumb Brett Ratner "action comedy" is one of those special movies that seems to vanish from the brain while you are watching it. There isn't a single actor in this movie (Pierce Brosnan, Salma Hayek, Don Cheadle, Harrelson) who didn't play a more interesting version of their character both before and after this film.
49. The Grand (2007)
The Grand is a Christopher Guest movie that's been kicked in the head by a mule a couple of times, an entirely improvised comedy about the World Series of Poker tournament back when half of the movies being made seemed to be about professional poker. Harrelson, wearing another silly wig, plays a poker player who has been married 75 times, if you're wondering how seriously this movie takes its proceedings. Again, Harrelson is a funny actor, but it sort of looks like improv is just not his thing. There's an odd cameo by Werner Herzog, back when such cameos were a lot rarer than they are now.
48. Seven Pounds (2008)
Hey, you try playing an angelic, vegetarian, blind telemarketer in a movie drowning in gooey sentiment. Harrelson's role in Seven Pounds is a change of pace for him — Ezra is a straight-arrow sap whom Will Smith's character decides to help, and so the actor mostly has to project uncomplicated goodness. But, well, you've seen the film.
47. Play It to the Bone (1999)
Of all Ron Shelton's sports comedies (Bull Durham, Tin Cup, White Men Can't Jump), this is definitely the dullest. Part of the problem is that Shelton doesn't seem to care as much about the film's central sport (boxing) as he did about basketball, golf, and baseball, and it shows. Harrelson is a boxer vying with another boxer (Antonio Banderas) for the heart of a woman (Lolita Davidovich), but the metaphors about love and baseball, or love and golf, or love and basketball, just can't hang tightly enough with love and boxing. And considering how many great movies have been made about boxing, this is a big problem. Harrelson's in terrific shape here, though.
46. Sleepwalking (2008)
It's too easy to say that Harrelson's role in this forgotten American indie drama is one he could have sleepwalked through. But as Randall, a construction-worker buddy of Sleepwalking's sensitive, directionless hero James (Nick Stahl), he's mostly just coasting on backslapping charm and a stoner's sensibility. The film asks little of him, although he does provide a certain amount of authority to the line reading: "You have any idea where I can buy about two acres' worth of weed?"
45. Ed TV (1999)
This Ron Howard comedy was a direct reaction to the reality-television trend that was beginning to take over television, and it somehow squanders the charm of both McConaughey and Harrelson, who would reunite much more successfully on True Detective. The movie's not quite as bad as its reputation — it was a massive flop when released — but the mix of satire, broad comedy, and "social commentary" is not in Howard's strike zone, and ultimately, both McConaughey and Harrelson feel a little straitjacketed. Ellen DeGeneres is fun in it, though.
44. Defendor (2010)
Amidst the glut of superhero movies, Defendor was a necessary corrective measure: a wry indie about Arthur, an ordinary guy who decides to turn himself into a Batman-like vigilante, clumsily named Defendor, who believes he's out to stop a mysterious nemesis he calls Captain Industry. Suffice it to say, Arthur has severe psychological problems brought on by family trauma, and Defendor imagines what would happen if Bruce Wayne didn't have millions of dollars and was, instead, just a tormented regular schlub. The premise is a lot better than the execution, though, despite Harrelson's ability to bring out the sweetness and decency in a deluded fool who can only communicate with the world through his love of graphic novels.
43. Merritt McKinney in the Now You See Me movies (2013, 2016)
Like many established character actors in the 21st century, Harrelson was savvy enough to hitch his wagon to some franchises. The Now You See Me series is easily the goofiest: He plays Merritt McKinney, who's part of a team of magician thieves that feel very "Ocean's Eleven populated by a bunch of Scott Caans." Merritt is a hypnotist and psychic, which requires Harrelson to say a decent amount of his dialogue while holding out one of his hands — he's channeling the psychic waves, man — and rocking a shit-eating grin. These movies are Harrelson's way of kicking back and having a little fun, resulting in the sort of dopey mainstream entertainments you won't feel too bad killing a lazy Sunday watching on TNT.
42. Money Train (1995)
An attempt to re-create the Wesley Snipes–Woody Harrelson chemistry in an action-comedy about two desperate transit cops who decide to rob a subway car full of cash, Money Train is mostly noteworthy for four things. One: Harrelson's balding mullet, which he has the good sense to hide under a beret for most of the movie. Two: Bob Dole called for a boycott of the movie after a man tried to re-create one of the crimes from the film, in which a subway employee is set on fire in his booth. Three: Jennifer Lopez is in it. Four: Robert Blake is in it. And he's very creepy!
41. Wilson (2017)
On paper, this seemed like a slam dunk: Harrelson playing Daniel Clowes's titular grump who discovers he has a teenage daughter. But Wilson has little of the inspired caustic glee of Ghost World, and the actor doesn't help the cause by delivering an oddly one-note performance. His Wilson is a variation of every other middle-aged misanthrope that's haunted American independent cinema this century, and even worse, he's just not very funny.
40. Indecent Proposal (1993)
A month before Cheers signed off, Harrelson announced his intentions to shed the Woody Boyd persona in this decent Adrian Lyne drama about a loving but financially strapped couple (Harrelson and Demi Moore) who encounter an enigmatic, super-rich businessman (Robert Redford) with a proposition: I'll give you a million bucks if you let me spend a night with your wife. This was Harrelson's first fully dramatic big-screen performance, and he acquits himself pretty well, giving his character just the right amount of jealousy and shame once they decide to take the tycoon up on his offer. In later years, Harrelson would often drift into a comfy persona as an off-kilter goofball, but in Indecent Proposal, he's still playing regular, relatable guys. It's a good look on him.
39. Management (2009)
Harrelson rarely gets to be the romantic-comedy lead: He's usually, as he is here, the boyfriend the hero is trying to get the girl away from. He plays a sweetheart version of that character as a cheesy bro-hipster, who man-child Steve Zahn pries away from a not-particularly-inspired-by-the-proceedings Jennifer Aniston. For what it's worth, we think she was better off with Harrelson, though the movie isn't so sure.
38. She Hate Me (2004)
When Spike Lee needed someone to play the perfect white-collar asshole in his scattershot satire She Hate Me, he chose Harrelson. He's mighty convincing as the slimy, pompous Wall Street executive Leland Powell, who helps blackball the movie's put-upon main character, Jack (Anthony Mackie). Projecting false confidence around his underlings or speaking in racist code during a conference call, Leland is eminently punchable. She Hate Me gives Harrelson a tiny role, but he makes this jerk resonate: You could totally see him hanging out with the Wolf of Wall Street guys.
37. Friends With Benefits (2011)
There's immediate pleasure in watching Harrelson, once again, playing someone who's good at basketball. But in many ways Friends With Benefits is no White Men Can't Jump (or even Semi-Pro) — including in the depth of the character he's portraying. In this forgettable romantic comedy, he's Tommy, the gay best bud to Justin Timberlake's ineffectual Dylan. Friends With Benefits tries to be somewhat knowing in its deconstruction of rom-com clichés — here, it's the guy with the outspoken gay friend offering dating advice — and Harrelson does what he can with the role's strained irreverence.
36. Midway (2019)
Roland Emmerich's oh-so-earnest World War II drama salutes the brave Americans who helped defeat the Japanese at the Battle of Midway. Harrelson plays Admiral Chester Nimitz, who was assigned the unenviable task of overseeing the operation, which many of his fellow officers thought was unwinnable. Nimitz was a real person, but Midway doesn't do much to bring him alive. (Harrelson copies the man's hairdo expertly, so that's something.) But this movie is all about bland clenched-jaw heroism, which gives Woody very little runway to build a compelling figure. Emmerich could have just as easily hired wax figures.
35. LBJ (2017)
Because his go-to mode is kicked back and relaxed, Harrelson isn't someone critics associate with having a lot of ambitious or bravura performances. But this not-half-bad biopic of Lyndon Baines Johnson is where the actor brings an intensity and focus that's almost unparalleled in his career. And he has a bead on the fascinating and complicated Texas senator who dreamed of ascending to the White House, only to reluctantly agree to become John F. Kennedy's vice-president after losing the nomination himself. In LBJ, we see a brusque, stubborn politician who always felt slighted by the cliquish, snobbish Kennedys — a nagging wound that would only grow when he was sworn in as president after Kennedy's assassination. Harrelson brings bluster and bruised pride to the role, but whether it's the overdone makeup or director Rob Reiner's TV-movie treatment of the material, this potentially riveting character study always plays it too safe.
34. 2012 (2009)
This is a big, dumb, sort of awesome end-of-days disaster movie that feels at times like Roland Emmerich's masterwork: With all that he's blown up in his career, this one, at last, allows him to film the actual end of the world. Harrelson has a small but impressively loony role as a crazed hermit who claims to anyone who will listen that the end of days is here. No one pays him any attention until it's too late, and Harrelson maximizes the comedic potential of his final flameout of a scene.
33. The Prize Winner of Defiance, Ohio (2005)
Because of the All-American basicness of his looks, Harrelson is a perfect candidate to portray defeated, emotionally distant patriarchs. See, for example, writer-director Jane Anderson's adaptation of the Terry Ryan memoir, in which he plays Kelly, the alcoholic husband of the saintly Evelyn (Julianne Moore). The Prize Winner's nostalgic, slightly generic look at the conformity of 1950s society makes it feel like a pale echo of Moore's better movies in the same vein. (No truth to the rumor that they were tempted to call it Even Farther From Heaven.) But Harrelson capably channels his character's impotence, unable to suppress his shame that his wife is becoming the breadwinner by writing catchy jingles. He makes failure seem almost touching.
32. L.A. Story (1991)
A one-scene role, but it's a funny scene. Harrelson plays the boss of Steve Martin's disaffected Los Angeles television weatherman, who's so contemptuous of his job that he doesn't worry about prerecording his forecasts — after all, the weather never changes in L.A., right? Sure enough, one day it rains and Harrelson (who was sailing because he thought it was going to be sunny) is pissed, firing him on the spot. This was still the stage of his career when viewers would think, "Hey, isn't that the Cheers guy?" Movies like L.A. Story would pave the way for a more prominent film career.
31. Doc Hollywood (1991)
If it's the early 1990s and you were looking for an actor who could play a hick hothead, you could do a lot worse than casting the doofus from Cheers. In Doc Hollywood, Harrelson is knowingly dense as Hank, the rival for the affections of small-town beauty Lou (Julie Warner), who has an interest in the big-city doctor (Michael J. Fox) who's just arrived. "I credit Michael J. Fox because he wanted me for that part," Harrelson later recalled, "and that was my first break in the movies." Even on Cheers, it was clear that he was much smarter than the sweet dummy he played, and his effortless charisma translated to the big screen.
30. A Prairie Home Companion (2006)
It's a shame that Harrelson only hooked up with director Robert Altman once: Their laid-back, irreverent demeanors seem perfectly matched. At least we got Harrelson in A Prairie Home Companion, in which he and John C. Reilly play the radio show's beloved cowboy duo Dusty and Lefty. This isn't a large role, but it's one of the actor's most charming — despite, or especially because of, the wince-inducing bad jokes the cowboys bounce off each other during their cheery musical number.
29. Wildcats (1986)
Harrelson's first movie role came while he had just started on Cheers, and he plays another affably dumb yokel in this formulaic football comedy with Goldie Hawn as a high-school coach. The main takeaways from this movie are the scenes Harrelson shares with future White Men Can't Jump co-star Wesley Snipes. He's definitely convincing wearing a helmet.
28. A Scanner Darkly (2006)
Don't do drugs, kids. Richard Linklater's trippy animated adaptation of the Philip K. Dick novel is awash in paranoia, so it's appropriate that Harrelson plays the ultimate whacked-out slacker Ernie. Looking like a live-action version of Scooby-Doo's bud Shaggy, Harrelson amps up the stoned silliness, but there's always an edge to the character as well — which is perfectly in keeping with a movie that consistently keeps a foot in thriller terrain. Because of his public persona as the de facto hemp ambassador, one couldn't say that A Scanner Darkly is much of a stretch for him. But if you're going to play into the media's image of you, doing so in a Linklater/Dick film is a pretty great way to fully embrace it.
27. Semi Pro (2008)
Harrelson quietly steals this mostly standard Will Ferrell comedy that always feels like it should be a little bit more transcendentally silly than it is. Harrelson's aging point guard at the end of his career is sort of a Crash Davis character, and you find yourself wishing the movie would spend more time with him than with Ferrell's Jackie Moon character. Ferrell can be a dominating presence who can sometimes, even unintentionally, elbow out more compelling story lines and actors. The movie isn't terrible, but that's what happens here.
26. Welcome to Sarajevo (1997)
Based on a true story, this Michael Winterbottom drama follows an English war correspondent (Stephen Dillane) who's embedded in Sarajevo in the early 1990s. Harrelson plays Jimmy Flynn, a U.S. reporter, and the actor seems to relish getting to serve as the token brash American in this British production. Cocky, opinionated, and flippant, Jimmy might as well be every foreigner's idea of what those impertinent cowboy Americans are like. It's less a performance than an attitude, but Harrelson radiates snarky confidence, suggesting a journalist who's learned to hide his feelings behind bravado so he doesn't get affected by the traumas he sees around him.
25. Shock and Awe (2018)
…speaking of movies in which he plays journalists, Harrelson hooked up again with his LBJ director, Rob Reiner, for this so-so salute to the Knight Ridder reporters who fought diligently to unmask the Bush administration's lies about WMDs in Iraq. Based on actual events, Shock and Awe is a by-the-numbers thriller, but Harrelson is quite good as Jonathan Landay, who gets to blow up at incompetent government cronies and express the movie's themes through expository dialogue. Slightly thankless and on-the-nose work? Oh sure, but Harrelson's rascally charm compensates immensely.
24. North Country (2005)
Because Harrelson often plays lawbreakers, rebels, and oddballs, it's striking to see him as the pillar of moral strength in North Country. He's Bill White, the lawyer who takes on the case of Charlize Theron's sexually harassed Josey Aimes, and there's just the right amount of righteous indignation in the performance. Director Niki Caro delivered a message movie with a minimum of award-season grandstanding, and Harrelson fits right into that tone, making Bill just a regular guy who happens to be good at his job in a commendably understated way.
23. Battle in Seattle (2007)
This Medium Cool–esque look at the WTO protest in Seattle has way too many characters, but Harrelson shines as a cop whose pregnant wife (Charlize Theron) ends up accidentally entangled in a protest and beaten by police. Harrelson is forced back to work and is destroyed by the experience, and becomes destructive in response. The movie needs fewer characters and story lines; it might have been better off just focusing on him.
22. Triple 9 (2016)
An underrated thriller that's a lot of fun B-movie nastiness, Triple 9 gives Harrelson a plum supporting part as a cocky Atlanta detective who looks after his street-smart nephew cop (Casey Affleck). One of Harrelson's great talents is playing credible authority figures who act like they don't give a shit, and in Triple 9 he's all blustery, blasé surface, eventually revealing a deep well of integrity and commitment underneath. Still, this is the sort of movie that allows him to ham it up gloriously: Who else but Harrelson could sagely advise, "Be careful what you InstaGoogleTweetFace"?
21. Palmetto (1998)
This overheated, overcooked, over-the-top, and entirely overzealous film noir is ludicrously entertaining, and Harrelson's disgraced reporter who can never quite comprehend what's going on around him is right in the middle of it. Palmetto is like a Carl Hiaasen novel with most of the wit replaced by full-on sleaze, and while that's not a trade you necessarily want to make, it's not half-bad. Harrelson's constant state of befuddlement is a treat from start to finish.
20. Solo: A Star Wars Story (2018)
This is a Harrelson we have seen before, and quite recently: the smart, wily, charming rogue who knows all the sides and is always looking out for himself … but still ultimately means well, even if it costs him. If his Beckett sounds a lot like Han Solo himself, albeit with a different ending, that's probably not a coincidence, and Harrelson is sturdy and capable in the role, if not particularly exciting. He doesn't pop the way others in the cast do, but he's not necessarily supposed to. You can argue about why Solo wasn't a hit at the box office, but Harrelson does his job here, no more, no less.
19. Three Billboards Outside Ebbing, Missouri (2017)
Harrelson reunites with his Seven Psychopaths writer-director Martin McDonagh for this Frances McDormand vehicle: She plays a grieving mother who wants justice for her raped and murdered daughter, and he's the police chief she blames for the killer remaining unidentified. His performance is one of hidden depths, setting us up to believe he's just a lazy cop but then slowly exposing new dimensions within him. Three Billboards continues Harrelson's recent streak of strong dramatic work that suggests he may only now be coming into his prime.
18. Transsiberian (2008)
Harrelson's characters usually flaunt their edginess, which is why it was surprising to see how well he could play the uptight Roy in this Brad Anderson thriller about an American couple (Harrelson and Emily Mortimer) looking to spice up their flailing marriage by going on the Trans-Siberian Railway. Inevitably, they get more than they bargained for after meeting up with a more adventurous pair (Eduardo Noriega and Kate Mara) that befriends them. Wearing just the right pair of nerdy glasses and delivering a muted performance, Harrelson is a believable everyman thrust into a harrowing situation — the anxious yin to the gregarious yang of his usual roles.
17. Out of the Furnace (2013)
For a lot of other actors, Harlan DeGroat would be a crowning achievement. But for Harrelson, this Out of the Furnace nemesis is just another of his superb psychopaths — a white-trash drug dealer and all-around bad hombre who energizes this otherwise subpar blue-collar thriller. What makes Harlan so frightening is the moral vacuum at the center of the character. He's not the villain because of some dark childhood trauma or complicated relationship with the film's other characters. He's just utterly rotten, relishing his ability to inflict his will on those around him — especially in this grimly compelling scene:
16. Seven Psychopaths (2012)
Speaking of psychopaths, Harrelson's turn in writer-director Martin McDonagh's so-so follow-up to In Bruges capitalizes on the actor's steely stillness. He's Charlie Costello, an L.A. gangster who's very attached to his cherished shih tzu — a dog whose kidnapping will set the wheels in motion for this black comedy/thriller. Like a lot of Seven Psychopaths' characters, Charlie is pitched at a level of knowing absurdity — we're supposed to recognize he's a movie construction, a Tarantino parody — but Harrelson plays him so real that we're still absorbed by his casual evilness. Charlie is funny, but what makes him so frightening is that he's never aware of that fact.
15. The Hi-Lo Country (1998)
Harrelson has played a lot of cowboys — Hollywood requires anyone from Texas to do it all the time — but this is one of his subtler, more fully realized performances. In this Stephen Frears drama, Harrelson is laconic but dangerous, a lone-wolf cowboy whose venality and his quiet charisma go hand in hand. The movie is a little too self-serious, but Harrelson cuts through all that. This was back when everyone was trying to make co-star Billy Crudup a movie star, but Harrelson is the one who truly registers.
14. Haymitch Abernathy in the Hunger Games movies (2012, 2013, 2014, 2015)
Josh Hutcherson once described his Hunger Games co-star like this: "He had this ability to kinda just be in his own [world] … But then, all of a sudden, he says, like, some genius, really eloquent thing. And you're like, 'Oh, so you are there.'" This, of course, is the eternal appeal of Woody, Zen goofball charmer, and it's used to good effect in these sci-fi dystopian blockbusters as he provides wise (and wise-ass) counsel to Jennifer Lawrence's Katniss. The Hunger Games movies always suffered from a bit of self-seriousness, but Harrelson's presence helped humanize them a little. He takes his role seriously as Haymitch Abernathy — a character whose name practically dares you not to take it seriously — but there's a sense of playfulness within this mentor character that makes it clear that Harrelson is still there inside the role.
13. Wag the Dog (1997)
Harrelson has a knack for making the most out of not much — particularly in Wag the Dog, in which he plays a demented rapist who's propped up as a military hero as part of the main characters' plan to construct a fake war to distract from the president's sexual dalliances. This requires Harrelson to mostly act scary and drugged-up, and he's a total hoot, very much in keeping with a freewheeling satire sporting a serious message at its core. This was one of the last times he'd be carted out to do a glorified cameo like this; by the late 1990s, it was no longer a surprise to audiences that Harrelson could be this unhinged of a comic dynamo.
12. The Glass Castle (2017)
This adaptation of the Jeannette Walls memoir suffers from dysfunctional-family-drama familiarity. But you can't fault Harrelson, who's terrific as Rex Wallis, a drunk with big dreams that never quite worked out. Both fearsome and disarmingly tender, Harrelson embodies all that's towering and unknowable about our fathers when we're young kids. But what makes the performance so exceptional is its unpredictability, how Rex can veer between loving and cruel without much warning, as if he himself can't control his own impulses. Cinema is full of Complicated Bad Dads, but this is one of the better versions of recent years, and Harrelson strips away the bluster of his younger years for a character who, deep down, probably knows how pathetic he is.
11. Zombieland, Zombieland: Double Tap (2009, 2019)
This horror comedy is a little overrated — it runs out of steam pretty quickly after Bill Murray's infamous appearance, and it's not nearly as clever as it thinks it is — but it is impeccably cast: How many zombie movies get Emma Stone, Jesse Eisenberg, and Harrelson as their leads? Harrelson is appropriately formidable while still understanding the goofiness of the premise; in many ways, it's a mix of the intimidating and silly roles that have made up his career. And seriously: Bill Fucking Murray!
10. The Thin Red Line (1998)
In the culture's memory, Harrelson's role in Terrence Malick's World War II drama can be reduced to the meme-worthy line "I blew my butt off!" That's understandable, considering how many major actors had such minor roles in The Thin Red Line — and that's to say nothing of the stars cut out completely — but it doesn't give enough credit to how good Harrelson is in a short amount of screen time as a seasoned soldier who makes a terrible mistake with his grenade and dies in the process. This is one crushing death scene, in part because the cause of his death was so grimly foolish, and the actor milks it for every drop of pathos.
9. Rampart (2012)
Punishing and uncompromising, Rampart looks at a dirty Los Angeles cop, Dave Brown, in the midst of a department-wide scandal. This is classic dark-character-study terrain, and Harrelson leans in to the guy's every rotten tendency: He's not an incompetent policeman but, rather, one who has decided that he needs to be more aggressive than the law allows if he wants to clean up the streets. The movie suffers from its suffocating insistence on how awful Dave is, however, and that monochromatic approach hinders the actor's performance a bit, too. Harrelson is shaved-head scary as this bitter, racist cop, but it's all so one-note that, eventually, the effect loses some of its potency. Still, this is hypnotizing work in a flawed film that's hard to shake off.
8. The Edge of Seventeen (2017)
A lot of disillusioned teenagers would kill to have a teacher like Mr. Bruner. In The Edge of Seventeen, Harrelson plays him as a surly, tough-love mentor to Hailee Steinfeld's Nadine, understanding implicitly that what the young woman needs is a supportive sparring partner — someone who understands how bright she is but also how scared she is about growing up. Harrelson doesn't do warm and cuddly, and he doesn't here, either — and, yet, this is one of his warmest and most endearing film roles.
7. War for the Planet of the Apes (2017)
Harrelson goes full Kurtz in this third installment of the Planet of the Apes prequels, which pays lengthy homage to Apocalypse Now. Playing "The Colonel," the leader of a human resistance who seems to have lost his mind along the way, Harrelson is meant to represent the swaggering, desperate energy of a species that often resorts to its worst tendencies in an emergency. The Colonel is an intentionally larger-than-life nemesis for Caesar (Andy Serkis), raising the stakes for this man-versus-monkey showdown, and Harrelson gives a fully confident performance that still carries some of the off-kilter strangeness that has marked a career in which he was more comfortable zigging when everyone else in Hollywood zagged.
6. White Men Can't Jump (1992)
Harrelson, thanks to Cheers, had plenty of amiable-doofus credentials, but one of the many pleasures of White Men Can't Jump is watching him play a charming, intelligent con man who, not for nothing, is actually pretty cool. He and Snipes have an unforced chemistry that can't be faked — and, strangely, was never used again; these two should have been the 1990s' Crosby and Hope — and the movie has the irresistible trash-talking banter that turns a game of pickup basketball into something resembling a romantic screwball comedy. We're not sure about the fashion of this movie, but the film still holds up today. Who knew Woody Boyd was such a fast-talker?
5. No Country for Old Men (2007)
Because so much of this Best Picture winner is focused on the exploits of Anton Chigurh, the characters he's hunting, and the lawmen trying to stop him, it can be easy to overlook how superbly drawn even the smaller roles are. Take Carson Wells, a bounty hunter recruited to stop Chigurh: In most movies, he's just a bit player, but as depicted by Harrelson, he's got his own tiny but devastating little emotional arc. When we first meet Carson, he's a smug son of a bitch selling his employer on his efficiency and confidence. But when Carson finally comes in contact with Chigurh — and he knows he only has minutes to live — the actor brings a surprising tenderness to his death scene, as all that cockiness just melts off his face. In that moment, Harrelson reveals what's underneath the surface of a guy who's been able to bluff his way through life and, only now, is finally coming face-to-face with a menace he can't bullshit.
4. The Messenger (2009)
"I'm in the middle of a pretty good run now," Harrelson said in the fall of 2009. "The good offers are coming my way again. I've been pretty happy with most of the parts, and that hasn't always been the case." The Messenger is the high-water mark of this period, earning him his second Oscar nomination as a recovering alcoholic Army man with a terrible job: He visits the families of soldiers killed in the Iraq War to deliver the bad news. Too often, Harrelson has had to struggle to enliven underwritten characters with his own quirky persona. That doesn't happen here: His Captain Tony Stone is a richly conceived man of principle who is determined to do this impossible assignment with dignity and grace. The movie is endlessly moving as we watch him confront the grief-stricken faces he encounters, having to remain stoic while they fall apart. The Messenger is one of the most overlooked great movies about the Iraq War, and Harrelson's performance stings in a way few of his roles have.
3. Natural Born Killers (1994)
The movie that forever changed how we thought of Harrelson, Natural Born Killers remains a divisive knuckle-buster, commenting on violence, media oversaturation, and our obsession with serial killers with fever-dream, button-pushing intensity. Central to the movie's sick allure is Harrelson's portrayal of supreme scumbag Mickey Knox, who alongside his gal Mallory (Juliette Lewis), leaves a swath of death and destruction in his path. Gone was the idea of the actor as the sweet dope from Cheers or the hustling baller of White Men Can't Jump. Mickey is a fully formed creation — an unsettling original of pure murderous id — that seemed to unleash the darkest, most primal parts of Harrelson. Natural Born Killers is shocking in hundreds of ways, but Harrelson's confident shredding of his nice-guy image was among the movie's most glorious provocations. Few actors could sell the line "At birth, I was cast into a flaming pit of scum." Harrelson makes you believe it.
2. Kingpin (1996)
Your mileage may vary, but for our money, this is one of the most riotous, cheerfully tasteless, sloppily hilarious movies of the '90s, an insane sports movie involving prosthetic limbs, the Amish, bowling, comb-overs, and Randy Quaid right before he went insane. Harrelson is the straight man here — as "straight" as anyone who is briefly costumed like this can be — but his bowling sad sack, who is so down on his luck that his name, Munson, becomes a synonym for loser, is the heart here, providing some legitimate pathos, or at least as much pathos as any movie that features Harrelson milking cows with his mouth can possibly provide. This movie cracks us up just thinking about it.
1. The People vs. Larry Flynt (1996)
To prepare for the role that would earn him his first Oscar nomination, Woody Harrelson spent time with Larry Flynt, the Hustler magnate who tested the limits of First Amendment freedoms. "He's one of my good buddies now," Harrelson said this summer. "If I hadn't liked him, I wouldn't have played the part because when I was growing up in Texas and Ohio, he was very much what you would call vilified in the media. I don't like the whole pornography thing, but I went and met him up at his offices over on Wilshire Boulevard, and I really liked him. A more candid fellow you will not meet." The People vs. Larry Flynt doesn't hide its rooting interest in the title's courtroom showdown, and it's Harrelson's performance that helps sell us on Flynt's irrepressible desire to provoke. In the film, Flynt is a blowhard, a patriot, and a pain in the ass, but because Harrelson likes the guy, we find our way to liking him as well. It's a perfect marriage of two proudly idiosyncratic Americans, and because it's Harrelson playing him, that also meant this biopic would have a sufficient amount of humor and snotty irreverence. Often in his career, Harrelson sought out the oddballs, but here, he found one worthy of investing all his has energies and passions in. He doesn't convince you that Flynt was a saint, but he makes an awfully strong case that he's the sort of unapologetic, deeply problematic hero that our country has a tendency to churn out.
Grierson & Leitch write about the movies regularly and host a podcast on film. Follow them on Twitter or visit their site.