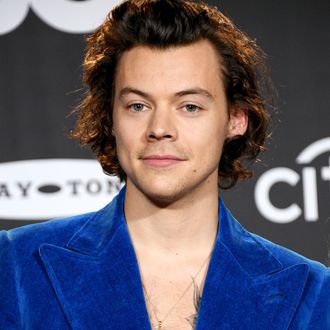 Photo: Dia Dipasupil/FilmMagic
Prepare for liftoff because Harry Styles has finally announced the name, release date, and cover for his sophomore solo album, launching fans straight into orbit. According to his very succinct tweet, Fine Line will be released on December 13, hopefully with more photos like the cover art, in which Styles is flirty in fish-eye. Based on the trajectory of his hips in the photo, we'll be floating past the moon for decades to come. Space is our home now. Fine Line arrives two years after Styles's self-titled debut solo album. The first single, "Lights Up," and its music video are already here for your planet-orbiting pleasure.
Other questions regarding the upcoming album: Whose hand is in that black glove? We don't remember participating in the shoot! Will he debut another single while pulling double duty on Saturday Night Live on November 16? And when will the website DoYouKnowWhoYouAre.com come into play? Styles has been cryptically tweeting a link to it before announcements. When you arrive on the site, it generates a note using your name. As of the album announcement, the note reads, "You are a fine line. TPWK. Love, H." TPWK is Styles's longtime motto, "Treat people with kindness." The rest? A riddle we'll have to wait until December 13 to solve.