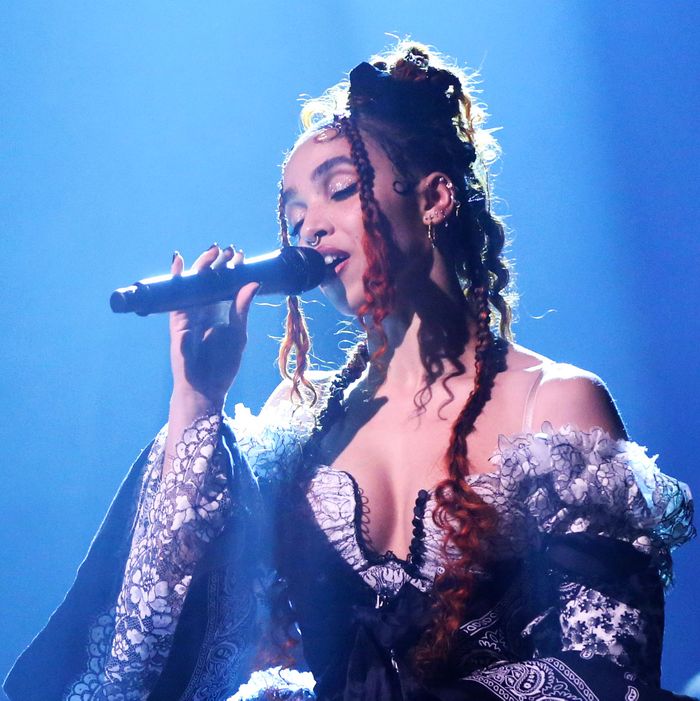 Magdalene
is an effortless braiding of high-brow electronic art-pop, carnal soul music, and lurid modern dance.
Photo: NBC/NBCU Photo Bank via Getty Images
Mary Magdalene is the New Testament's most enigmatic figure. The gospel of Luke introduces her as a woman who, cured of possession by seven demons, would go on to help finance the disciples' ministries. Matthew places her at the scene of the crucifixion, and Mark has her in the party that discovers the open tomb three days later. John says she later encounters a newly risen Jesus, who sends her to deliver the news of his resurrection to the disciples. That's a crucial role, but little else is said of it in the book, where women are encouraged to be cheerful assistants, celebrated for courage and faithfulness but always in the shadow of a man. (Speculation about Mary's life runs hot; early church brass dismissed her as a prostitute, but perceptions softened considerably. Rooney Mara starred in a Magdalene biopic last year.)
As a woman who landed in paparazzi sights in this decade not for her own elegant, eccentric work in dance and electronic music, but for relationships with the actors Robert Pattinson and Shia LaBeouf, FKA Twigs relates to the plight of long-suffering women in history. Her new album, Magdalene, invokes Mary of Magdala as a kind of apostle of the overlooked. It's a breakup album, written in a period of upheaval not only limited to the artist's romantic life. Twigs's health declined rapidly after her 2017 split with Pattinson; tests revealed uterine fibroid growths the size of apples and kiwis that necessitated emergency surgery, an experience detailed in a deathly ramble in the new album's "Home With You": "Apples, cherries, pain / Breathe in, breathe out, pain." It's a song about strength, though. Stern words in the verses about leaving imbalanced relationships are the key. "I've never seen a hero like me in a sci-fi," Twigs sings in the pre-chorus.
Magdalene is an effortless braiding of high-brow electronic art-pop, carnal soul music, and lurid modern dance, because Twigs goes the extra mile in her work as a singer, producer, and performer mixing and matching mediums to meet her tastes. The album's downcast closer, "Cellophane" — where the singer tries to reconcile a craving for intimacy with the sense that privacy isn't really possible anymore — sports a video where Twigs performs a breathtaking, contorting pole-dance routine, ascends to the sky, and comes crashing back down to earth, like Icarus. She's undergone rigorous training in Chinese martial arts for a sword fight in the upcoming clip for "Sad Day." The attention to form in her videos is mirrored in the music. Twigs productions are intricate and beautiful but also hard, like castles. She moves through their halls with regal grace, prideful eccentricity, and forthright sensuality, a little bit Kate Bush and a little bit Sade.
The album's best songs bridge these moods. "Home With You" is a shape-shifting piano ballad punctuated intermittently by jarring industrial sound that, in its last chorus, ascends to the skies on a groundswell of strings and woodwind instruments. (Imagine SOPHIE crash-landing in the middle of Lana Del Rey's Norman Fucking Rockwell! for effect.) "Mary Magdalene" is a stately siren song that bubbles up through an eddying sea of noise. It's high-concept electronic music that's never too heady to dance to or too stern to be fun. "Daybed" is a song about masturbating to pass the time in a depressive rut. In "Holy Terrain," Twigs trades verses with Future and very nearly upstages trap's sad, horny king at his own game: "I'm blue when the moon hits my skin right / Hot pink when you open up my sweet thighs." The album's only guest feature is a suitable kindred spirit for this era of FKA Twigs. As Future did with downcast breakup records like Monster and Beast Mode, as Beyoncé did when life handed her lemons, Magdalene burns long-simmering hurt for fuel, and drives the artist to new creative heights.
*A version of this article appears in the November 25, 2019, issue of New York Magazine. Subscribe Now!