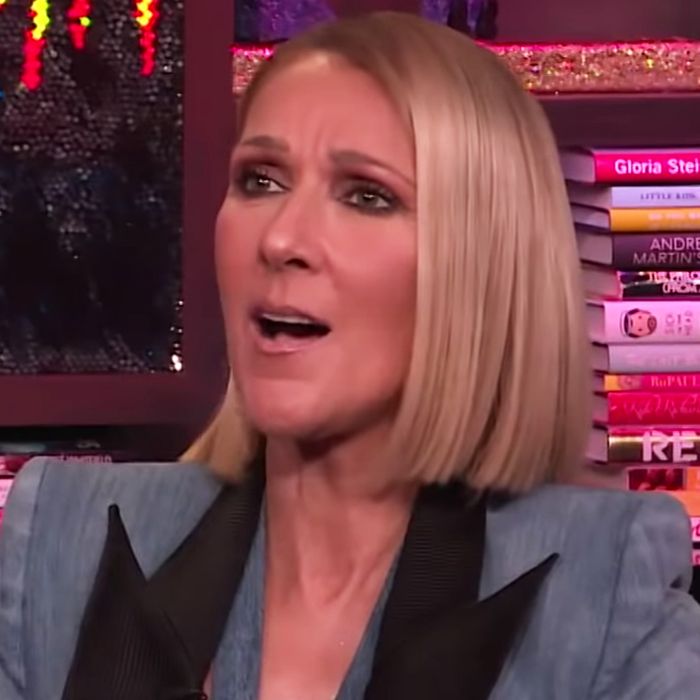 Celine Dion on
Watch What Happens Live.
Photo: YouTube
Despite rollicking impeachment testimony from Gordon Sondland and Marie Yovanovitch, the celebrity guests stole the show on late night this week. Seth Meyers joined Jimmy Fallon on The Tonight Show, Dax Shepherd plugged Frozen 2 because he gets 50 percent of the profits under California law, and Gronk really gronked out with James Corden. Let's look at who brought the most manic, pre-Thanksgiving-break zeal to late night this week.
5. David Byrne's Chaotic Flip-Flop Energy
We need to start this week's list with something that wasn't good so much as profoundly disturbing. Nothing from this week has stayed with me in the same way as David Byrne biking onto The Tonight Show in flip-flops. Flip-flops! His toes were in such danger. It was a big week for dude-toe fans, as Stephen Colbert also rocked flip-flops on his trip to New Zealand. If both those boys aren't on WikiFeet now, there is no justice.
4. Helena Bonham Carter Doesn't Hold Back
Speaking of Colbert, he's known for providing beverages to his guests. Apparently the only thing in his fake desk is a fully stocked bar. Colbert gave Helena Bonham Carter tea this week, and then demanded she spill the tea on former co-stars. One would argue what she does is more reading than spilling tea, as she just lays into everyone rather than share goss. Except Daniel Radcliffe; he carried stuff for her on set like a lil' Ganymede, so he can stay. Colin Firth, on the other hand? Never shuts up.
3. Samantha Bee Covers the Impeachment
You know who did spill the tea, though? Gordon Sumner a.k.a. Sting Sondland. Full Frontal's coverage of Sondland's testimony took the cake because (1) the Full Frontal staff read his lips and pointed out how Gordo muttered it was "bullshit" he had to stay for another hour of testimony. Who schedules a flight on the day they're testifying before the House? And (2) Samantha Bee told him to fuck off at the end. Multiple hosts joked this week that Sondland was now the Democratic front-runner, but Bee accurately pegged him as an opportunist and a cad.
2. Nicole Byer and Conan O'Brien Talk Weird Dick
Nicole Byer's dating woes are the stuff of legend (and podcasts). But Conan O'Brien found out that some of her hardships are self-inflicted. Byer leaked the fact that she keeps a spreadsheet about the dongs she's encountered, which will now be at the forefront of dudes' minds when they consider dating her. What clinches this clip a spot in the top five, however, is Byer's pantomime of updating a Google Sheet while mounting a guy named Tim who bends to one side.
1. Nobody Knows Celine Dion Like Celine Dion
Celine Dion's entire Watch What Happens Live appearance is god-tier. There's something incredible about watching Andy Cohen try to corral the loquacious and often off-topic Dion on live TV. Dion judged three drag queens who served looks inspired by her most important looks. Milk's backward tux won, but Phi Phi O'Hara was given special commendation for her heart thump during the runway portion. Anyone doing a Celine impression for their Girl Scout troop in a minivan in 1998 Indiana knows the heart thump is the soul of the character. Magnifique, Phi Phi!