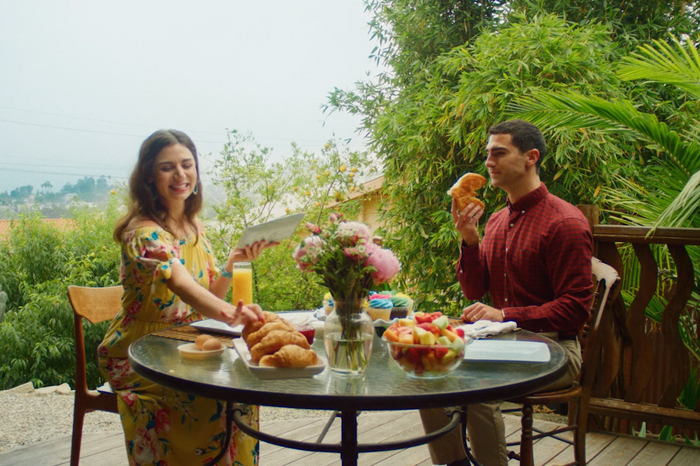 "Brunch!"
Photo: John Purcell/Vimeo
If anything unites our five picks for Funny Videos of the Month, it's that they all get at the very core of human existence and undoubtedly make up the most important viewing you've done since last month's column was posted. They're all about the banality of daily life in one way or another: Analyzing it, making fun of it, and most importantly, fighting back against it with everything we've got, even if we know resistance is futile. And what better idea to kick off the holidays than that?
Demi, by Mollie Merkel
It's very difficult to stay married to someone who eats Twizzlers for breakfast, and so Demi (Mollie Merkel) leaves her man-child husband, Robert (Ben Seeder), and heads to San Diego, where she quickly strikes up a romance with Rite Aid H.R. North America exec Margaret Konstantinov (Blair Beeken). Directed and edited by Nick Ehart, Demi is a subtle, hilarious endorsement for sudden love as much as it's a human look at the sorrow in courageousness. It also features an electric chemistry between Merkel and Beeken, and lines from Seeder like, "I talked to my dad. He said the check should be here by Friday, so I'm definitely going to get that Tesla this weekend."
Fucking Japanese, by SJ Son and Woody Fu
Imagine if your parents played your grandparents in a sketch where you were simulating oral sex. That's the situation director-writer-producer-stars SJ Son and Woody Fu find themselves in over the course of Fucking Japanese. Son's actual mother and Fu's actual father (playing Son's Korean grandparents) emerge from the closet — figments of Son's imaginaton — to scold her for having sex with a Japanese man when his ancestors were mortal enemies of the Korean people. Quickly heightening with each appearance of another one of Son's family members and the anti-Japanese songs they sing, this short is wonderfully awkward, both onscreen and — thanks to Son and Fu's respective parents — in reality.
Brunch, by John Purcell
Megan Kingsbury invites Tobin Mitnick over for a stylish brunch. He smiles out into the early afternoon, eyes dead, as she squeezes through French doors with a plate of pastries she promptly drops on the ground. She holds onto the plate and places it on their shared table, as if nothing happened. In classic John Purcell style, what follows is the kind of stilted dialogue that would make Yorgos Lanthimos smile and an absurdist deadpan that climbs past a sequence where our leads say "right back at you" for 20 seconds in an edited loop and climaxes when Tobin struggles to make it down a flight of three small stairs upon his adieu. This. Is. Art.
Parallel Lives, by Sheila Carrasco and Eliot Schwartz
Picture this: You've just been released from a four-hour stint in jail and your best friend in the whole world has given you a ride back to the neighborhood. Oh, and the best part is: There's a perfect parking spot right out in front of your final destination. Sounds like any old Tuesday, right? Well, what if your friend is the worst parallel parker in the world? You get out and help her, but you know this is only the beginning. Once again, Sheila Carrasco and Eliot Schwartz prove their dynamism as a duo boldly unafraid of silliness.
Telling People You're Native American When You're Not Native Is a Lot Like Telling a Bear You're a Bear When You're Not a Bear, by Joey Clift
In celebration of Native American Heritage Month, we bring you Joey Clift's warning about faking your background for convenience, style, accolades, or comfort. Narrated by Jason Grasl, this simple, faux-instructional animation covers important ground with a humorist's specificity and visuals you'll want to turn into GIFs.
Luke Kelly-Clyne is president at Big Breakfast and a watcher of many web videos. Send him yours @LKellyClyne.