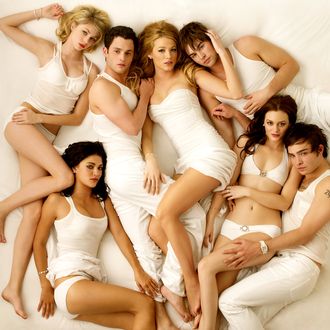 Photo: Andrew Eccles/New York Magazine
When Gossip Girl creators Josh Schwartz and Stephanie Savage first approached Joshua Safran — who wrote for and executive-produced the original show — about bringing the show back, he wasn't interested. It was a road he'd already traveled. But after turning them down, he actually had an idea for what the new show could be, and when he presented it to his old partners they agreed. "I came back to them and they were like, 'Yes, that is the show,'" Safran told a crowd at Vulture Festival on Sunday afternoon. They then pitched the idea to Warner Bros. TV and got a series commitment. But what is the idea Savage and Schwartz were so onboard with? He didn't say specifically (no spoilers, after all), but he did tell the audience that he felt compelled to revisit the Upper East Side because high school is just so different now. It's a whole new world from when he was writing about prep-school elites back in the aughts.
The way teens lives are affected by social media has changed wildly, and he says he's even getting insights from the step-daughter of a dear friend, who is feeding him intel on how the world works inside of a top-tier Manhattan private school these days. But one thing Safran will say about his Gossip Girl "update" is that it will do more to accurately reflect the demographic realities of New York teens. "There was not a lot of representation the first time around on the show," he says of the iconic series. "I was the only gay writer I think the entire time I was there. Even when I went to private school in New York in the '90s, the school didn't necessarily reflect what was on Gossip Girl. So, this time around the leads are nonwhite. There's a lot of queer content on this show. It is very much dealing with the way the world looks now, where wealth and privilege come from, and how you handle that. The thing I can't say is there is a twist, and that all relates to the twist." A twist? We can't wait for the voice of Kristen Bell to tell us all about it through sly metaphors dripping with innuendo and subtext.
Safran also confirmed that the reboot will take place in the same universe as the original and the students will attend the famed Constance Billard School for Girls. "It is 12 years, I guess 13 years after the original. So we are in realtime from the original where we are in the show.