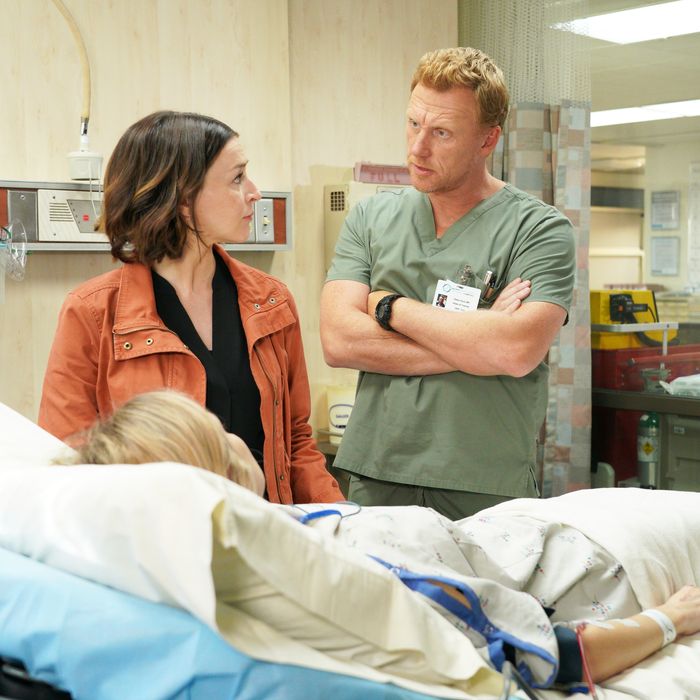 Owen, nothing if not consistent, is a raging dick about Amelia's news.
Photo: Byron Cohen/ABC
Come on, Maggie Pierce! You have to know that the minute you start bragging about how you're the best surgeon there is and no one else should do this surgery and you're ignoring patients' wishes for a different doctor, that something is going to go wrong. It's medical TV drama 101. And the something that goes wrong is worse than you could imagine, because the patient Maggie bulldozes into surgery with her is a woman named Sabi, and she is Richard Webber's niece. She is Maggie's cousin. So, um, yikes?
Fun fact! Sabi is played by Crystal McCreary, Kelly McCreary's real life sister, so all the chat about looking eerily alike works on multiple levels! Sabrina has arrived at Grey Sloan with her dad Chris, Richard's younger brother, after years of estrangement. Apparently, there's a lot of bad blood between Richard and his brother and sister. They thought he always acted better than them because he was a surgeon and it was only because of Adele that the family stayed in touch. After Adele died, Richard stopped trying to reach out to them. He did, however, call them after Maggie went on that podcast and spilled the beans about Richard and Ellis's affair. That conversation did not go over well, and his siblings wanted nothing to do with him or Maggie.
It's Maggie who has to explain that, surprise! — Richard was fired and now works at Pac-North. She drives them over and on the way, Chris is very rude but Sabi is nothing but warm and welcoming and even forces her new cousin into a selfie. Maggie is so excited to have a relative who looks like her. They both love crossword puzzles! Sabi immediately hates Jackson! Things are too good to be true! This is Grey's Anatomy — there must be a blood sacrifice!
Once Maggie brings Chris and Sabi to see Richard (Chris hates it, Sabi loves it), we learn why they're really there. Sabi has a tumor on her heart and they need Richard's help. After they get new scans, they see just how bad it is — it's the biggest heart tumor Maggie's ever seen. She wants to operate immediately, but Chris and Sabi stop her. They don't want her to be Sabi's surgeon since they're family and that's not ideal. But Maggie goes on about how she is the best there is and they aren't even really family since they just met, and Sabi's actually really lucky that she came here and has Maggie, Cardio Queen, at her disposal. But Sabi refuses and Richard appeases his brother and niece by telling Maggie to back off. Maggie's so mad! But when Sabi crashes, Richard cuts the bullshit and is like: No, Chris, I know what's best in this situation, you must have Maggie perform this surgery on your daughter! That might come back to bite him.
Alex introduces Maggie to the Pac-North O.R. and she gets to work on her cousin. Meanwhile, in the waiting room, things start out tense between the Webber brothers. Just as they begin to warm up to one another and maybe start healing their relationship, disaster strikes. Because Richard Webber can't have nice things. We know this!
Due to a miscommunication, Maggie realizes that Sabi has a resistance to heparin — the drug that prevents your blood from clotting — much too late. Her blood keeps clotting, which causes a problem with the bypass machine, and after seven minutes without oxygen flowing to Sabi's brain, Alex has to come in and tell Maggie to call it. She's braindead. She's gone. It is devastating! And then, you guessed it, Maggie has to go and tell everyone. What a very fun and cool time for her!
Only, Maggie physically cannot bring herself to do it. She's so beside herself that Alex has to give her that patented Grey's Anatomy go into this supply closet and let it all out and then pull yourself together and go be a professional moment. Which, no matter how many times we see it, always gets me. But, like, especially when it's Evil Spawn recognizing that a human might have some overwhelming emotions to take care of. That really gets me.
When Maggie finally is able to face Richard, Catherine, and Chris, it takes her a moment before she goes into doctor-speak to explain what happened. The worst part is that you can see Richard and Catherine figure it out before Maggie even tells Chris that his daughter is dead. Chris is understandably livid and blames Maggie and Richard for not respecting their wishes as he storms out of the waiting room. Maggie is gutted. Everyone is.
Apparently all of the drama is going down at Pac-North this week! Amelia arrives at the underdog hospital because she is ready to inform Owen that she's pregnant with Link's baby and she thinks telling him this just as his workday has started is a really good choice. When she finds him, she blurts out her news and surprisingly Owen is, like, very chill about it.
That's cute, have you met Owen? Owen receives that news and is immediately a raging dick about it. He's nothing if not consistent.
Just as Amelia lays this news on him, a patient comes in who fell down the stairs and was found by her young son. Amelia volunteers to hang with young Henry, while Owen works on mom Cassidy. It turns out that Cassidy is eight weeks pregnant and after being unable to get an abortion, took an extra-strong dose of an herb meant to end a pregnancy, which caused her to faint. Amelia offers to talk to Owen's patient. Cassidy tells them that she can't afford another child and definitely does not plan to keep this pregnancy. Amelia explains that when Owen goes in for surgery, he could terminate. Only Owen says no, because he wants to focus on the injuries from her fall and then she can make an appointment with an OBGYN. Also because he sucks.
After the surgery, when he finds Amelia and an OB giving Cassidy the abortion pill, he freaks out again! Of course his anger is all about Amelia, but he really treats his patient like garbage and it is ridiculous (he eventually says he will apologize, the least he can do). Finally, Owen and Amelia have it out in a stairwell. He's upset because according to him, the entire reason he and Amelia got divorced was because she didn't want to have kids and Owen was put through hell because of it, and now he finds out she just didn't want kids with him. This is all just so dumb, mostly because literally everyone, including Owen, knows that he and Amelia were TERRIBLE together. And not just for one reason. For all the reasons.
When Owen finally calms down enough to see that he's being, well, very Owen-ish, he finds Amelia in the parking lot and apologizes. Amelia explains that when they were together, she really did not want kids. And now, after everything they went through with Leo and Betty, she finally feels ready to have a child. Anyway, the two of them are very happy to be a part of the same weird giant family entity. Will the series end with all of these people moving to a commune to raise their children together? I wouldn't hate it!
Laughter Is the Best Medicine, Apart From Real Medicine
• Catherine catches Gemma "comforting" Richard in the waiting room and it is very touchy-feely (just hands, people). Richard tries to explain how they are friends, but Catherine wants to make sure it stays that way. When she bumps into Gemma alone (hello, A Different World reunion!), she lets her know that she'd be happy to get her a better paying accountant job with the Fox Foundation. They have lots of openings. None of them are in Seattle, of course, but there are openings. Catherine Fox is marking her territory, people!
• Could someone smack Jackson in the back of the head? He's acting as if Maggie was the one who went on a sabbatical without telling him, dumped him, and then moved on immediately with a firefighter. When she asked if they could talk (neither Catherine nor Richard know they broke up and that's becoming a problem) and he said "I am talking…to someone else," reader, I stood up. THE NERVE.
• Meredith's cargo pants, matching olive green sweatshirt, and newsboy cap outfit was, um, a choice.
• "She thinks it would be like getting cut into by herself." "I had a dream like that once, not good."