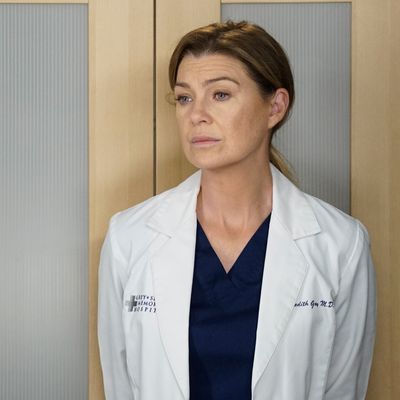 Jo Karev just stole a baby, Amelia Shepherd might be pregnant with Owen's child, and, honestly, just toss me into the Puget Sound and leave me there Meredith Grey–style because I do not have the time for this.
She stole a baby, you guys. Jo takes one shift as a Safe Haven volunteer, goes to pick up a baby left at Station 19 and is supposed to hand her over to a social worker at the hospital, but is too overwhelmed with her feelings about her own mother abandoning her that she steals that baby.
Amelia, A doctor (?), finally goes to get an ultrasound at 20 weeks, only to find out she is 24 weeks pregnant, which means we might be pulled back into the whole Amelia-Owen-Teddy-Link-Tom-AnyoneElseWhoWantsToJoin shenanigans once again. Listen, I am exhausted and those storylines are ridiculous. And yes, hi, I know that it is ridiculous to rag on those storylines but also be very much here for a car crashing through Joe's Bar, which is the way the fall finale ends, but what can I say? A car crashing through the bar and trapping a bunch of our doctors is exciting and cool and maybe some of the extraneous characters hanging around Grey Sloan are going to bite it. The heart wants what the heart wants! I'm into the car crashing through the bar.
We'll have to wait until January (!) for the fallout from that disaster, but in the meantime, there are several storylines in "Let's All Go to The Bar" that do not make me want to hurl myself into a body of water and we should talk about those. Like, we should really talk about Dr. Cormac Hayes (Richard Flood), our new Chief of Pediatrics.
Raise your hand: How many of you knew immediately that the "package" Cristina kept texting Meredith about was the surly, hot, Irish doctor giving Meredith hell on her first day back at Grey Sloan? It just felt like a gift Cristina would bestow upon her person, you know?
Meredith begins her first day back at Grey Sloan by putting her scrubs and ID badge on like a suit of armor. The woman is ready to be a surgeon again! She's definitely being passive-aggressive and also just aggressive whenever she sees DeLuca, who sort of dumped her, in the hall. She's also on a mission to figure out what Cristina sent as a "you didn't lose your license" gift. Eventually, she learns, she has bigger issues to deal with: While she's dealing with Jamie, a teenage patient whose gallbladder she removed a few years ago, who has returned with a mass protruding from her back, she gets interrupted by the brusque Irish doctor who thinks he knows better than everyone. He's a little angry and questions Meredith at every step, so you know they're setting him up as a possible love interest even though we already did the Meredith Love Triangle thing and also, can't they just bring Scott Speedman's character back?
While running tests on Jamie, Cormac thinks the mass is cancer and wants to do a biopsy and inform Jamie's mother. Meredith is like, woah, dude, pump the brakes, let's not alarm anyone with the C-word until we have more information. The mass could be a gallstone that travelled to her back. Of course, Cormac goes behind Meredith's back and talks to Jamie and her mom about it possibly being a tumor, pissing off Meredith. And of course, once they get into an OR, Meredith discovers that it is indeed a gallstone. She was right. Cormac is impressed. Everyone is always impressed with Meredith Grey. I mean, unless she commits insurance fraud and gets a bunch of people fired, but otherwise, yes, people are impressed with Meredith.
Post-op, the doctors are talking to Jamie, and although she's excited to be rid of her lump, she's having teenage-boy problems. It's Cormac, as someone who has raised a few teen boys, who gives her some very adorable advice. You see, on Grey's Anatomy, even the true dark and twisty among us always have some redeeming qualities. And Cormac is definitely dark and twisty. When he and Meredith end up in the elevator together — because of course they end up on the elevator together — Mer calls him out for scaring their patient. He explains that he just always wants to give his patients as much information as they have available — it's something he wishes his wife's doctors had done for him before she died. And just as we are learning that Cormac has a tragic past, Cristina is texting Mer that the package she sent isn't an "it" but a "him." It's McWidow, she says, before she texts multiple four-leaf clovers. Lord how I hope that nickname doesn't stick.
Having a much worse day than Meredith Grey and her Luck O' the Irish Adventure is Miranda Bailey. Oh, Bailey! She starts her day energized, hanging out with Amelia in their little Pregnancy Club, going over vitals and general merriment about being pregnant. She's getting an ultrasound later that day and is thinking about finding out the sex of the baby. Her day starts to get interesting during rounds, when she comes across a familiar patient: Captain Pruitt Herrera from Station 19 (also Station 19). She had previously treated him for lymphoma and now, unfortunately, she is the one who has to inform him that it's back. As she stands there arguing with him about treatment — he doesn't want chemo again, but without it he might only have six months before it gets really bad — Pruitt notices that Bailey's bleeding.
Ben, who's been with Jo "I Steal Babies Now" Karev all day, is already at the hospital when he gets the message that something's wrong. We watch him fearfully run through the hospital. When he reaches the room, Bailey's in bed, Herrera is standing next to her, and Carina is finishing up. Their faces say it all: They lost the baby.
If that isn't sad enough for you, Bailey starts walking to her office. Ben wants to take her home, but all she wants is to change out of her clothes and get back to work. She tells Ben, who is in tears, that she knows this is his loss, too, but she needs space right now. She needs to be alone. Alone in her office, she finally breaks down.
Ben deals with his grief by heading to Joe's Bar, where he sits and drinks with Herrera, who knows there is nothing he can say to comfort his firefighter.
And then a car comes crashing through the bar. Unfortunately, Bailey's day is about to get much, much worse.
The O.R. Board
• Also in Joe's Bar is Jackson, who earlier was caught being cozy with Vic by his very surprised mother. Not only does he have to explain to Catherine that he and Maggie broke up, but he has to deal with his mother's marital issues. She is sure Richard is having an affair with Gemma when she arrives at Pac North and learns that Richard is in his office with the door closed and an intern tells her that he's in there with his wife. In reality, Richard and Gemma are having a much needed AA meeting, but Catherine is already spiraling.
• Speaking of spiraling! Maggie can't shake Sabrina off of her, even as she goes to perform a routine valve replacement on her patient, new father Elliott. She enlists Teddy as backup, but when Elliott's heart doesn't restart and they have to keep him under and on bypass until it does start — which might never happen — Maggie informs Tom that she quits. She can't trust her gut anymore, so she is useless. How very Derek Shepherd of her.
• Teddy finally tells Tom that there is no future for the two of them, that she loves Owen, and Tom needs to give it up. Tom Koracick is no quitter! He wants a life with Teddy and he would marry her tomorrow, which, he reminds her, is something Owen seems to be unwilling to do, since she had their baby and the guy still hasn't mentioned marriage.
• Wait, so is this Dr. Daphne Lopez person who Owen shows around Pac North and has weird chemistry with going to stick around? Are we really adding another human to that insane love pentagon? This is exhausting!
• On the down side, Schmitt is still being called a traitor by all of the residents for turning Meredith in. On the plus side, he and Nico are making out a lot. But back on the down side, they're both in the bar when that car comes sailing through. It's a toss up for ol' Schmitty.
• "Bailey usually has too much sense to hire surgeons whose egos are too big to fit in an OR." Savage Meredith is back, baby.