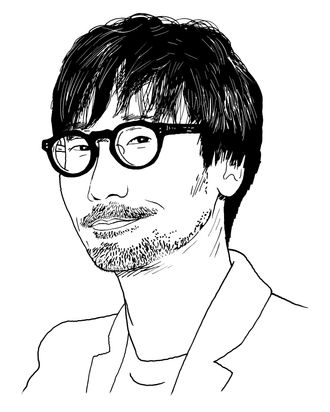 Days before the release of Death Stranding, arguably the biggest video-game event of the year, about 150 friends, stars, colleagues, and Sony execs have gathered at a pop-up gallery in Chelsea to fête the game's creator, Hideo Kojima. Norman Reedus, Death Stranding's lead actor, passes by a wall of 56 black-and-white photos depicting Kojima with celebrities. He dips his hands in black paint and places handprints on a white wall alongside cast members Lindsay Wagner and Tommie Earl Jenkins. Standing near a photo of Robert De Niro and Kojima, Tribeca Enterprise's co-founder Jane Rosenthal recalls how Kojima told her he related to the loneliness of Taxi Driver's Travis Bickle (but not to his violence). She calls Kojima a "master storyteller in a very powerful medium." Reedus calls him a "genius — the freedom, optimism, and energy on the set of Death Stranding even helped me bring something fresh to The Walking Dead." At a table near the bar, Helen Mirren, here because her stepson worked on Death Stranding, marvels as she hears about the game's interactive music.
They are all charmed by Kojima, 56, looking boyish in all black and Harry Potter–style glasses. After taking a moment to address the crowd — thanking everyone for attending, then sharing a story about an Incan Quipo necklace he gave to Wagner, and how it relates to the game — he moves deftly through the space, smiling, laughing, happy to engage with his friends, cast, and colleagues. Kojima is a gifted talker, about everything from movies (at this year's Tribeca Film Festival, he suggested that prospective game developers watch two films daily) to the scientific chirality theories (it would take too long to explain) that underpin the plot of Death Stranding, the multimillion-dollar, digital sci-fi trip through an American apocalypse that represents the biggest risk of his career.
Best known for creating the Metal Gear franchise of action-adventure games that were distinguished by their stealth gameplay and long movie-style sequences, Kojima became one of the industry's highest-profile game designers during his 29-year tenure at the Japanese company Konami; the nearly two dozen Metal Gear titles produced by Kojima have sold more than 50 million copies. The creator, who lives in Tokyo with his wife and children, has been quietly but ardently preaching the gospel of Death Stranding for three years — "I knew what the fans wanted," he tells me. "A big game, up-to-date visuals, something that would surprise even the movie people" — with no small chip on his shoulder following a public falling out with Konami, which culminated in his departure from the company in October 2015 and the removal of his name from the cover of the final Metal Gear game he authored, 2015's The Phantom Pain. The separation led to massive fan anger at the company and saddened Kojima, leaving him to worry that he'd never work again.
The concern was short-lived. He agreed to a partnership with Sony in December of 2015, which included the launch of an independent studio and laying the groundwork for a project that would become Death Stranding. The game is the most significant release for PlayStation this year, a blockbuster auteur-driven narrative offering at a time when Sony's games division has had an unexpected corporate restructuring prior to the launch of the PlayStation 5 game console next year. The stakes are similarly high — if on a different scale — for Kojima, who is eager to establish himself apart from Konami. He and Sony created a marketing plan veiled in mystery; there were mostly only vague teaser trailers — Kojima, a workaholic, edits his own trailers, a task typically farmed out to ad agencies — until select critics received review codes a few weeks ago.
The game's plot unfolds slowly and quizzically, like Twin Peaks, Lost, or The Leftovers. The morning after the pop-up gallery party, Kojima and I returned to the space to talk in the venue's green room, and he discussed the intentionality of that pacing. "I wanted to start very slowly, so that the world looks beautiful, but you kind of feel odd," he says. "There's something broken here." In the game, players convey cargo around America as Reedus's weary, cynical character Sam Porter Bridges, reconnecting cities in a country that has been fractured by supernatural destruction. (As Brian Feldman put it in his Vulture review, the game "features a mailman who hikes across America to reboot the internet.") Sam is accompanied on his journey by a baby encased in a see-through pod that helps him avoid predatory ghosts; suffice it to say, there's limited utility in me sharing any additional narrative details about the game. Just know it's a bit of a slow, satisfying burn.
"I wanted the player to become Sam, but gradually," explains Kojima. "He doesn't know how to control himself at the beginning." That's putting it mildly, since the undertaking is downright Sisyphean. As Sam, players scale jagged mountains, slickened by pouring rain, and fall down backward, damaging the cargo that is key to restoring communication between isolated cities. You do it until you get it right, says Kojima, "like a baby learning to walk." This acclimation occurs against a backdrop that is often eerie, and occasionally outright chilling. The first half hour, much of which takes place in a cave with actor Lea Seydoux's character Fragile, is rife with some of the most effective terror you'll experience in a game — and that includes P.T., a beloved public demo for a Silent Hill installment Kojima was developing with Guillermo Del Toro, which was also to star Reedus. (Konami's unceremonious cancellation of that project contributed to the fraying of Kojima's relationship with the company — he had been eager to do the horror game with Del Toro, who's both a friend and idol.) In Death Stranding, handprints appear out of nowhere. Rain burns your skin like acid. You have to hold your breath or invisible ghosts may ensnare you. Later in the story, nightmarish black tar waves with vicious black and white whales and giant squids pull you into an oily limbo as if you're in a scene from Drag Me To Hell. The game is comprehensively unsettling.
It's interesting to hear, then, that Kojima's intent is for players to find connection and relief through the experience. (The connection aspect has a literal element — you're linked online with players you don't see, who leave you signs, bridges, or ladders to help you on your way.) Generally glowing reviews have praised Death Stranding for reflecting and speaking to a Trump-depressed world that's connected yet sad, which is apt: Kojima traces some of the game's themes back to the abject depression he felt as a latchkey kid. "I felt lonely when I was talking to my friends because they couldn't understand. I wanted to go home … and turn on the lights because I was frightened. I had so many friends at school, but was lonely. I didn't tell anyone. I thought I was sick.
He became the class comedian as a cover, but even as a popular student felt isolated. Then he discovered Taxi Driver. "Travis [Bickle] was the same as me in a way. I'm Japanese; I thought every American guy never even felt solitude. So this was new to me. When I saw Taxi Driver, I was surprised but I empathized. I felt relieved." Kojima wanted to relay that feeling to players. "That's why I added this indirect online connection in the game — so that people will feel it's alright, it's okay. You're relieved that you're not alone. You see other people's footprints and think it's not just me here."
While the intricate twists in the plot are manifold, those that are influenced by his childhood are the most compelling. That tar-ridden ocean and the threatening squid monsters, for instance. Kojima remembers at the age of two "my father pushing me out on the ocean on a boat. It was so frightening. I still go into the ocean, and I dive from time to time, but I get really frightened about these big waves and big ocean animals." His father died when Kojima was 13, leaving his mother with the burden of raising her son as a single parent. He developed such a feeling of protectiveness toward her that when he launched his independent studio post-Konami and began developing Death Stranding, Kojima kept it a secret from her.
"I thought, I'll tell her once I've become a little successful," he says. "I didn't want her to worry." But she died during the game's gestation. "The ghosts in the game — maybe my parents are one of them, seeing me in this world," he adds. "I wanted to have that kind of metaphor, that within you, you're connected to the people that passed away." Kojima admits to regrets about not telling his mother about the game. He appears shaken as he says it.
Though most of the stories within Death Stranding have, as Kojima notes, "happy endings," it's Reedus's heart-wrenching challenges as Sam Porter Bridges that feel most affecting; they explore the steep prices to pay for survival. It's a theme familiar to Kojima, whose enduring career is attributable to his ability to create deeper, more resonant experiences in an ever-changing industry that's currently focused on the quick fixes of mobile games. From Metal Gear to Death Stranding, the DNA of a Kojima game involves confrontations with disquietude and suffering without rendering hope inaccessible. Death Stranding — and the careful, touching way it deals with family, communication, and connections to life and death — is his most fully-realized version of that yet. That's why, four years after he wondered if his departure from Konami would be the end of his career, there are 150 people lined up in the cold outside the gallery, waiting for selfies.
Inside the gallery green room, the conversation quiets after Kojima talks about his mother, so we change topics to Reedus. Kojima discusses working with the actor again, perhaps on a Death Stranding sequel — though if he were to create such a thing, he "would start from zero." During the years of shooting intense motion-capture video in Los Angeles and New York, the two became close friends. Kojima recalls being invited to dinner at Reedus's home. During the meal, Reedus's cat walked into the room, stopped, and puked. Kojima pauses as he thinks back on it, then smiles widely and laughs for the first time that day.
"What a funny cat!"