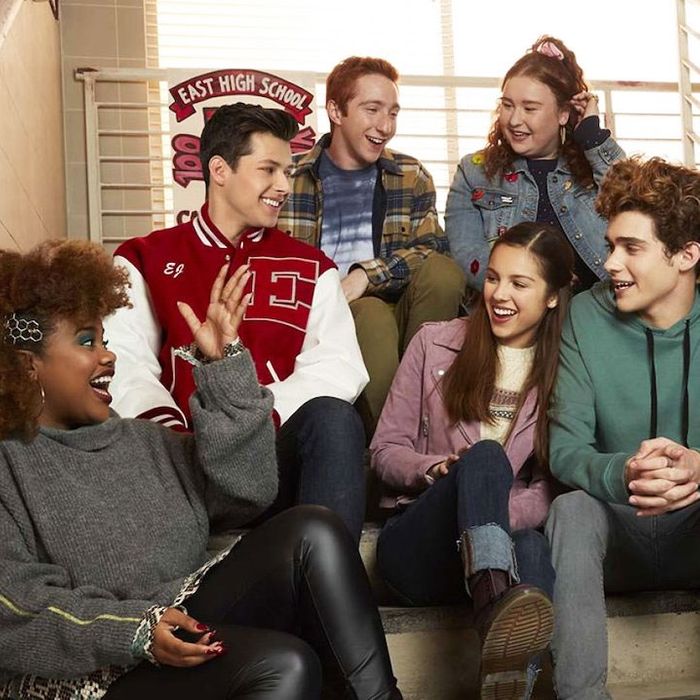 We're all in this "We're All in This Together" together.
Photo: Disney+
In the ever-expanding universe of streaming television, there's one show that has at least stood out from the pack by simply repeating as many words as possible within its own title: Disney+'s High School Musical: The Musical: The Series. In case your brain fizzled out trying to process that title somewhere between colons one and two, this is a mockumentary TV show about a high school that is putting on the stage musical version of the "classic" Zac Efron–Vanessa Hudgens Disney Channel movie High School Musical that happens to be set in a fictional version of East High, the real high school where they shot the High School Musical. You might not think of Disney as the place for Community-style Russian dolls of self-reference, but the whole thing is intentionally built for a winking sense of humor. As creator Tim Federle told Vulture, "I always wanted to have that meta thing, because those are the projects that make me laugh the hardest."
Federle — who wrote the script for the movie Ferdinand, the book for the Tuck Everlasting musical, and a series of YA novels — pitched Disney on his specific meta take on High School Musical after hearing that they were looking to do something new with the series. His idea, essentially: American Vandal, but about a high school doing High School Musical (and since this is Disney, there are no dick jokes), or something close to Waiting for Guffman, but with more anxiety about who will get to play Gabriella on opening night.
"I knew they were open to an irreverent but kind of loving take on the original franchise," Federle said. "Right from the beginning, my pitch was a docu-style exploration of a group of kids putting on a high school musical, so that we could both hear the original songs and reference the school where it's shot, but also sort of create new songs and new characters. To Disney's credit, they kind of gave me a big shot at it." Though, to be fair, they did cut the title down a bit. Originally, as Federle points out, the show was called The Making of High School Musical: The Musical: The Series, "which is even more absurd."
Given the complexity of everything at work, we asked Federle to break down a few key elements of what's going on in the show.
You won't see anyone named Troy or Gabriella, but you will see characters playing them.
The original High School Musical deploys a lot of standard archetypes — the jock who ends up in the musical; the misfit transfer student; the blonde, fabulous, intimidating Sharpay — which the series updates for the Gen-Z era with a different set of students who aren't necessarily one-to-one matches for the characters they play on the show within a show.
For the pseudo-Troy, there's Ricky (Joshua Bassett), who's not a jock but is always watching skate stunts on YouTube, and who finds musicals ridiculous (providing an in, according to Federle, for audience members who agree with him). Over the summer, he and his girlfriend Nini (Olivia Rodrigo) took a Friends-ish pause and aren't quite clear where things stand, especially since she's recently felt the start of something new(™) with the hunky, water-polo player EJ (Matt Cornett), who's also in contention to play Troy. She's this series' pseudo-Gabriella, always the chorus girl but never the star of the musical, who wants to play Gabriella in the high-school musical herself, though she's up against the Über-competitive transfer student Gina (Sofia Wylie). Yes, there are shades of Karen and Ivy at work here. "If the worst thing my show gets compared to is Smash with acne," Federle said. "I will die a happy man."
If we're going by competitiveness, Gina may as well be the series' Sharpay, though she's not actually the one cast to play Sharpay in the stage show. "Why would we even try to re-create Ashley Tisdale?" Federle said, so instead, the show has a male character play Sharpay in the musical. "I don't think it's the craziest idea that a kid in 2020 would say, 'Hey, I want a shot at this role,'" he said. "To Disney's credit, they never once said to me, 'Are you sure about this?'"
The series stars actual teenagers, who act like them.
In keeping with cinéma vérité pimplé principle of American Vandal, Federle felt it was important to cast actual teenagers in his show, which brings its tone further away from the standard CW-ish teen series. "There are so many teen shows that I watch and love and see that cast 25-year-olds," he said, "but it's a totally different experience when you've got Joshua Bassett, who is 18, playing the guitar and singing a song. I think it's something you can't fake."
Federle, working with casting director Julie Ashton, cast Bassett as Ricky when he was 17, very early on in the process. "Once you have a 17-year-old lead, you have to make sure he's surrounded by people who don't look like his parents," he said. "It was a real search, and a real hunt. I think a lot of shows have a reputation for casting beautiful people who do two or three things really well. I wanted to cast a show full of a diverse body types, genders, looks, and not just that, but they had to be able to sing, dance, and act."
Given that most teenagers also spend a lot of their time on social media, High School Musical: The Musical: The Series also features the actual social media platforms that the teenage characters would be obsessing over in real life. In the first episode, for instance, there's a dramatically significant Instagram video. "One of the things that was important to me is that we didn't make up fake names for real social media," Federle said, pointing out that his freedom was also enabled by writing for something that would be on Disney+. "I'm not worrying about logos and brands quite as much because we're not advertiser-supported."
Most teenagers do get up to a lot more than just the singing, basketball choreography, and light PDA that happens in the High School Musical movies, and while the TV show is generally more true to life, it's still family-friendly. "It's sort of PG-plus," Federle said (which is fitting, considering the name of the platform it's on). "I always knew I was working for Disney, but I was surprised by the leeway I had to be reverent with the original material and also to tell a story that has an openly gay character and to tell a story about what really happens with high-school relationships. Nobody vapes, but it's pretty authentic."
You will hear the songs from the original, and also some new ones.
Legally, you couldn't make an episode of a High School Musical series without having someone sing "The Start of Something New," but the show also incorporates new songs for the characters to sing elsewhere. In that Instagram video, for instance, Nini sings an acoustic song for her boyfriend that Federle wanted to model after the kind of work young songwriters post online.
When Nini later auditions for the musical, and does indeed sing "The Start of Something New," the show also breaks from its mockumentary format for a glitzy fantasy sequence, something Federle realized he also wanted to incorporate into the series. "My initial rule was no fantasies at all, but I realized there was something a little overly self-limiting about that," he said. "Ninety percent of the songs in the show come from a sort of authentic place, but there's a couple times where I think it's character-driven and has a little bit more of the Crazy Ex-Girlfriend lens."
As those music-inspired breaks in reality might indicate, Federle also decided that he wasn't going to be strict about the show's mockumentary format in general, unlike something like The Office, which eventually revealed crew members from the documentary that was being filmed. "I don't, at this point, think there's a huge documentary reveal," Federle said. "But if Zac Efron wants to appear in a huge pivotal role down the line, I'm happy to write that perhaps he's making a movie about the show."
Older millennials, you are represented.
The decision to stage High School Musical in the first place comes thanks to Miss Jenn (Kate Reinders), the school's new drama teacher who is obsessed with the High School Musical series and insists she was a background dancer in the original. She's moved back to Utah from New York under mysterious circumstances, and will stop at nothing to have her grand High School Musical vision come true. "Miss Jenn represents the hilarity of these over-the-top arts educators," Federle said, with love for the drama teachers of the world.
Reinders's character also provides a way in for some of the series' many theater in-jokes, including the recurring mention of the fact that Nini played the back of the cow in a production of Gypsy. Reinders played Dainty June in the 2003 Gypsy revival, in which Federle played a farm boy. "It's all very self-referential," Federle said. "It all goes back to Bernadette Peters, not Patti LuPone, for the record."
Look forward to High School Musical: The Musical: The Series: This Time They Do a Different Musical
Even though the show doesn't premiere on Disney+ until November 12, High School Musical: The Musical: The Series has already gotten renewed a second season, and Federle promises he's got a few ideas about what could happen in it.
"The great thing about a drama department is every year the teacher announces a new show and then everybody screams and gets excited or they hate it," he said over the phone before the show was officially renewed. "I think the model would be that we expand beyond the High School Musical universe and we still shoot at East High in Utah, but we start tackling other shows." Can they do Gypsy, and is there a meta role somewhere for Bernadette Peters?