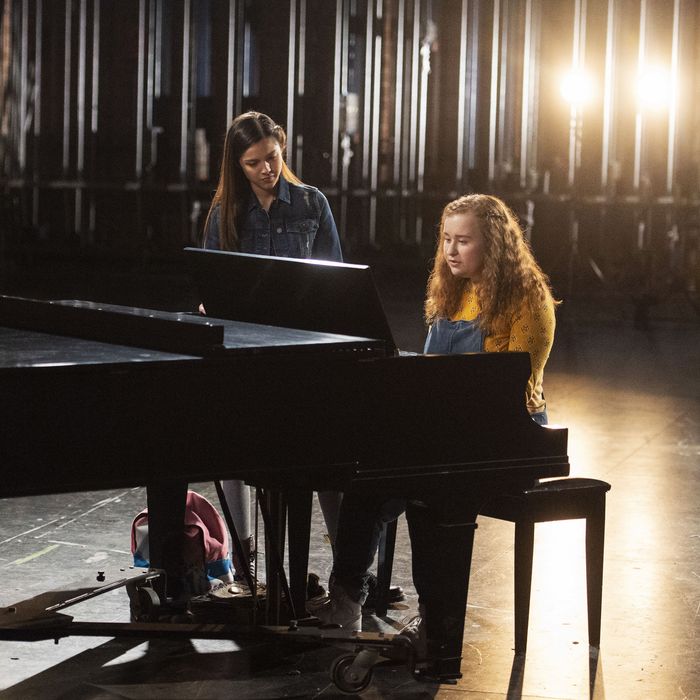 The new Disney+ series is like if the Wikipedia page for "intellectual property" became sentient and then appeared in a series about the Wikipedia page for "spinoff."
Photo: Disney+
Early in the first episode of High School Musical: The Musical: The Series, a terrifyingly perky woman (Kate Reinders) stands in the middle of a high-school gym and addresses the students assembled in the bleachers. "My name is Miss Jenn," she says. "When I heard that the high school where High School Musical was shot had never staged a production of High School Musical: The Musical, I was shocked as an actress, inspired as a director, and triggered as a millennial."
That sentence is the premise of High School Musical: The Musical: The Series, one of the new original shows launching on Disney+. And attempting to read that sentence, much less to say it out loud and have it convey any meaning at all, is a pretty good first crack at unpacking the many absurdities layered throughout the series' first two episodes. It is a fictional show about high schoolers who attend the school where High School Musical was originally shot, and in the series, they stage a production of High School Musical. At the same time, the characters themselves fall loosely into the roles of the High School Musical characters, with various features and elements shifted around like they've been reassigned by a game of Boggle.
There's a transfer student (Gina, played by Sofia Wylie), but this time she's the villain rather than the lead. There's a blond hotshot athlete type (EJ, played by Matt Cornett), but this time he's the dopey current boyfriend rather than the male lead. A brunette singer-songwriter type (Ricky, played by Joshua Bassett) becomes the once-and-future winner of the female lead's heart. Sweet underappreciated Nini (Olivia Rodrigo) becomes the crucial central female character, the one whose voice takes everyone by surprise. They are analogues for most of the characters from the original High School Musical, but everything becomes additionally ridiculous once they all get cast in their school's production of High School Musical. EJ wants to be a Troy, but he's a Chad. Gina, arguably the Sharpay, tries everything she can to become Gabriella. I, 20 minutes into the first episode, put my head down on my desk and took deep breaths.
The show seems aimed at fully self-aware meta humor, but it's not quite sharp enough to pull off self-mockery, and at the same time, too loopingly referential to just be a straight remake. You see the jokes happening right there in front of your face, but you can't feel them, so you're left wondering if they actually were jokes. It's like if the Wikipedia page for "intellectual property" became a sentient being and then appeared in an animated series about the Wikipedia page for "spinoff" — when you stare at it, you can see the possibility for fun, light goofiness. But mostly what you see is a Disney property chewing, swallowing, and then regurgitating itself whole.
It does seem possible that once High School Musical: The Musical: The Series has managed to summit the peak of its own premise, it could smooth out a little, becoming less like a Disney executive's fever dream of synergistic self-promotion, and more like Glee. In its best moments, that's really what the first two episodes of the show feel like. There's a moving ballad, there are ambitious teens trying to scrabble for more prominence, and there's overexcited drama teacher Miss Jenn. There's an ostensible frame of a mockumentary format, which feels less like a guiding aesthetic principle than a soupçon of 2000s-style TV storytelling intended to give the show an additional dose of nostalgia. Everyone wears a lot of red, which makes sense based on the original costuming in High School Musical, but also pings strong notes of Glee's red T-shirts. And, importantly, the singing is good! The teens all have the virtue-signaling shiny/floppy/dramatic hair required for teens in a Disney production. Their teeth are straight, their skin is clear.
Put another way, all the pieces are in place for a perfectly nice show about drama geeks from Utah who just want to sing and then kiss each other, probably without tongue. Hopefully High School Musical: The Musical: The Series will figure out a way to just let the nice teens sing and then kiss each other, without also needing to constantly remind themselves, and the audience, that this is all a winking reference to something else.