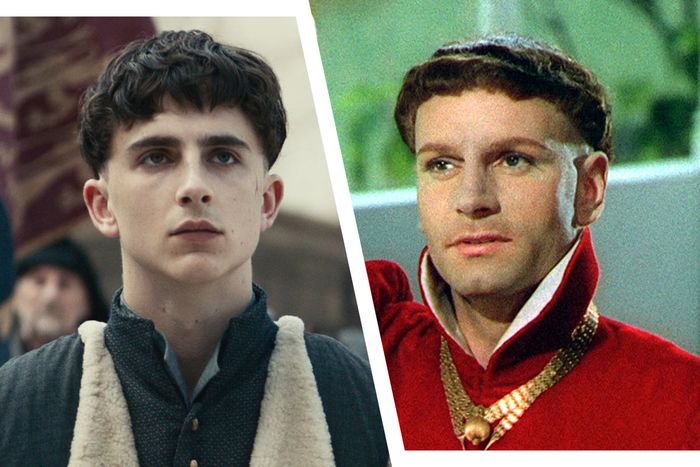 Timothée Chalamet in
The King
and Laurence Olivier in
Henry V
.
Photo: Left: Netflix/Right: ITV/Shutterstock
Frustrated writers in search of more confidence would do well to study the example of Joel Edgerton and David Michôd. For their Henry V film The King, currently streaming on Netflix, the pair borrowed most of the plot, characters, and big moments from Shakespeare's trio of plays about the monarch, but chose to jettison the Bard's famous verse in favor of dialogue of their own creation. Edgerton and Michôd aren't the first to rewrite Shakespeare — millennials will recall 10 Things I Hate About You kicked off a wave of adaptations that brought Shakespearean plots to American high schools, efforts that were generally more successful with comedies (She's the Man) than tragedies (O). There the change in scenery freed filmmakers from the burden of direct adaptation; in keeping so much the same, the people behind The King have made each departure feel even more glaring. Besides the language, they've also changed the fates of a few supporting players, and given the story new themes. Timothée Chalamet's Hal is now a noble pacifist who disdains war and imperialism, which is kind of like turning Romeo into an incel.
Instead of iambic pentameter, characters in The King speak in what we might call Game of Thrones English, a blend of short staccato sentences, stentorian pronouncements, a few old-timey phrasings, and frequent cursing. How does it compare to the original? We've taken excerpts from a few scenes that directly line up with Shakespeare's own, to see. (All quotations from the plays courtesy the Open Source Shakespeare project.)
Henry IV confronts Hotspur over Scottish prisoners
Both The King and Henry IV, Part 1 begin with a showdown between our hero's royal father and the future outlaw Harry "Hotspur" Percy. After putting down an army of Scottish rebels, Hotspur has taken prisoners, and won't transfer them to the crown unless Henry IV ransoms his relative, Mortimer, from the Welsh rebel Owen Glendower. The older Henry believes Mortimer is secretly in league with the Welsh, and demands young Hotspur give him the prisoners at once. Here's how it goes down in Act I, Scene 3 (condensed slightly for length):
HENRY IV

Why, yet he doth deny his prisoners, 

But with proviso and exception, 

That we at our own charge shall ransom straight 

His brother-in-law, the foolish Mortimer

[…]

Shall our coffers, then, 

Be emptied to redeem a traitor home? 

Shall we but treason? and indent with fears, 

When they have lost and forfeited themselves? 

No, on the barren mountains let him starve; 

For I shall never hold that man my friend 

Whose tongue shall ask me for one penny cost 

To ransom home revolted Mortimer.




HOTSPUR

Revolted Mortimer! 

He never did fall off, my sovereign liege, 

But by the chance of war; to prove that true 

Needs no more but one tongue for all those wounds, 

Those mouthed wounds, which valiantly he took 

When on the gentle Severn's sedgy bank, 

In single opposition, hand to hand, 

He did confound the best part of an hour 

In changing hardiment with great Glendower…




HENRY IV

Thou dost belie him, Percy, thou dost belie him;

He never did encounter with Glendower:

I tell thee,

He durst as well have met the devil alone

As Owen Glendower for an enemy.

Art thou not ashamed? But, sirrah, henceforth

Let me not hear you speak of Mortimer:

Send me your prisoners with the speediest means,

Or you shall hear in such a kind from me

As will displease you…
In The King, this exchange is broken up into a more traditional conversation between a bunch of characters, but here are the key portions (again, condensed slightly):
HENRY IV

I refuse to pay Mortimer's ransom because I refuse to believe him a prisoner. I rather believe Mortimer a traitor. He has joined the Welsh rebels. He has betrayed England, and is now an enemy of mine, and therefore of yours. You agree with my précis, young Hotspur?




HOTSPUR

No, your grace. I believe yours to be the ramblings of a crazy old demon. Yours are the ramblings of an old man so saturated with malice and mistrust that he no longer knows up from down, can no longer see beyond the walls of his own monstrous schloss. My family have served you. We aided you in your ascension and still we fight for you. Cousin Mortimer has fought for you. And yet now, whilst you slobber over that chicken's wing, he shivers in a western prison awaiting mutilation at the hands of Welsh witches…




HENRY IV

Chickens can't fly. But I've seen one eke enough wing-flap to clear a fence. Then it's free. But then so too are the foxes. You are right, young Percy, I owe you much. I owe your family still more. But if the Scottish traitors you've taken prisoner are not brought to me as speedily as they might travel, I will hang you by your fucking neck. Has this been heard, young Percy?
Hotspur fights Prince Hal
Hotspur, what a character! His death forms the climax of Henry IV, Part I, but in The King it comes only a few scenes in. In both cases, he perishes at the hands of the future Henry V, whose dose of battlefield glory signifies his evolution from drunken young wastrel to capable ruler. In Shakespeare, the fight scene takes place in Act V, Scene 4, as the two men find each other on the battlefield at Shrewsbury and get into a bit of a debate over their shared first name:
HOTSPUR

If I mistake not, thou art Harry Monmouth.




HENRY V

Thou speak'st as if I would deny my name.




HOTSPUR

My name is Harry Percy.




HENRY V

Why, then I see

A very valiant rebel of the name.

I am the Prince of Wales; and think not, Percy,

To share with me in glory any more:

Two stars keep not their motion in one sphere;

Nor can one England brook a double reign,

Of Harry Percy and the Prince of Wales.




HOTSPUR

Nor shall it, Harry; for the hour is come

To end the one of us; and would to God

Thy name in arms were now as great as mine!




[…]




[They fight.]
In The King, a battle is about to begin, but Prince Henry proposes a duel instead, as a way to save the lives of the other men in both armies. What a guy!
HOTSPUR

Why is the little dog barking? Where be the big dog?




[Enter Henry V]




HENRY V

It will be done.




HOTSPUR

And here I am with the whoring fool.




HENRY V

This fight need not be had, Percy. My father will soon be dead. Your grievances will die with him.




HOTSPUR

Don't be afraid of our small contest, young Hal. I promise to finish it quickly. Come on. Your father is plague to England. Come for me, big dog!




[They fight.]
The death of Henry IV
Henry IV spends most of Henry IV, Part 2 slowly dying and being visited by the ghost of Richard II, the guy he deposed. Despite killing Hotspur and proving himself a real man, Prince Henry's relationship with the king hasn't gotten much better. But when he hears his father is close to death, he decides to pay the man one final visit. In Act IV, Scene 3, he sees the dying king and monologues about embracing his new destiny:
HENRY V

Why doth the crown lie there upon his pillow,

Being so troublesome a bedfellow?

O polish'd perturbation! golden care!

That keep'st the ports of slumber open wide

To many a watchful night! Sleep with it now!

Yet not so sound and half so deeply sweet

As he whose brow with homely biggen bound

Snores out the watch of night. O majesty!

When thou dost pinch thy bearer, thou dost sit

Like a rich armour worn in heat of day

That scald'st with safety. By his gates of breath

There lies a downy feather which stirs not.

Did he suspire, that light and weightless down

Perforce must move. My gracious lord! my father!

This sleep is sound indeed; this is a sleep

That from this golden rigol hath divorc'd

So many English kings. Thy due from me

Is tears and heavy sorrows of the blood

Which nature, love, and filial tenderness,

Shall, O dear father, pay thee plenteously.

My due from thee is this imperial crown,

Which, as immediate from thy place and blood,

Derives itself to me. [Putting on the crown.]
In the play, Henry IV eventually awakes, and father and son share a final reconciliation. In The King, that moment is much shorter, and slightly different:
[Enter Henry V]




HENRY V

You feel this cold? Wrench.




[He tears the sheets from his father's bed.]




HENRY IV

Hal. Hal. You must be king. I know not what I have done.
Prince Henry becomes king
With the death of his father, Henry is now king of England, and he takes a moment to address his father's councilors. Here's the flowery speech he gives them in Act V, Scene 2 of Henry IV Part 2:
HENRY V

This new and gorgeous garment, majesty,

Sits not so easy on me as you think.

Brothers, you mix your sadness with some fear.

This is the English, not the Turkish court;

Not Amurath an Amurath succeeds,

But Harry Harry. Yet be sad, good brothers,

For, by my faith, it very well becomes you.

Sorrow so royally in you appears

That I will deeply put the fashion on,

And wear it in my heart. Why, then, be sad;

But entertain no more of it, good brothers,

Than a joint burden laid upon us all.

For me, by heaven, I bid you be assur'd,

I'll be your father and your brother too;

Let me but bear your love, I'll bear your cares.

Yet weep that Harry's dead, and so will I;

But Harry lives that shall convert those tears

By number into hours of happiness.
When you're fitting three Shakespeare plays into one two-hour movie, you've gotta make cuts somewhere, so The King speeds through Henry IV, Part 2. Its version of the above monologue comes roughly 30 seconds after Henry has stormed into the king's bedchamber.
HENRY V

You know not what will become of you. So, I offer you this. The most blessed reprieve. The most dreadful misery. You shall suffer the indignity of serving me, the wayward son you so revile. But know now you will be watched over by an altogether different king.
A gift of tennis balls
Both versions of the story include a scene where the Dauphin of France taunts Henry by sending him a gift of tennis balls. In Henry V, the young king immediately takes it as a challenge, and vows to cross the Channel and press his claim to the French throne. Here's his speech from Act I, Scene 2 (again, slightly condensed):
HENRY V

We are glad the Dauphin is so pleasant with us; 

His present and your pains we thank you for: 

When we have march'd our rackets to these balls, 

We will, in France, by God's grace, play a set 

Shall strike his father's crown into the hazard. 

Tell him he hath made a match with such a wrangler 

That all the courts of France will be disturb'd 

With chaces. And we understand him well

[…]

But tell the Dauphin I will keep my state, 

Be like a king and show my sail of greatness 

When I do rouse me in my throne of France: 

For that I have laid by my majesty 

And plodded like a man for working-days, 

But I will rise there with so full a glory 

That I will dazzle all the eyes of France, 

Yea, strike the Dauphin blind to look on us. 

And tell the pleasant prince this mock of his 

Hath turn'd his balls to gun-stones; and his soul 

Shall stand sore charged for the wasteful vengeance 

[…] 

So get you hence in peace; and tell the Dauphin 

His jest will savour but of shallow wit, 

When thousands weep more than did laugh at it. 

Convey them with safe conduct. Fare you well.
By contrast, the enlightened Henry of The King does not care about claiming the French throne, and so does not consider a gift of sporting equipment adequate pretext for invading France.
HENRY V

A ball. There is no accompanying message from the Dauphin?




COURTIER

No, my liege.




HENRY V

I shall keep this gift. This one is sent only for me. For the boy I once was. 




[Later]




CHIEF JUSTICE

The ball is an insult to you and to your kingdom. You must respond. 




HENRY V

Remember where as prince I whiled and how I spent my days?




CHIEF JUSTICE

You spent them in considered privation.




HENRY V

Drinking, clowning. So is there not some truth in this jest? If the Dauphin wants from me a paroxysm, why give it to him?




CHIEF JUSTICE 

It would not be a show of foul temper for you to respond forcefully to an insult such as that. It would be a show of strength.




HENRY V

I appreciate your umbrage, William. But my strength does not lie in my flapping up and down at the slightest barb like some unholy mechanical bird.
Arresting Cambridge and Grey
But because this is the story of Henry V, you can't just write out the part where he invades France. Both stories also have to shoehorn in the Southampton Plot, where a few of Henry's advisers plotted to put his distant relative on the throne, got found out, and were executed shortly before the king set sail. In the play, Henry tricks the advisers into pressing for a harsh sentence against those who have spoken out against the king, then presents them with letters proving their guilt. Having just argued against mercy, the men can't demand it for themselves:
HENRY V

And now to our French causes:

Who are the late commissioners?




EARL OF CAMBRIDGE

I one, my lord:

Your highness bade me ask for it to-day.




LORD SCROOP

So did you me, my liege.




SIR THOMAS GREY

And I, my royal sovereign.




HENRY V

Then, Richard Earl of Cambridge, there is yours;

There yours, Lord Scroop of Masham; and, sir knight,

Grey of Northumberland, this same is yours:

Read them; and know, I know your worthiness.

My Lord of Westmoreland, and uncle Exeter,

We will aboard to night. Why, how now, gentlemen!

What see you in those papers that you lose

So much complexion? Look ye, how they change!

Their cheeks are paper. Why, what read you there

That hath so cowarded and chased your blood

Out of appearance?




EARL OF CAMBRIDGE

I do confess my fault;

And do submit me to your highness' mercy.




SIR THOMAS GREY

[with Scroop] To which we all appeal.




HENRY V

The mercy that was quick in us but late,

By your own counsel is suppress'd and kill'd:

You must not dare, for shame, to talk of mercy;

For your own reasons turn into your bosoms,

As dogs upon their masters, worrying you.
Henry continues with another longer speech, but nobody's got time for that in a Netflix movie. Edgerton and Michôd dispense with the letter shenanigans and get straight to the point:
HENRY V

As of today, we are at war with France. Twice I have given her the benefit of my doubt. This third affront will not be left unchecked. And so, in order to flush these French rats from their nests, I will have it communicated to them that we are now at war. My lord Grey, Cambridge, I would ask you to deliver this message to France, given your … familiarity with its recipient. But I believe in the morning you'll be otherwise engaged.




EARL OF CAMBRIDGE

Pray how, my liege?




HENRY V

Tomorrow you will have your heads cut off. 
St. Crispin's Day
Finally, the oratory you've been waiting for ever since you clicked into this post. With The King skipping the battle at Harfleur that gives us the "Once more unto the breach" speech, Henry's famous pre-battle monologue at Agincourt is the filmmakers' big chance to put their own spin on Shakespeare's most stirring language. If you've forgotten it, here it is (in full), from Act IV, Scene 3:
EARL OF WESTMORELAND 

O that we now had here

But one ten thousand of those men in England

That do no work to-day!




HENRY V

What's he that wishes so?

My cousin Westmoreland? No, my fair cousin: 

If we are mark'd to die, we are enow 

To do our country loss; and if to live, 

The fewer men, the greater share of honour. 

God's will! I pray thee, wish not one man more. 

By Jove, I am not covetous for gold, 

Nor care I who doth feed upon my cost; 

It yearns me not if men my garments wear; 

Such outward things dwell not in my desires: 

But if it be a sin to covet honour, 

I am the most offending soul alive. 

No, faith, my coz, wish not a man from England: 

God's peace! I would not lose so great an honour 

As one man more, methinks, would share from me 

For the best hope I have. O, do not wish one more! 

Rather proclaim it, Westmoreland, through my host, 

That he which hath no stomach to this fight, 

Let him depart; his passport shall be made 

And crowns for convoy put into his purse: 

We would not die in that man's company 

That fears his fellowship to die with us. 

This day is called the feast of Crispian: 

He that outlives this day, and comes safe home, 

Will stand a tip-toe when the day is named, 

And rouse him at the name of Crispian. 

He that shall live this day, and see old age, 

Will yearly on the vigil feast his neighbours, 

And say 'To-morrow is Saint Crispian:' 

Then will he strip his sleeve and show his scars. 

And say 'These wounds I had on Crispin's day.' 

Old men forget: yet all shall be forgot, 

But he'll remember with advantages 

What feats he did that day: then shall our names. 

Familiar in his mouth as household words 

Harry the king, Bedford and Exeter, 

Warwick and Talbot, Salisbury and Gloucester, 

Be in their flowing cups freshly remember'd. 

This story shall the good man teach his son; 

And Crispin Crispian shall ne'er go by, 

From this day to the ending of the world, 

But we in it shall be remember'd; 

We few, we happy few, we band of brothers; 

For he to-day that sheds his blood with me 

Shall be my brother; be he ne'er so vile, 

This day shall gentle his condition: 

And gentlemen in England now a-bed 

Shall think themselves accursed they were not here, 

And hold their manhoods cheap whiles any speaks 

That fought with us upon Saint Crispin's day.
There was absolutely no way The King was going to be able to top this. But at least they gave it a try! Here's what Michôd comes up with:
HENRY V

You expect of me a speech? I have only one to give. It is the same one I'd give were we not standing on the brim of a battlefield. It is the same one I'd give were we to meet in the street by chance. I have only ever hoped for one thing: to see this kingdom united under this English crown. All men are born to die. We know it. We carry it with us always. If your day be today, so be it. Mine will be tomorrow. Or mine today and yours tomorrow. It matters not. What matters is that you know in your hearts that today you are that kingdom united. You are England, each and every one of you. England is you. And it is the space between you. Fight not for yourselves. Fight for that space. Fill that space. Make it tissue. Make it mass. Make it impenetrable. Make it yours! Make it England! Make it England! Great men to it, captains, lords. Great men to it!
Henry meets Katharine of Valois
Out of respect to Shakespeare's genius pacing, The King decides to join the Bard in following up the super-exciting battle of Agincourt with a very talky scene of Henry flirting with his future French wife, Katharine. Except … she doesn't speak English! What is a horny king to do, except try to woo her anyway, with the assistance of Alice, a lady-in-waiting. Here's a portion of their exchange from Act V, Scene 2:
HENRY V

Fair Katharine, and most fair,

Will you vouchsafe to teach a soldier terms

Such as will enter at a lady's ear

And plead his love-suit to her gentle heart?




KATHARINE

Your majesty shall mock at me; I cannot speak your England.




HENRY V

O fair Katharine, if you will love me soundly with your French heart, I will be glad to hear you confess it brokenly with your English tongue. Do you like me, Kate?




KATHARINE

Pardonnez-moi, I cannot tell vat is 'like me.'




HENRY V

An angel is like you, Kate, and you are like an angel.




KATHARINE

Que dit-il? que je suis semblable a les anges? [What is he saying? That I resemble an angel?]




ALICE

Oui, vraiment, sauf votre grace, ainsi dit-il. [Yes, that's what he's saying.]




HENRY V

I said so, dear Katharine; and I must not blush to affirm it.




KATHARINE

O bon Dieu! les langues des hommes sont pleines de tromperies. [Oh God! The language of men is full of deception.]




HENRY V

What says she, fair one? that the tongues of men are full of deceits?




ALICE

Oui, dat de tongues of de mans is be full of deceits: dat is de princess.




HENRY V

The princess is the better Englishwoman. I' faith, Kate, my wooing is fit for thy understanding: I am glad thou canst speak no better English; for, if thou couldst, thou wouldst find me such a plain king that thou wouldst think I had sold my farm to buy my crown. I know no ways to mince it in love, but directly to say 'I love you:' then if you urge me farther than to say 'do you in faith?' I wear out my suit. Give me your answer; i' faith, do: and so clap hands and a bargain: how say you, lady?




KATHARINE

Sauf votre honneur, me understand vell.
The scene in the play goes on for quite some time after that, but I'll spare you more blocks of text. The King, funnily enough, treats Henry and Katharine's little language games with a lot more reverence than it does the rest of Henry V, but it also throws in a twist! Katharine is not just a very progressive 15th-century noblewoman who believes "all monarchy is illegitimate," she also helps Henry wake up to the real enemy:
KATHARINE

[In French] Please sit, your majesty.




HENRY V

[In French] You are beautiful.




KATHARINE

Merci.




HENRY V

[In French] I will no longer speak French. We must speak English.




KATHARINE

[In French] I cannot speak English. 




HENRY V

[In French] You will learn.




KATHARINE

[In French] I wonder then, how our union might proceed in the meantime. 




HENRY V

There is much I wonder about a great many things.




KATHARINE

Indeed there must be for you to contemplate marriage to a woman about whom you know so little. I will not submit to you. You must earn my respect. 




HENRY V

I understand that. 




KATHARINE

Do you?




HENRY V

I do.




KATHARINE

Do you feel a sense of achievement? 




HENRY V

In what regard?




KATHARINE

In any regard.




HENRY V

I have achieved that which my father never could. I have united this kingdom in common cause. 




KATHARINE

You have achieved momentary respite. A unity forged under false pretense will never be a unity that prevails. 




HENRY V

How, pray, have my endeavors been forged falsely?
As it turns out, in this telling, Henry is a nice, peaceful chap who really didn't want to commit war crimes — he was just tricked into invading France by his evil counselors! While this twist bears heavy similarities to actual medieval propaganda, I suspect the filmmakers' intent had more to do with drama than history. As the movie's Falstaff, having evaded the fate Shakespeare gave him, says on the eve of Agincourt: "Either I die here, or I die over a bottle in Eastcheap. I think this makes for a much better story." I'll leave it up to you to decide whether that's true or not.