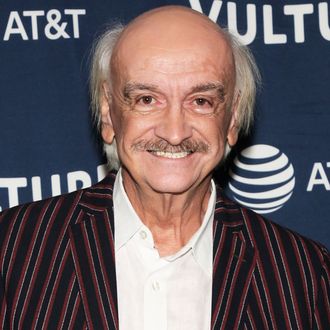 Photo: Paul Archuleta/Getty Images
The painfully awkward sketch comedy show, I Think You Should Leave, remains one of 2019's most surprising hits. However, one scene in particular, starring a dabbing, trash-talking, and water bottle-flipping focus group participant stood out above the rest and elevated actor Ruben Rabasa to an alt comedy god status. Show co-creators Tim Robinson and Zach Kanin and sketch director Akiva Schaffer deconstructed the breakout scene at Vulture Festival Sunday and Rabasa delighted the audience by making a surprise appearance.
The creators revealed that they loved Rabasa's focus group performance so much that they brought him back to record a stinger for the season one sketch, Laser Spine. Unfortunately, Rabasa's segment wound up on the cutting room floor, but the Vulture Festival audience got an exclusive watch. When Robinson and Kanin were asked if they were writing anything for Rabasa in season two, Rabasa growled "you'd better be," before either writer had a chance to respond. Robinson then said, "we have an idea where he plays a dead guy," so keep your eyes peeled for a corpse once season two drops.
While discussing the Focus Group sketch Rabasa recalled thinking the sketch was "terrible" when he initially read it. He also marveled at the sudden fame the sketch afforded him and how he's recognized on the street for it. "I went to a restaurant the other day," said Rabasa, "and a guy came in and threw a water bottle on the table right in front of me!"