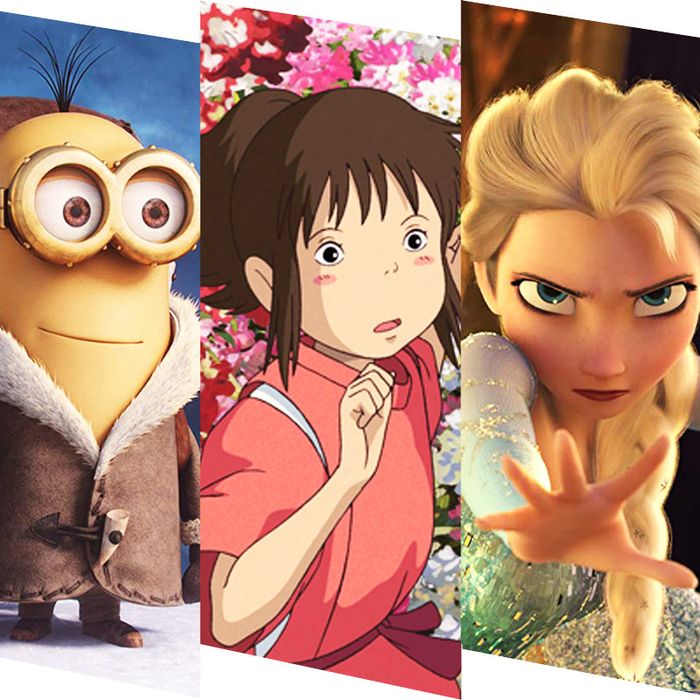 As rival studios prepare to saturate streaming platforms with animated content, experts say we're in the midst of a "seismic shift" in the industry.
Photo: Vulture and Courtesy of the Studios
In the computer-animated comedy Spies in Disguise, Will Smith voices a kind of cartoon James Bond: a suave, tuxedoed superspy who happens to get turned into a pigeon after accidentally ingesting "next generation concealment tech" concocted by a kooky scientist (Tom Holland). As the man-to-bird transformation begins, Smith's character registers with increasing dismay that his body parts are shrinking before his very eyes, and so he whips open the waistband of his pants — presumably to check if the formula is having the same effect down there.
Produced by Blue Sky Studios, the movie division behind animated hits like Ice Age and The Peanuts Movie, Spies in Disguise went into development in 2017 as a 20th Century Fox project. But thanks to Disney's $71.3 billion acquisition of Fox in March, when the film finally arrives onscreen this Christmas, it will carry a new mark of distinction: the rare Mouse House–distributed animated film to showcase an explicit dick joke.
Disney's absorption of Blue Sky amounts to what one animation insider describes as a "seismic shift" in the industry, conjoining a former, more freewheeling competitor to the monolithic Burbank studio's preexisting animation houses, Pixar and Walt Disney Animation Studios. The merger occurred just three years after Comcast acquired DreamWorks Animation for a whopping $3.8 billion — making the independent studio behind Shrek a corporate sibling of Universal's Illumination Entertainment animation wing.
"To have two independent animation studios exist as stand-alone entities and then get folded into some single enterprise — that's unheard of," says the insider, an animated-movie marketer who declined to be identified because of sensitive business relationships. "Disney acquired Pixar [in 2006] and kept them separate. Comcast buys DreamWorks. Now it's happening again? It's incredible!"
In an era when size has never mattered more in Hollywood, the recent corporate alliance of three of the industry's most successful animated divisions (five divisions in all, if you count the mostly straight-to-video Disneytoon Studios and moribund 20th Century Fox Animation) has certain strategic advantages. Chief among them: scalability. "There is an absolute explosion in animation now," says Pixar president Jim Morris. And with that explosion comes competition. Over the last couple of years Netflix has been poaching Disney animators and executives at a rapid clip, in a bid to build a massive library of original animated features and TV shows for its over-the-top platform. According to internal Netflix data, around half its audience watches animated content every month, so family-oriented animated fare remains a crucial component to the company's ongoing success.
The breadth of Disney's animated catalogue (which stretches back more than eight decades), chock-full of already recognizable IP, will likely deliver the streaming giant its most serious competition in the sector. Disney is poised to boast the year's three top-grossing animated movies — Toy Story 4 (which has amassed more than $1 billion worldwide), The Lion King ($1.1 billion), and Frozen 2 (which hits theaters November 22, presumably minting money à la its $1.274 billion–grossing predecessor). Now, the media conglomerate is launching its own streaming service, Disney+, on November 12, having pulled all Disney-branded content from rival platforms and forcing Netflix to change course.
"Within the company, we have shifted from what was primarily a license-focused content strategy to much more in-house production and really ramped up the number of shows and movies we are making," says Melissa Cobb, Netflix's vice-president of original animation. "We've found that there's a lot of great opportunity right now to work with fantastic creators, not only in the U.S., but all over the world. So we're dedicated to finding those creators and supporting them."
As with every quadrant of Hollywood these days, animation has had its recent peaks and valleys at the Cineplex. Every Disney release seems to surge into the movie marketplace as a box-office juggernaut, but the success of other studio properties has been less predictable. Illumination Entertainment's The Secret Life of Pets 2 earned just $429.4 million globally — some $446 million less than the first Pets installment. DreamWorks' How to Train Your Dragon: The Hidden World may have taken in $519.8 million on a $129 million budget, but STX's maiden animated outing UglyDolls cratered, theatrically earning just $32 million (and carrying a $45 million production budget). In a year that saw Sony's Spider-Man: Into the Spider-Verse claim an Academy Award for best animated feature (while also taking in $375.5 million globally), Laika's $100 million stop-motion Sasquatch movie Missing Link bombed hard, grossing a mere $26 million worldwide.
"In a world of sequels, we're a disrupter," says Laika's animation supervisor Brad Schiff, pointing to one factor that sets his movies apart from the rest: They're not franchises. "We tell original stories that aren't your typical fare." (Laika's stop-motion counterpart in the U.K., the Bristol-based Aardman Animations, isn't performing better at the box office; its latest film, A Shaun the Sheep Movie: Farmageddon, was not theatrically distributed in the U.S., and its previous feature Early Man only grossed $8 million domestically. The company "seems to have lost its way," says one animation insider.)
Even while global box-office tallies for animated movies have basically doubled over the last quarter century (1995's Toy Story brought in $406 million, while 2019's Toy Story 4 brought in $1.072 billion), in an unpredictable theatrical world, streaming looks increasingly enticing. Outside of the impending Netflix-Disney+ high-noon showdown, several other rival streamers are set to saturate pop culture with animated content — a testament to the medium's seemingly endless profitability and evergreen popularity, as well as the dawning recognition that family-oriented fare with demonstrated mass appeal provides a stable foundation for any streaming platform. WarnerMedia's impending HBO Max has announced that it will showcase a raft of new animated series, including the Yogi Bear spinoff Jellystone and the Cartoon Network–produced Fungies, alongside highly sought after properties like the films of Studio Ghibli. Apple TV+, meanwhile, will stream animated fare, including the movie Wolfwalkers (directed by Oscar nominee Tomm Moore) and short-form Peanuts content focused around Pigpen, Snoopy, Woodstock, et al.
Outside of its vaunted library offerings, Disney+ has so far kept its animated programming cards close to the chest save for the announcement of Marvel Studios' first animated anthology series What If …?, which is set to explore alternative narratives of major moments from the Marvel Cinematic Universe movies, and the comedic Toy Story 4 spinoff Forky Asks a Question. But in one of the clearest indications of Disney's animation ambitions for the platform, Pixar is producing a series called SparkShorts for which up-and-coming animators are given six months and a limited budget to come up with short-form animated movies. According to Pixar's Morris, the aim is to diversify and incubate filmmaking talent within the company and on the platform. "They're basically artistic statements from individual artists here at Pixar," Morris says. "If we see people that show promise, maybe they get to do another film."
It all combines to create what Teresa Cheng, a former DreamWorks Animation senior production executive and producer of such animated hits as Madagascar and Shrek Forever After, characterizes as something like a gold rush–like mentality within the industry. As chair of USC School of Cinematic Arts' John C. Hench Division of Animation and Digital Arts, she has seen her students from across various animated disciplines — hand-drawn 2-D, anime, stop-motion, and computer-generated — get cherry-picked by Hollywood's animation powerhouses straight after graduation. "There are hundreds of animation or animation-related job openings in major hubs like L.A., Vancouver, and Montreal, and lots of VR jobs in the Bay Area," says Cheng. "All my colleagues in the business are busy with new or existing work. The fact that major animation studios are investing in internships and apprenticeships is a great sign."
Opportunities may be plentiful at the moment, but if it feels strange to see former rival animation houses situated under the same big banner, that's probably because it is. But both Morris and his Walt Disney Animation Studios counterpart Clark Spencer wave away the idea that Blue Sky's absorption could create intercompany conflicts, or that Disney's hard-and-fast rules for what constitutes kid-friendly entertainment could thwart Blue Sky's punchier humor. Instead, the executives point to the spirit of cooperation between Pixar and Walt Disney Animation, where filmmakers from both studios focus-group one another's work-in-progress movies as a means of improving quality across the company.
But not every industry observer agrees that the continuing consolidation is a positive development. "[The] new Disney is more of a private equity group than studio, collecting brands and using them to bargain aggressively with partners, suppliers and consumers," writes Matt Stoller, author of Goliath: The 100-Year War Between Monopoly Power and Democracy, on his newsletter Big. Criticism of Disney's management strategies raises important questions: If the industrywide migration to streaming doesn't pay off, what happens next?
"Is there enough financial support in subscription?" Morris asks. "Even with all those outlets to underwrite some kind of level we're seeing with this stuff, is it sustainable or not? The question for me is, are there enough eyeballs in the long run to support that stuff or is it going to collapse under its own weight? I don't know the answer to that question. Everybody will get a wake-up call."
Vulture staffers Devon Sherer and Bilge Ebiri contributed reporting to this story.