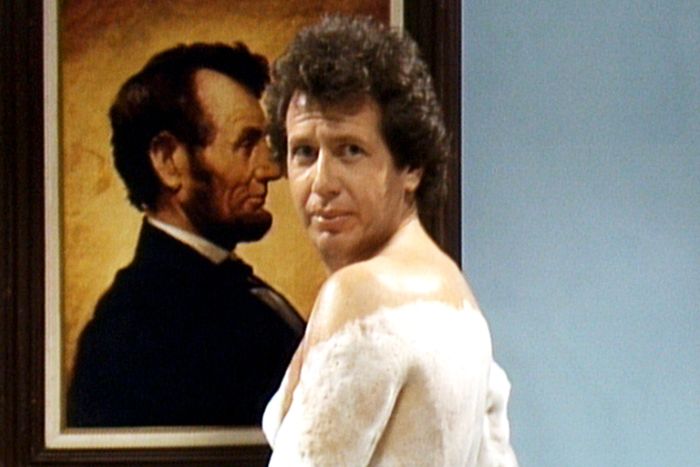 This is the screen grab from
It's Garry Shandling's Show.
Photo: Showtime
In his roles as a writer, director, and producer, Judd Apatow has delivered some of the most important comedy of the last 20 years, from TV like Freaks and Geeks and Girls to movies like The 40-Year-Old Virgin, Bridesmaids, and This Is 40. Inspiring Apatow through all of it was his longtime mentor and close friend Garry Shandling. The extremely influential comedian and co-creator of It's Garry Shandling's Show and The Larry Sanders Show passed away in 2016, and Apatow has dutifully preserved his legacy through the 2018 HBO documentary The Zen Diaries of Garry Shandling and now, It's Garry Shandling's Book. Apatow pored over decades of Shandling's diaries and notes and conducted interviews with the comedian's relatives, friends, and collaborators to create an innovative biography told largely in the man's own words. It's Garry Shandling's Book also reveals a lot of behind-the-scenes secrets about Shandling's work in television and movies. Here are some of the most interesting things we learned.
1. NBC rejected It's Garry Shandling's Show.
After the success of The Cosby Show, the major broadcast networks filled their schedules in the '80s and '90s with sitcoms based on the acts of stand-up comedians, who played exaggerated versions of themselves on those shows. As Garry Shandling was one of the biggest comics around, NBC reached out to offer him his own sitcom, and he had the bones of a concept ready to go. "I said I'd like to do a sitcom where I play a comedian and I have a platonic girlfriend and it's just about my life," Shandling said. An NBC executive completely rejected the idea that anybody would want to watch a show about a comedian, and tried to persuade Shandling to make the main character a hardware salesman. Shandling also really wanted to break the fourth wall, but the network wouldn't let him, telling him that while he couldn't talk to the camera, they would allow him to talk to a dog. All the interference and bad ideas reminded Shandling of his time in the '70s writing for sitcoms like Welcome Back, Kotter. But then, the (at the time) semi-obscure cable network Showtime called Shandling and offered him his own comedy series and full creative freedom. That offer begat It's Garry Shandling's Show. 
2. This is the story about the theme to It's Garry Shandling's Show.
Shandling co-created It's Garry Shandling's Show with Saturday Night Live veteran Alan Zweibel, and they also wrote the show's memorable, meta, self-aware opening theme together … in about as long as it takes to sing. During an elevator ride in a Los Angeles high rise, Shandling mentioned to Zweibel that their show would need a theme song, and suggested that they do "a theme song about a theme song." According to Zweibel, Shandling blurted out, off the top of his head, "This is the theme to Garry's show, the theme to Garry's show. Garry called me up and asked if I would write a theme song." Zweibel countered with what became the next lines in the song: "I'm almost halfway finished, how do you like it so far, how do you like the theme to Garry's show?" As soon as they finished singing/writing the tune, the elevator doors opened.
3. The Larry Sanders Show was born out of a never-made project for Gilda Radner.
The great Gilda Radner made what would turn out to be her final onscreen appearance on an episode of It's Garry Shandling's Show, about a year before she died from ovarian cancer. She was in remission at the time, and she teamed up with Shandling and Zweibel to pitch to HBO a comedy series about the backstage world of a variety show and the life of its host. Radner's death definitively canceled the project, but the basic premise is almost exactly that of Shandling's HBO series, The Larry Sanders Show, about the host of a late-night talk show. "Now I'm not saying that this was the genesis of The Larry Sanders Show," Zweibel said, "but when that show didn't happen because Gilda passed away, it made perfect sense that Garry did Larry Sanders."
4. Garry Shandling could have become the host of The Tonight Show.
When Johnny Carson was still at the helm of The Tonight Show — and taking lots of contractually promised breaks — producers made ample use of guest hosts, including Joan Rivers, Jay Leno, and Garry Shandling, who would occasionally host a whole week of shows. "I was exhausted after every one of those weeks," he wrote. Around 1986, he was offered a permanent position, guest-hosting an episode every other week, alternating with Leno. But by that point, he'd started work on It's Garry Shandling's Show, on which he starred and was also the showrunner. "So I couldn't run the show, write the scripts, rehearse, and then on Monday night go in" to The Tonight Show, Shandling said. So, he personally called Carson to deliver the bad news. Leno got the guest-host gig all to himself and succeeded Carson entirely in 1992 — the same year Shandling started portraying a fictional Carson-like figure on The Larry Sanders Show. He chose that project over offers from both NBC and CBS to host shows in their 12:30 a.m. time slots.
5. He was almost part of two classic comedy films.
Shandling ended It's Garry Shandling's Show after 72 episodes and The Larry Sanders Show after 90 episodes when they were no longer as challenging as he would like. Free to do other things, he pursued a movie career, which consisted primarily of big roles in flops (Town & Country, What Planet Are You From?) and small roles in hits (Iron Man 2, Zoolander). He had the opportunity for bigger and better roles, but those just didn't work out. He auditioned for the Daniel Stern role in City Slickers, and "the first read with Bruno Kirby and Billy Crystal went extremely well," but he says he tanked his follow-up audition. Director Jon Favreau said he asked Shandling to play a major role in Elf: "He was one of the guys who I wanted before James Caan was cast." But Shandling's vanity got in the way: "He didn't like at all that he could be Will Ferrell's dad at the time," Favreau explained.
6. He had two other TV shows that never got off the ground.
According to The Larry Sanders Show writer-producer Peter Tolan, he and Shandling sold another series to HBO immediately after the end of Sanders. "It was about the idea that Heaven was run like a multinational corporation," and Shandling would play a depressed, regretful God. Despite repeated inquiries from HBO about the progress of this show, titled Life Everlast, Inc., Tolan could never get Shandling to sit down and write the thing. Shandling also teamed up with actor David Duchovny for another comedy series about a guy in his fifties in the midst of a midlife crisis who moves into a retirement home. The man, likely to have been played by Shandling, "becomes the stud of the old-age home, dominates sports-wise, and gets all the ladies." Duchovny says that he and Shandling batted ideas around and that it ultimately "never went anywhere."