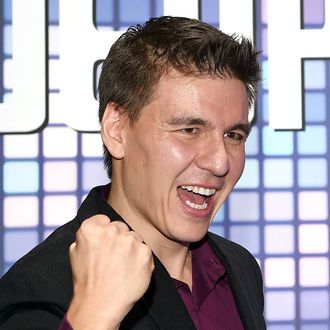 Photo: David Becker/Getty Images
The prodigal buzzer returns! Months after ending his reign as one of Jeopardy!'s most successful players of all time, James Holzhauer appeared on the show Wednesday evening to compete in the biennial Tournament of Champions. Surprise, surprise: He won quite formidably, defeating his smart opponents, Lindsey Shultz and Alan Dunn, in what was by all means a runaway game. However, take a look at that score. $30,635? In this game-show economy? It's far from Holzhauer's best work, and, in fact, it's actually his second worst single-game tally ever. (The lowest amount of money he won comes from his sixth game back in April, when he only took in $27,190.) With the quarterfinals behind him, Holzhauer will now advance to the tournament's semifinal round, and he'll compete in a trio of games this upcoming Monday, Tuesday, and Wednesday. Should Holzhauer win the tournament, $250,000 will be deposited into his savings account.
To recap Holzhauer's previous Jeopardy! success, he captivated the nation earlier this year with his "strategically aggressive" gameplay, which he defined as seeking high-value clues first and subsequently wagering a significant amount — if not his entire sum — of money on Daily Doubles. (This made it virtually impossible for his competitors to catch up.) He ended his reign with an astounding total sum of $2,464,216 over 32 games, which places him in second place for a player's total regular-game earnings, as well as second for consecutive games won. (Ken Jennings, the GOAT, still remains first in both.) The woman who defeated him, Emma Boettcher, will be making her tournament debut on Thursday. Give us the rematch already!