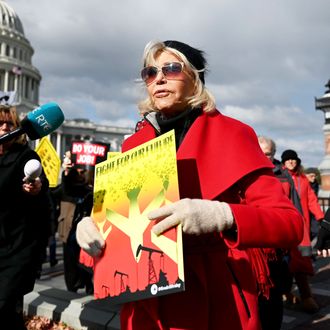 "One jump ahead of the lawmen / That's all, and that's no joke / These guys don't appreciate I'm woke."
Photo: Andrew Caballero-Reynolds/AFP via Getty Images
We see a lot of "out-there" things at Vulture dot com. It's like Joker from Joker famously said: "It's a messed-up topsy-turvy tilt-a-whirl of a world, and heck, I'm just along for the show!" (I haven't seen Joker.) So, sure. We've heard of arresting Jane Fonda four times. But arresting Jane Fonda five times? Now you're talkin' loony.
And that's why, at this week's installment of the "Fire-Drill Fridays" March for climate action in Washington, D.C., Jane Fonda finally avoided being taken into custody. After her third arrest, Fonda learned that a future infraction could lead to up to 90 days in jail for incommoding. She's been given a court date for later this month. Fonda still went ahead and got arrested for a fourth time last Friday alongside Catherine Keener and Rosanna Arquette, but according to TMZ, this week she "simply got into a waiting SUV and bounced" after receiving police warnings. On her decision not to risk three months in jail, Fonda told Vulture earlier this month: "I decided that Jane Fonda's martyrdom is not exactly going to be helpful for the movement. It's not the getting arrested as much as it is just calling attention to the crisis and raising attention for the urgency." Fonda launched Fire-Drill Fridays in response to teen activist Greta Thunberg, who says of global warming: "Our house is on fire."
So, sadly, that means no pictures of Fonda looking badass in cuffs this week. But we'll do you one better: Ben & Jerry (Cohen and Greenfield) plying secret-service agents at the climate protest with their delicious, socialist ice cream. This is like if the Kendall Jenner Pepsi ad was as woke as it thought it was!