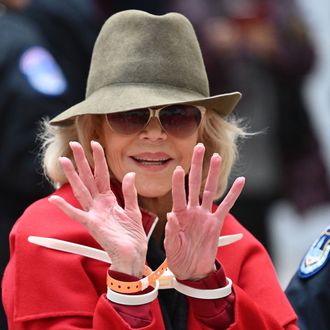 Hello again.
Photo: Mandel Ngan/AFP/Getty Images
Jane Fonda has been getting marched away from Capitol Hill in zip-tie cuffs a lot lately as she protests government inaction on climate change. Though Fonda just told Vulture she "may not get arrested every Friday," she was careful to add, "but maybe a few more times." Fittingly, the actress was taken in again this afternoon by police. It's her fourth arrest in as many weeks as she fulfills her pledge to make a ruckus every Friday ("Fire Drill Fridays") about the climate in Washington, D.C. This time, she was joined by Catherine Keener and Rosanna Arquette, who join her previous arrest co-stars, Sam Waterston and Ted Danson. Fonda reportedly faces an overnight stay in jail this time since, as she explained to press, this latest arrest comes before her court date for last week's arrest.
Her response? Per Deadline, a facetious "Oh! What will I do?" Fonda continued: "Yes. I probably will go to jail tonight. It will not be the first time. And I am prepared to do that. And maybe I won't. It's kind of arbitrary. I was told that if I got arrested before my court date, I would probably go to jail. One night. Big deal." Today, protesters marched to the Hart Senate Office Building, the same building where Amy Schumer was arrested last year while protesting Brett Kavanaugh's Supreme Court nomination. Fonda has committed to her Fire Drill Fridays through mid-January, when she will come back home to L.A. to keep making Grace and Frankie. In other activism news, James Cromwell was arrested during a PETA protest at Texas A&M earlier today. It is quite literally cuffing season.