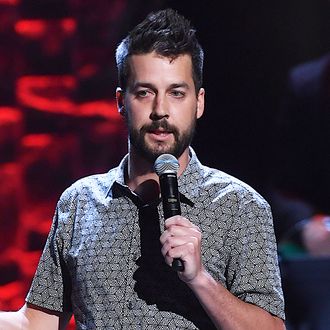 John Crist
Photo: Jason Davis/Getty Images
A Christian comedian has been at the center of a sexual-misconduct controversy this week, and as a result, Netflix has decided to put his debut stand-up special, which was originally set to premiere on Thanksgiving, on hold. Late last month, Netflix announced that it had added a stand-up special from comedian and YouTuber John Crist titled I Ain't Prayin' for That. The press release described it as "the divine comedy special of the year," going on to describe Crist's upbringing: "The son of a pastor and one of 8 homeschooled children, Crist evaluates the weakness of millennial culture, how to be a 'good' Christian, dating in the modern era and more." Until earlier today, the special's Netflix page listed a November 28 premiere date, but that note has since been removed. According to a source with knowledge of the special, Netflix has decided to put the launch of I Ain't Prayin' for That on hold due to this week's news.
Multiple sexual-misconduct allegations against Crist surfaced this week from five anonymous women in a report published at the Christian Charisma magazine site. Crist rose to fame making YouTube videos aimed at a Christian audience, and now he boasts over 2 million Facebook followers, 500,000 YouTube subscribers, 1.2 million Instagram followers, and nearly 200,000 followers on Twitter.
According to the Charisma report, Crist "has exploited his Christian reputation and platform to harass, manipulate and exploit young women over the last seven years," with allegations including "individually sexting multiple women during the same time period, initiating sexual relationships with married women and women in committed relationships, offering show tickets in exchange for sexual favors and repeatedly calling these women late at night while drunk." One of the anonymous women in the report pointed out the betrayal she felt from Crist's behavior, since his career is built on his identity as a Christian. "The one thing that stopped me from believing he was creepy is John so proudly parades his face as a Christian," she said. "I've let myself believe that just because someone is a Christian means they won't do something intentionally bad."
While Charisma's report notes that the multiple allegations leveled against Crist aren't criminal, it decided to publish them because the comedian is often booked at Christian venues, and some may have known about his behavior. "Some evidence suggests certain Christian leaders have been aware of Crist's behavior and — through inaction — let it continue unchecked," the report claims. "We believe pastors and leaders who book Crist at their ministry events need to know the person they're signing. We believe leaders who make Christianity part of their public persona — whether or not they are formally in ministry — should be held to a higher standard. And above all, we believe the body of Christ must police itself and has an obligation to protect the innocent and vulnerable among us." The report also notes that Crist's behavior has recently become "an open secret among certain Christian circles," which was echoed in many of the responses on Twitter after the report was published.
Crist released a lengthy statement to Charisma in response to the allegations yesterday, claiming that while not all of the allegations are true, he is guilty of what he describes as "destructive and sinful" behavior. "I am sorry for the hurt and pain I have caused these women and will continue to seek their forgiveness," he wrote, going on to say that in recent years he's "privately sought and received regular professional treatment for my sexual sin and addiction struggles" and is "committed to getting healing and freedom from my sin." As a result of the allegations, Crist canceled the rest of his 2019 tour dates. "I'm responsible for my actions and I've repented and am taking full ownership," he added. "I realize it will be difficult for some people to ever forgive me, and I accept that as a result of my bad decisions and actions."