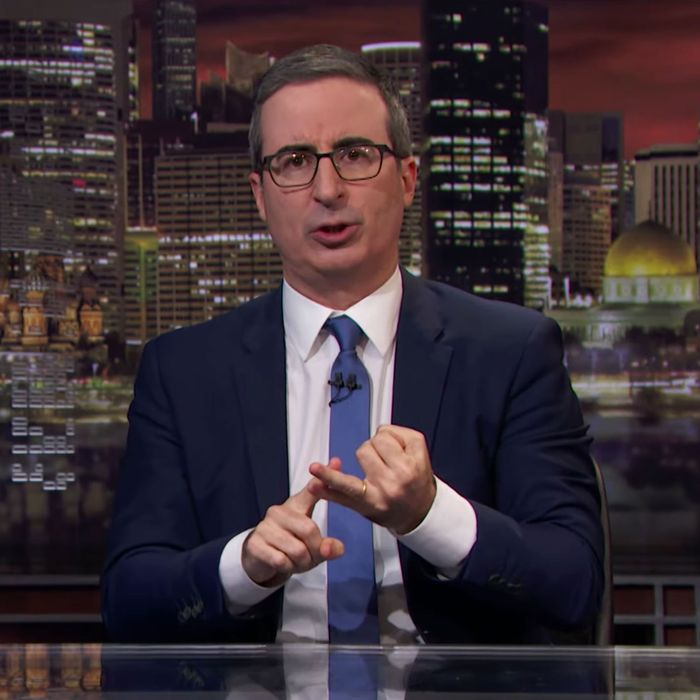 John Oliver is not afraid of Bob Murray.
Photo: YouTube
She's finally here! And by "she," I am of course speaking of Adam Schiff and her cavalcade of military officials. Multiple late-night shows welcomed expert commentators to break down the impeachment for us know-nothing nose-pickers this week, including Rachel Maddow on The Tonight Show and Chris Hayes on Desus & Mero. This week not only saw the first days of televised impeachment hearings, but Jenny Slate's continuing Junket of Joy. Slate graced The Daily Show, The Late Late Show, and Conan this week. What has impressed me the most about Slate's appearances is that she has different anecdotes to tell at each appearance. Nothing is more dismal than a star bringing out the same quirky talent to multiple shows (*coughJohnCenaDanceChallengecough*), so it's great that Slate is bringing new Little Weirds to the Little Weirds tour. Let's look at what else worked this week.
5. Desus Does Slam Poetry
Desus & Mero's warm-ups are some of the best content the show puts out. It shows how both the hosts and audience get hyped for the show proper, and they're extremely loosey-goosey. The liquor might have something to do with that. Desus mocked his own impractically rolled beanie. Baseball season is over, so now he has to dress like a slam poet. I will always laugh at slam-poetry jokes, because I went to a college where pottery was a major but political science was not.
4. The Michael Shannon Tonight Show Takeover
Consummate Intense Man Michael Shannon brought Jimmy Fallon an Alvin & the Chipmunks onesie and made him don it on national television. Fallon did it because (1) that's good TV, and (2) even when offering the gift of a onesie, Michael Shannon is a scary motherfucker. Shannon conducts his own interview, introducing each movie he promotes and forcing Fallon to wrestle him. Do we think Shannon would do a talk show, like, even for a little bit? He's good at this.
3. Seth Meyers Kills Big Bird
Late Night's "Closer Look" on night one of the impeachment was probably the most digestible of all the impeachment coverage this week. But I want to shout-out the biggest groaner of the week, which came early in the week when Seth Meyers implied that Big Bird has been murdered and turned into Popeyes very special sandwiches. It wasn't Gilbert Gottfried's 9/11 level outrage, but it was dang close.
2. Andy Richter Is Fate's Plaything
Conan sketches are reliably among the weirdest things on late night, and this bit about the random Valentine's Day texts people received this week is no exception. I don't want to say too much and spoil it, but there are definitely echoes of Parasite.
1. John Oliver Is Still Gunning for Bob Murray
Whether or not those in the entertainment business can also be in the "speaking truth to power" business is a constant debate in comedy. How effective is political comedy in changing anything? We don't know if Last Week Tonight has changed anyone's mind on SLAPP lawsuits, but we do know his show has at least pissed off one man: coal exec Bob Murray. Ever since Larry Flynt said Jerry Falwell fucked his mom, exaggerated comedic speech has been protected by the Supreme Court. So it's nice to see Oliver flexing that freedom by claiming Murray is the Zodiac Killer. Even though we all know it's Ted Cruz.