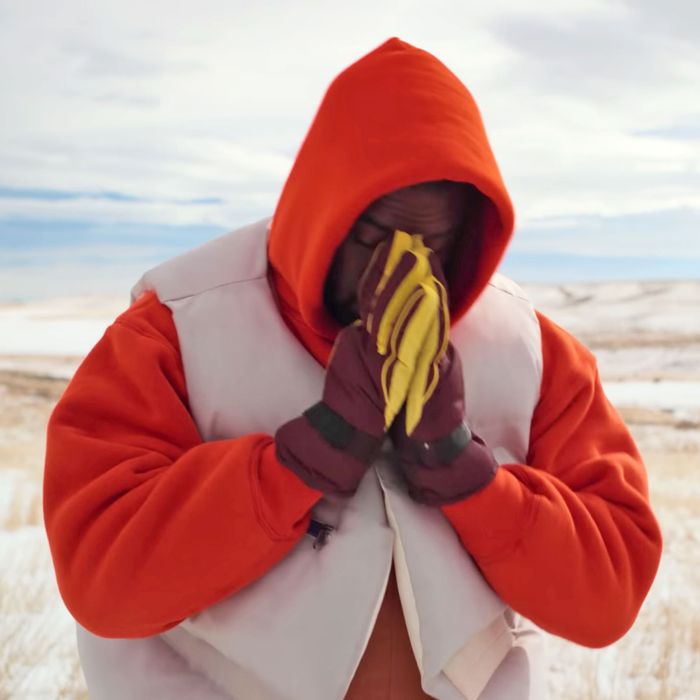 "Follow God" is another driving song, and an oasis of humility in the blustery media storm surrounding
Jesus Is Kin
g.
Photo: YouTube
Kanye West often tells his life story through songs about driving. The College Dropout's "Thru the Wire" recounted the aftermath of the near-fatal car crash that gave the rapper-producer a fractured jaw and a powerful sense of purpose. Late Registration's "Drive Slow" recalled old friends and beat-up rides, and feeling prideful for having something not everyone else did while also praying there was more to life than cruising in circles around the mall; the same album's "Touch the Sky" visited the fateful day the rapper and producer briefly left Chicago for Newark, New Jersey, where he famously recorded a chunk of what would become his debut album. The Life of Pablo's "30 Hours" memorialized cross-country trips he'd take to keep a long-distance relationship alive before finding out his partner was cheating; "No More Parties in LA" followed it with a stream-of-consciousness verse about peeling down Los Angeles's Mulholland Drive, thinking about everything but the road.
Kanye's most striking videos also take place in cars. In the original clip for Graduation's "Flashing Lights," model Rita G. creeps across the dunes outside Vegas in a Mustang just as night descends, eventually stopping and popping the trunk to reveal West, bound and gagged, and then murdering him with a shovel. In the clip for Watch the Throne's "Otis," Ye and Jay-Z make an extravagant show of wealth, destroying and rebuilding a black Maybach, then taking it out to do donuts in an abandoned lot, laughing along with a back seat packed with models. Jesus Is King's "Follow God" keeps the streak. In the new video, Kanye and his father Ray West pile into an ATV for a spin through the snows of Wyoming. It's a symbolic trip, the elder Mr. West explains, because he can remember a time when his children had never seen snow. Now his son owns thousands of acres of northern ranch lands. His grandchildren can call the vast expanse of mountains and plains their backyard.
"Follow God" is another driving song, and an oasis of humility in the blustery media storm surrounding Jesus Is King. It's a word about how hard it is to ditch your ego and heed the wisdom of your elders, to retrain your brain to be in service to others. This is the message we needed to hear from Kanye this year, but what we're getting is nuclear-grade pomposity and snark about social media, as if the apps are this planet's biggest psychological poison, when really, it's the people running the accounts. It's easy when you have a record label, a television show, a clothing brand, a sneaker line, and a multimedia content farm to say, "Get off social media." You don't need it anymore. People trying to come up still do. A wise minister tailors his message to his audience. These days, the audience Kanye is speaking for is Kanye. It's heartening to see Ye turning ideas about service around in his head, but when the other news of the day is that he may or may not be considering adding "Christian Genius Billionaire" to his name, you wonder if the man who wrote "Can't Tell Me Nothing" and produced "Never Change" is too set in his ways.