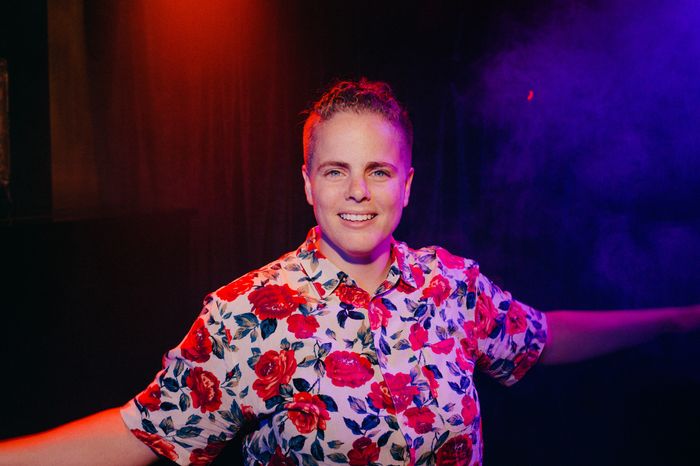 Kate Sisk.
Photo: Bridget Badore
Kate Sisk (@thekatesisk) is a stand-up comedian and performer based in New York City. She performs on Harold Night with her team At Last!, and has been featured in several stand-up festivals including the Women In Comedy Festival, 208 Comedy Fest, and Boston Comedy Festival. She is also the co-founder and touring member of LOLGBT Comedy Tours.
This week, Kate and I discussed gender jokes, Cristiano Ronaldo's long-lost brother, and listening to David Sedaris books.
What motivated you to start doing comedy?
Growing up, my family was joking all the time. My dad is the funny uncle to all my cousins. My mom and I used to listen to David Sedaris books on tape on the way to soccer tournaments. I caught the bug. I tried out for every school play and always got cut. So when I got to college, I was like, I gotta try something. So I got into the improv group and have been doing improv ever since! And then after about a year in New York I started stand-up, and I love it. I love trying to get better at the craft each day.
Tis the season! I love this Christmassy joke. In my stand-up, I have lots of jokes about my gender identity that are carefully crafted and written to express these really complex ideas and thoughts. But sometimes I have such a stupid thought about gender, like the one above, that I think to myself, I must rid myself of this. So I threw this one on Twitter, and it turns out at least 17 people intimately understand me.
Has social media been beneficial for your comedy and career?
Twitter is fun! Most of my tweets are in my drafts folder though. I get more nervous about posting than I do about performing in person. But I like Twitter as a place to put bizarre jokes or one-off thoughts that don't necessarily have a home in any other medium. Like a lot of comics say, it helps you tighten up your rhythm and wording. As for my career in general, I think Instagram has been helpful. I don't put a whole lot of funny stuff there, but it's been a great tool for me to post all my shows so people can see that I'm grinding. (And then hopefully book me. Book me! Lol.)
Sometimes in my stand-up or improv, I try to do jokes that aren't all gay. I've pretty much given that up on Twitter. There's too much good gay content out there to not want to join in the fun. However, there are not enough good gay movies. The three movies I'm referencing here are all from 2018, and I am still the bookstore-owner-who-gets-scammed lesbian. Please, Hollywood, make more lesbian movies so I can have more options to choose from!!!
What made you decide to co-found LOLGBT?
We started with a specific goal in mind. I do love performing on the road in general, because I think anyone outside a comedy hotbed like New York City can really benefit from a good night out at a comedy show. I consider it a privilege to not only make people laugh, but also offer a point of view that they maybe haven't heard before, at least not through comedy. But when it comes to college shows, which is mainly what we do with LOLGBT, we are offering something beyond that as well. Yes, we are giving college audiences a chance to enjoy queer comedy that isn't usually heavily represented in the college circuit, but we're also showing students that this is an option for them. When UCB toured at my school in college, I was like, "Hell yeah!" and then moved to New York within a year of graduating. I hope that some queer students see us doing stand-up and think, I want to do that, too! It's why we offer workshops as part of our college campus shows.
Do you feel that comics from marginalized identities have found an equal spot in the comedy community yet? What changes would you like to see in the scene going forward in terms of underrepresented perspectives finding a spot?
No I don't! I hope going forward to see more people of color and LGBT+ people working — as in getting big opportunities and being paid. I'm grateful to a lot of people in the comedy community who have worked hard to carve out shows and spaces for comics who don't fit the traditional white-guy comic mold. I hope to see the diverse comics I see absolutely crushing in these various scenes be successful in the mainstream as well. A lot of queer comics are told that they have too many gay jokes, and a lot of black comics hear, "That was great, but maybe a little less race stuff." I'm excited for when a club only books one straight white guy and they say, "Oh sorry, we didn't even notice!"
Man, I think about this moment all the time. It was so funny. I like this tweet because you get the whole story in one sentence. I tweeted this months after it happened because I kept wanting to tell people this story in conversation and then realizing it was either too long or far too inappropriate. Like no one needs to know that I was kneeling on the bed pleading, "But babe, you said I should work on doing more characters!"
Okay, we're gonna need the rest of the details about the six-pack cock-block story please!
Oh boy. Okay. I was doing a character show and pitched my partner a character. She is my comedy confidant and I usually trust her judgment. The character was called Crispiano Ronaldo, which is, obviously, Cristiano Ronaldo's long-lost and less-talented younger brother. Thank you, thank you, I'm a genius. My partner just gave me this look that was like, This idea is stupid and I am doubting our entire relationship. I pitched her the jokes, she didn't laugh. I showed her the video, she didn't laugh. Then days later I take off my shirt in the aforementioned moment and the sharpie six-pack is still there. And she bursts out laughing so hard. Like harder than she's ever laughed at anything. Like tears in her eyes, can't breathe laughing. The most embarrassing part is that I was stupid enough to think that the moment could continue!