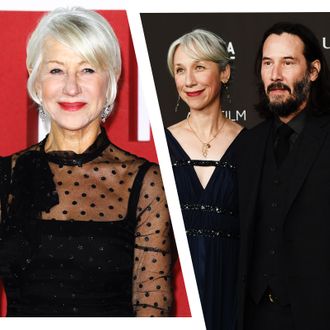 Pop quiz.
Photo: Getty Images
Houston, we have a problem: Too many beautiful women are embracing their natural silver hair and the internet cannot keep them straight. Fans thought Helen Mirren was walking the LACMA Art+Film Gala red carpet hand in hand with Keanu Reeves, but it was actually his rumored girlfriend (and business partner) Alexandra Grant. Mirren took it in stride, like the dame she is. "That was very flattering on me, you know, because she's obviously lovely," Mirren told Entertainment Tonight on a red carpet for the premiere of her new film The Good Liar.
"I do know Keanu very well. He did a film with my husband and he is just the most adorable, lovely person," Mirren said, referring to Taylor Hackford's film The Devil's Advocate. "So she's a lucky girl and I'm sure that he's a lucky boy."
The mix-up had to do with Alexandra Grant's matching silver hair, red lipstick, and their passing resemblance. That's about where the similarities end, though. Grant is a visual artist who has worked with Reeves on projects, including his adult picture book Ode to Happiness. Helen Mirren … is Helen Mirren.