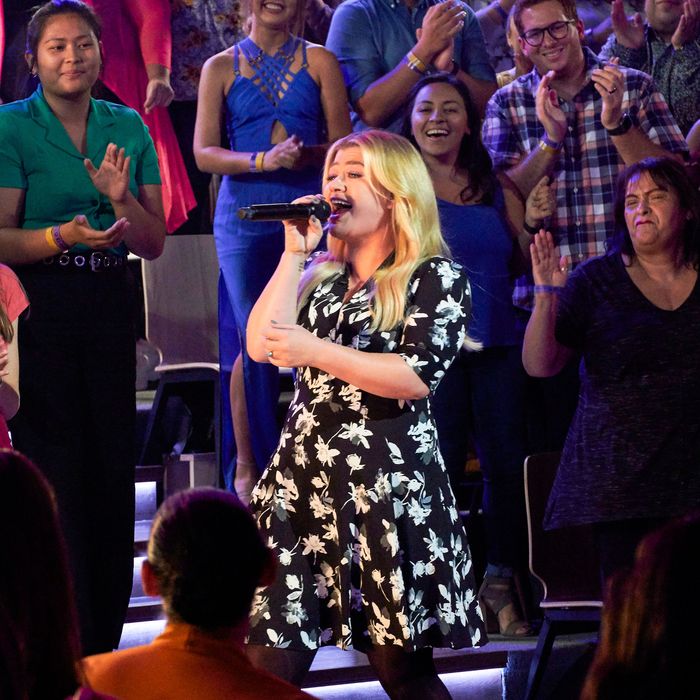 Kelly Clarkson covering "Ain't No Other Man" by Christina Aguilera. "When you get on stage and get the audience interaction there, there's this chemistry that happens when she's feeling it," her music director says.
Photo: NBCU Photo Bank/NBCUniversal via Getty Images
Music was always going to be part of The Kelly Clarkson Show — Clarkson even brought her longtime touring band onto the talk show, which debuted in September. As she danced through various sets performing Dolly Parton's "9 to 5" on that first episode, "Kellyoke" was born, and the world (and all of Vulture) fell in love. She's since opened her show with covers of everything from Whitney Houston to One Direction, including friends like Reba McEntire and Paula Abdul and past American Idol winner Carrie Underwood. And her music director from the beginning, Jason Halbert, has been there on the keys the whole time; Clarkson even credits him for coming up with the covers idea in the first place. During a break from preparing for the next six episodes of the show, Halbert explained how he pulls off a "Kellyoke" after just a few rehearsals with Clarkson, talked last-minute song changes, and planning that viral 2016 American Idol performance of "Piece by Piece."
Where exactly did the idea for this show segment come from?
We've been doing something similar on tour, and Kelly usually says during a show that this was my idea. I don't remember the day that this was my idea, but hey, I'll take it when it's working. I think because of how she started on Idol, covering so many great songs on the show, when I first started with her, I used to get tons of emails from fans requesting that she cover certain songs. So I brought her the idea of, "Why don't we do a fan request every day?" She loved the idea, and I think we've been doing it since almost the very beginning. Whenever they were coming up with a concept for the show, that sort of morphed into "Kellyoke."
What did you do today so far for the show?
We typically tape Tuesday, Wednesday, Thursday. We tape six episodes a week, so usually Mondays are rehearsing those six "Kellyoke" numbers, plus all the other music cues — we do about 12 to 15 custom cues per episode, so you're looking at 60 to 80 new pieces of music a week.
But this week, to accommodate her Voice taping schedule, we've shifted to a Thursday, Friday, Saturday show. So far today has been directors meetings, where we decide the best way to present the "Kellyoke" song. The most important thing for Kelly is for her to be able to emote the song in the ways she's most comfortable. Sometimes that's moving around through a crowd; sometimes when it's a really wordy song, it's being planted somewhere so she can focus on emoting it. Right now, I'm prearranging all the songs. Once I know what songs we're doing, I get them down to about a minute-and-a-half, trying to figure out a way to condense the most important parts of the song as well as making sure that we choose the best sections that make her vocals shine the most.
I heard somewhere that a lot of the "Kellyokes" on the TV show are fan requests too.
Yeah. I get a list of songs that have been requested, and I have to make sure we haven't already covered a song, or if we did, is there a way we can present it differently? And she's definitely part of choosing the final selections, because there's certain songs that lend to her voice better than others.
If you were to just take one of the songs, how long would you say that you and the band are rehearsing it before it's ready for Kelly?
I probably take about an hour on each song to arrange it. Once that's done, I do a sort of a prearrangement where I make a recording of myself playing as many of the parts as I possibly can. Our vocal director and background singer, Jessi Collins, comes in, and together we choose the keys. People are huge fans of Kelly jumping the octave, so if the song's in a lower range, we just make sure that Kelly's able to take it up on the last chorus and go as high as possible. So I record a version with Jessi singing it so that the band can rehearse to a vocal. With the band, on rehearsal day, I'd say we get about two passes of it.
Oh, wow.
And then we record the band playing it with Jessi singing, that way we can distribute that recording to the directors so they can block for camera, lighting can get a concept, and everybody can get a vibe of the song. Then the morning of the taping, while Kelly's in glam, I send her the two songs for that day along with lyrics. And then we get one to two passes onstage with her in the morning before we actually perform the song.
Fortunately, being with Kelly so long now, we sort of have a shorthand. We have to learn each song in at least three keys. Her vocal, it's like an acoustic instrument — it can change based upon the weather or the time of day. So sometimes we take it down a step, sometimes we take it up a step, just trying to find that sweet spot in her range. And occasionally, she'll have an arrangement changed last minute. We're about to have another Whitney [Houston] song, and when I arranged it, I left out her favorite part of the song without knowing it. So on the fly in rehearsal, we made the change, incorporated her part back into the song, and then five minutes later we're performing it for an audience on camera.
What was that performance like for you after that?
It's one thing to listen to a recording and try to imagine how that's going to play in front of an audience. When you get on stage and get the audience interaction there, there's this chemistry that happens when she's feeling it, and there's an adrenaline for me in that there's nothing I like better than just giving her what she wants. So whenever we make the changes, there's a little bit of stress that goes with that, then you nail it. You can tell when she's excited about it because her vocal goes to next level, and then the audience reacts to that, and there's a sort of a synergetic thing that goes back and forth. It's an awesome feeling.
What have been some of your favorite covers to do on the show so far?
Definitely for me, "Juice" was a highlight. I'm not exaggerating when I say I'm so busy, it's actually hard to keep up with what's on radio right now. So when the song first came in, I'd never heard it before. Oh my gosh, where have I been? Lizzo's freaking amazing. And then to hear all the attitude, the sass that came with Kelly doing it, that was a highlight. Another selfish highlight for me was doing Heart, "Alone." I've definitely, 100 percent slipped in my own fan requests all the time, and she always seems to know when it's me because I'm a total '80s pop head. So whenever somebody requested Heart, I pushed that to the top of the list.
What has it been like to now be able to see yourself on TV sometimes? I was going back through the covers, and I'm like, "Oh yeah, there he is on keyboards!"
Yeah, if you squint. I've never ever wanted to be up front or in a limelight. I just love being a part of the creative process with her. It's a weird feeling, especially when something goes viral or takes off, like the "Piece by Piece" moment on Idol coming out of a conversation with Kelly and I. I remember when she played me the demo for that song the first time at her house, it was just a broken-down version of her singing into a voice memo. And I'm not a hugely emotional guy, but I cried.
When we started doing the song live, it was lacking the emotion — there was just too much stuff going on. So I came to her and I was like, "I feel like we're losing all the lyric of the song. Why don't we try it this way?" We did it, and the reaction was unbelievable. So getting to watch that unfold in real time on Idol … we went out to dinner after and I got a call from the label and they said, "Yeah, we want to release this version of a single on Monday." And this was a Friday night. So we went straight to the studio that night, re-recorded it again. I just say all that to say that there's been several of these moments in my career where I pinch myself.
It sounds like you really have an instinct at this point for ways to make her musical ability shine.
Emotion and authenticity and sincerity always win over fancy music, you know. My goal is either to enhance her vocal or stay out of the way of it. And I've learned a lot of that from her. It's great to see so much more of America getting to see what I've been seeing her do all this time.