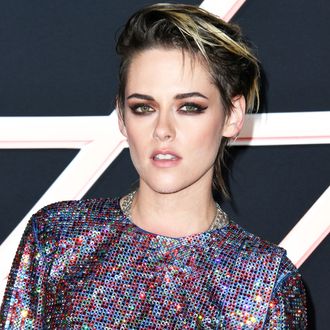 Kristen Stewart.
Photo: Jon Kopaloff/Getty Images
Doctors hate her! Kristen Stewart recommends this one easy trick to cure being deeply dissatisfied with life: "Take a pottery class."
For their entry in Variety's "Actors on Actors" series, Stewart and Shia LaBeouf sat down to interview each other about their relationship to narrative and growing up on film. Kristen asks Shia about filming Honey Boy, and he shared an anecdote about Method acting through nose plugs. ("That started f–king with me, because every time the sound would start up again, I'd be, like, 'You're a clown.' Later in the shoot, we just kept them in and I started losing myself a little bit.") Kristen, in turn, basically says "I don't know her" about the French New Wave when talking about Seberg. ("In no way is my cinematic knowledge steeped in New Wave cinema.")
Then things got real — like #IAMSORRY self-reflexive performance art real — when Shia admits, "I think I'm deeply dissatisfied in life," adding that he's trying to develop and grow, because "that's usually when things go awry for me, is when I'm not on a set," to which Kristen deadpans: "Take a pottery class." She keeps riffing through Shia's solemn nods, "like people in existential crisis do. They're like, 'take a pottery class about it!'"
K-Stew's positively Portlandian life coaching honestly isn't the worst advice in the world. Pottery is a much more cost-efficient form of art therapy than making an entire movie about your childhood, and it seemed to work wonders for helping Demi Moore overcome her grief in Ghost. But as someone who would jump off a cliff if Kristen Stewart told me to, you should probably take it with a grain of salt.