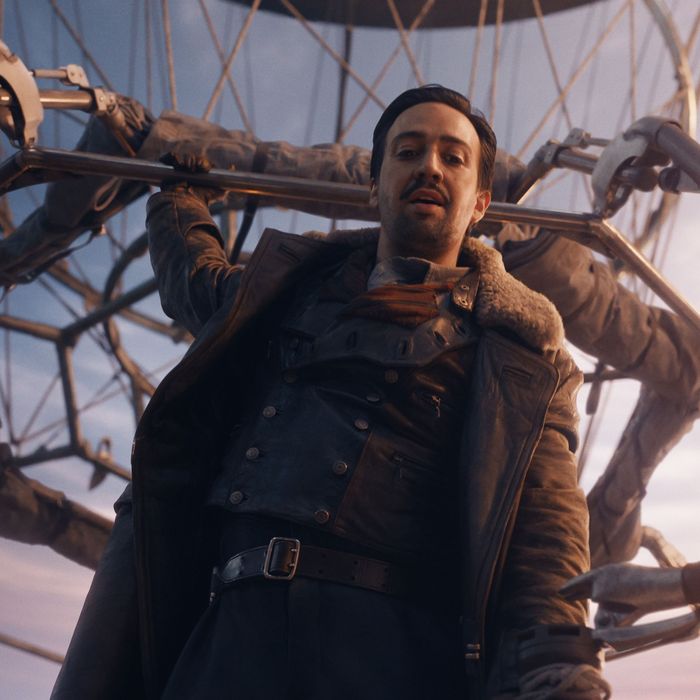 For his performance as Texan aeronaut Lee Scoresby, Miranda started with the 'stache and worked his way out from there.
Photo: Courtesy of HBO
Lin-Manuel Miranda knows he looks rather dashing on His Dark Materials. Making his big debut on tonight's fourth episode as the novels' Texan aeronaut Lee Scoresby, Miranda is given a mile-high hero's entrance, gets caught up in a bar fight, and rekindles his friendship with an old armored bear — all in a day's work!
After an advance screening of the episode in Manhattan last week, Miranda emphasized that he wanted his look to capture all that yeehaw energy, starting with the 'stache.
"I pitched the mustache because I like the idea of sort of a Clark Gable-y way in," Miranda said, humorously adding, "It's sort of Cantinflas on my face. It's trying for the Clark Gable and failing. And then as soon as I saw the costume and what [designer Caroline McCall] was going for, that was 90 percent of Lee, the badassery he wears."
The rest of his character-building came from a variety of places. First stop was Once Upon a Time in the North, author Philip Pullman's prequel novella about the friendship between Lee and Iorick the bear. While Miranda's long been a die-hard fan of the fantasy trilogy, reading the prequel was instructive in that it "shows us a scrappier, younger Lee, which is the Lee that we brought to this series," he said. Then, doing his best to avoid a Sam Elliott imitation from the 2007 feature film The Golden Compass ("I'd be doomed"), he drew on his own personal inspirations.
"I thought about my grandfather a lot, actually," Miranda explained. "My grandfather was a big Westerns guy and he always had a dime-store Western in his pocket. My last great memory with him was watching the Deadwood series, which we sort of both really keyed in on, but he saw every episode of Gunsmoke, he saw every John Wayne movie. So I was just channeling the best of Gary Cooper and trying to grab all the best things."
Better yet, his debut episode features a Western must-have: "I love that my first scene, which was my second day at work, was walking into the bar, saying the wrong name, and getting into a fight. That is that scene from every Western."
Comparing the character to Han Solo of Star Wars, Miranda added that it's ultimately Lyra, as played by Logan breakout Dafne Keen, who begins to give his pickpocketing cowboy's life meaning.
"Han Solo is just this badass loner scoundrel until he finds something bigger than himself and believes in it, and I think the same is true of Lee Scoresby. Lee Scoresby is fuckin' picking pockets until he meets Lyra. There's this instant kinship."
Instant kinship was also had off-camera. Miranda said that he and the 14-year-old Keen — who's half-Spanish, born to two actors, and herself a lover of Hamilton — were bonding over musical theater in no time.
"It was a lot of Dafne and I speaking in fluent Spanish to each other so the crew couldn't understand us, and it was a lot of show tunes," Miranda said. "It was [an] instant connection and inside jokes." Unsurprisingly, a similar rapport was built on the Logan set with Keen and Hugh Jackman. "She's like, 'On my last movie, I just sang with Hugh Jackman all the time!' I was like, 'Great, we can do that! I know show tunes!' So a lot of show tunes and, like, Spanish. But we connected very quickly. She's just so precocious and great."