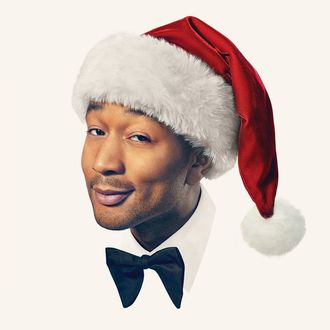 TFW those lips look delicious.
Photo: Columbia Records
Christmas music season arrives when John "Jesus Christ Superstar" Legend says it does. This year, he's kicking it off with the deluxe edition of his album A Legendary Christmas, out November 8. The new tracks include a cover of "Baby, It's Cold Outside" featuring Legend's fellow The Voice coach, Kelly Clarkson. Legend already confirmed that he and Clarkson (reigning queen of cover songs) switched up many of the more problematic lyrics in the cat-and-mouse song. For example, "My mother will start to worry (beautiful, what's your hurry?) / My father will be pacing the floor (listen to the fireplace roar)," is now "My mother will start to worry (I'll call a car and tell 'em to hurry) / My daddy will be pacing the floor (Wait, what are you still livin' home for?)." Despite all the lyric changes, the song is still only 75 percent less creepy than before because they leave the line "Gosh, your lips look delicious," in. If anyone says that to you in person, they are almost certainly a zombie (RIP Santa Clarita Diet).