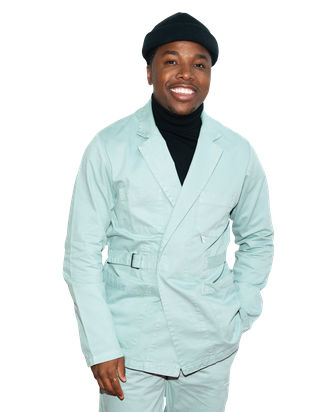 Denny Love
Photo: Noam Galai/Getty Images for Tribeca TV Festival
Hulu's adaptation of the John Green novel Looking for Alaska gives several supporting characters more lines and character development than they receive in the book, but none more than the Colonel, played by newcomer Denny Love. Love's performance as Alaska's closest friend, Pudge's roommate, and the irrepressible leader of their merry band of pranksters leaps off the screen with a bracing combination of cracklingly impatient smarts and the biggest heart in Alabama. The Colonel will tell you to your face that he's the smartest guy in the room, and make you love him anyway. Vulture spoke with Love about how sometimes not knowing the stakes of what you're doing is the best way to do a thing, the unexpected delights of incorporating basketball into his performance, and what's really in the Colonel's signature cocktail, ambrosia.
Looking for Alaska is your first major TV role, and it's in a project where fan expectations were really high. How does it feel to be leveling up as a public person like this?
I think I was blessed to not know the weight of this story that I'm telling. Before the audition, I hadn't read all of John Green's work, so I could approach it with a sense of ease. If I had known how much this story meant to people, I would've put a lot of unnecessary pressure on myself. I really just felt a lot of power once I got the role because John Green ended up giving me a call and telling me how excited he was, that I was the guy he envisioned bringing this role to life. Once John Green gives you the green light — no pun intended — I mean, nothing else really mattered.
As the Colonel, you're called on to be funny, angry, bossy, joyous, grief-stricken, sometimes nearly all in the same episode. Those can all be really big emotions, but you have to hit a lot of smaller beats too. How do you approach that?
The scripts were so incredible that there's not a lot that I had to do. As long as I'm in the moment with the other actors on set, I'm just saying these words, and it's really a lot easier than you would think. I owe that to Josh Schwartz and Stephanie Savage and the other writers on the show, they really crafted such a beautiful story, I just had to live the truth of what was written. All the other actors on the show are so, so talented that all I really had to do was listen to them and breathe. We were shooting in a remote place — we didn't have our phones; we didn't have service — and it gave us the opportunity to grow closer with one another and immerse ourselves in this world. We really were just in the moment, and for me the work is moment to moment. I would just focus on taking it one scene at a time, approaching each one as its own thing, not anticipating having to make any emotional shifts or jumps.
You've spoken about what a tight bond the cast developed on set. What memory would you say best captures the spirit of the dynamic among the core four of you, Jay Lee, Kristine Froseth, and Charlie Plummer?
We were afforded a rare opportunity to be in Louisiana before shooting, living in the same apartment complex for like two weeks before we shot anything. We literally spent almost every day together just hanging out, bonding with music. Charlie's apartment ended up becoming kind of the hot spot where we'd all hang out. We just started to become this family, and it felt like we'd known each other for years.
You seem like someone who's always pushing himself to learn and do more. Before working on Looking for Alaska, on a scale from "rat" (zero) to "getting kicked out of your 40th consecutive Culver Creek basketball game" (ten), how would you rate your expertise in the following areas: pranks.
I'd give myself a seven, so I guess I'd be getting kicked out of my 25th game.
Smoking.
I'm a rat. I'm zero.
Did you have to smoke real cigarettes for the Colonel's smoking scenes?
No, they're herbal, fake cigarettes. They smell the same, and taste I think worse than real cigarettes. My parents used to smoke, but I always hated it. I'm definitely a rat.
Writing term papers for hire.
Oh, yeah, I'm a rat on that too. I'd be trying to get someone to write my term papers!
Going toe to toe with lavishly mustachioed school administrators.
I'd be about at my 40th consecutive game. I was the mischievous one throughout my years at school. I can't say more about it because I have cases pending! I was the lovable prankster, for sure: Not the most studious, but I was the most fun. All of my teachers still love me to this day. I didn't excel when it comes to classroom activity. I thought school needed to be spiced up a bit, and I liked to consider myself quite spicy.
You've spoken about your belief in manifesting the aspirations that you have. Do you feel that being named Denzel has guided your career path in some way?
It's interesting because no one in my family is in the industry. My dad just liked Denzel as an actor and my mom wanted a D name, so the first thing my dad thought of was Denzel. It's not like they thought, Yes, he will be an actor! I didn't grow up wanting to be an actor or do comedy. I thought I was going to be a basketball player, that was my dream for getting to college, but the universe had a different plan for me.
So are you the person who sank the three-pointer in the basketball game prank montage in episode three? 
Absolutely! I need people to understand that was not a stunt double. That wasn't even supposed to be in the episode. The director came to set a few days early and saw me dribbling, and thought it would be hilarious if I stole the ball, ran to the three-point line, and sank the shot. I thought that would be so dope, so I promised him I'd only need three shots, and guaranteed I'd sink it. I made it on the first shot. You can fact-check me on that! Ask Josh Schwartz. Tweet him! Ask him if Denny Love is a baller. I'm a baller and a shot-caller. Wait, did you write that down?
I did! I'll tweet at him about it.
Since you're talking about contributing this element of yourself with the basketball expertise, did you have any input into wardrobe or set dressing? Whose idea was it to use the Do the Right Thing poster? 
That was not me! I walked into the room feeling exactly how you felt. I was shocked; it was incredible. I imagined these were the things the Colonel likes. My only input was that I wanted to have the black experience be told loud and proud on this show, and I think that they were extremely smart about making my world and the world of Culver Creek collide in subtle and real ways. Those little things amplify who this character is and helps the audience jump into his world a little bit. They took these small things into account, like having a black Jesus in the house, which helped tell this story without any words. Like the Martin family reunion — I grew up going to those reunions, getting the T-shirts, to this day that still happens. I have fans hitting me up looking for a Martin family reunion T-shirt! I wish I could get one!
I want one, too! The Martin family reunion shows up three times across the series in wardrobe and in the set design, and it really hit me that the folks working on this show thought through every detail. 
That's very true! Everyone in every single department was so passionate about making this project something that would stand out, something they'd be proud of as a piece of art.
Okay, last question: What is actually in ambrosia, and how much of it did you have to drink? 
I can't give you all the secrets, but I will tell you we weren't allowed to drink alcohol on set. So it was almond milk. After a while even almond milk starts to taste bad. And I had to drink a lot of it. I had to do so many takes that I started to feel drunk. Almond drunk. Is that even possible? That's how it felt.