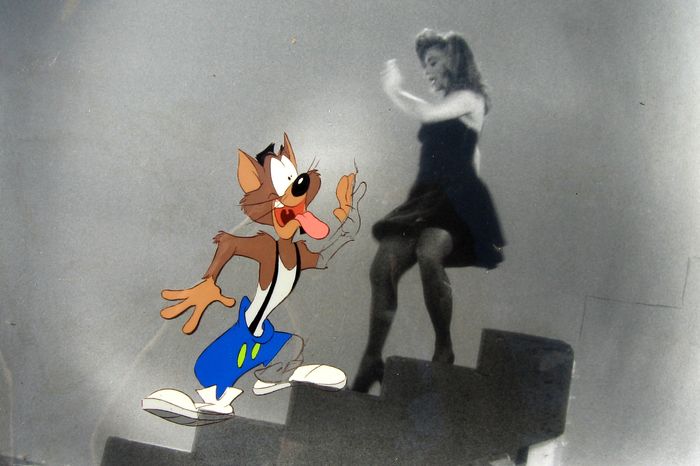 An animation cel with MC Skat Kat and Paula Abdul for "Opposites Attract."
Photo: Courtesy of Michael Patterson
The late 1980s brought with it new advances in the seamless combination of live-action with animation, exemplified by Who Framed Roger Rabbit. It was also a golden age of cartoon cats, what with Oliver & Company and Garfield & Friends. These phenomena collided in one of the era's best music videos: Paula Abdul's "Opposites Attract," featuring MC Skat Kat.
It featured the singer dancing with a cool, street-smart, rapping, dancing cartoon cat. On the record, musical duo the Wild Pair provided the singing voice for the then-unnamed character, a lover of Abdul's who is her complete opposite in every way. To bring him into the visual realm, Virgin Records' Jeff Ayeroff sought out video directing team and animation experts Michael Patterson (A-ha's "Take on Me") and Candace Reckinger (Suzanne Vega's "Luka"). They headed up the creation of MC Skat Kat, a brief cultural sensation in the form of an old-school Disney-type animated cat whose vibe was equal parts musical theater and then-burgeoning hip-hop culture.
Before she became a pop sensation, Abdul had famously worked as a choreographer and dancer (including a stint as a "Laker Girl"), and, like most American dancers of the late 20th century, was heavily inspired by Gene Kelly and wanted to demonstrate that in a video. Patterson and Reckinger are also big fans of Kelly, as well as the American movie musical in general, particularly Kelly's Oscar-winning opus An American in Paris. Kelly was also responsible for the most famous predecessor of the "Opposites Attract" concept (and Who Framed Roger Rabbit?) of a live human dancing with an animated creation — this sequence in Anchors Aweigh (1945) where he grooved with Jerry from Tom and Jerry in adorable matching sailor suits.
While those movies are classics, they were a bit old-fashioned, and Patterson and Reckinger wanted to inject some hip-hop culture into the mix. "MC Hammer had just come out," Reckinger tells Vulture, naming the bridge between what still remained "a huge gulf between black music and white music." The directors decided to combine Abdul's proficiency with movie-musical style and tap dancing with her modern-day dancing abilities. To emphasize emerging hip-hop culture, Virgin remixed the song, adding in a rapped intro provided by Derrick "Delite" Stevens and written by Romany Malco, who'd later co-star in The 40-Year-Old Virgin. Patterson took a cue from the cool, shifty felines of Hanna-Barbera's Top Cat cartoons from the '60s to create Abdul's animated partner, but why, specifically, did the character have to be a cat? "Cats are cool," Reckinger explains. "And they don't do what you want." That natural aloofness of a cat (or Kat) would juxtapose nicely with the poised Abdul. After all, opposites attract.
Patterson and Reckinger worked closely with animator Chris Bailey and went back and forth for a bit to get the character design they envisioned. "It was too retro at first, and we wanted contemporary," Reckinger says. They asked Bailey to add in more and more hip-hop elements, which was a bit tricky since the look and tropes of that culture weren't altogether familiar to the mainstream yet. Eventually, they came up with an agreeable design and presented it to Ayeroff. He signed off on Skat Kat, but he didn't like the retro elements that remained, preferring a more modern look. Reckinger remembers in a meeting with Ayeroff that he looked at Patterson and said, "Hey, why can't he dress more like you?" At that moment, Patterson was rocking some baggy pants held up with suspenders, worn over a tank top. And thus, MC Skat Kat's outfit was born.
Adding animation to footage of a person dancing would be a daunting task for an animation team no matter what — they'd have to replicate, in cartoon cat form, the exact motions of Abdul's human stand-in dance partner and composite them with footage of Abdul. Fortunately, Patterson and Reckinger made it a lot easier by hiring a remarkable dancer to model for MC Skat Kat: Michael Chambers, a.k.a. Boogaloo Shrimp, legendary '80s break-dancer and a star of Breakin' 2: Electric Boogaloo. According to Patterson, Chambers had an intrinsic understanding of what he needed to do to make for a stellar animated final product. "Animation is about silhouettes," he says, "and striking poses is the essence of animation. Dancers know that." In addition to the pre-choreographed dance moves, Chambers provided other stuff like "walks, attitude, positions, and reactions" that added to a vocabulary of movement that animators could pull from to embellish and flesh out MC Skat Kat's actions. Amazingly, both Chambers and Abdul remained sharp throughout the tiring shoot. "It was grueling for the dancers," Reckinger says of the two-day shoot, where one day lasted 15 hours and the second ran for a full 24 hours.
It took so long in part because every scene had to be shot multiple times. Patterson and Reckinger filmed Abdul and Chambers dancing side by side, then again with just Abdul, which would allow animators to later add in the animation of MC Skat Kat doing Chambers's moves. The whole thing may not have worked without a pro like Abdul. "She's a technically great dancer who could duplicate every take," Patterson says. That means that whenever she'd repeat her steps alone after filming them with Chambers (and sometimes additional dancer Bill Bohls), she was able to redo what she'd done in the previous take exactly.
The one major problem they encountered on set was a slippery floor, which proved problematic when Abdul wanted to perform a tap-dance sequence in heels. To prevent the pop star from falling down and injuring herself, a gaffer employed what he called "an old gaffer's trick": Coca-Cola spilled all over the floor, then dried with a hair dryer. That gave the floor a tacky enough surface to allow Abdul to nail the tap section in one take.
Traditional, handmade animation is a process — a tedious, labor-intensive process. Cels have to be painted, but lines on the rough drawings must be cleaned up before that. Reckinger and Patterson walked into the studio of the legendary Bill Melendez, formerly of UPA (United Productions of America) and the guy who headed up all those great Charlie Brown holiday specials, and just hoped that he and his crew could help with animation cleanup. "You seem like a nice young man," Patterson recalls Melendez saying, before asking his team to work on the project. "They did a beautiful job," Reckinger says.
"Opposites Attract" was a very successful video. Not only did it propel the song to No. 1 on the pop chart, it won Patterson and Reckinger a Grammy for Best Music Video and earned six MTV Video Music Awards nominations. It also birthed a fun, slightly edgy, and seemingly very marketable character in MC Skat Kat. Like Paul Simon or Cher, MC Skat Kat soon dropped his duo act with Abdul to pursue his own musical projects — in 1991 Virgin Records released The Adventures of MC Skat Kat and the Stray Mob, which expanded the Katverse to include characters named Fatz, Taboo, Micetro, Leo, Katleen, and Silk. The label once again turned to Patterson and Reckinger to handle videos, and the duo directed two. The first, "Skat Strut," was self-aware of its toon elements, incorporating an animation stand and a cameo from Abdul popping out of the inkwell. (Patterson says it was loosely inspired by the classic Chuck Jones–directed Daffy Duck cartoon "Duck Amuck.") While it wound up in heavy rotation on MTV, it didn't move product, and "Skat Strut" stalled at No. 96 on the Hot 100. When the album flopped, Patterson and Reckinger's other MC Skat Kat video for the single "Big Time" never saw an official release.
While Patterson and Reckinger worked on those follow-up videos, Virgin explored other avenues for MC Skat Kat. MTV floated an underwhelming offer to make the character its official mascot. That didn't pan out, but MTV also nearly commissioned an MC Skat Kat animated series. "We heard that it was down to us and Beavis and Butt-Head," Reckinger remembers. Universal Pictures was interested in a part live-action, part animated movie, but that never came to fruition, either. Nevertheless, Patterson and Reckinger designed some MC Skat Kat dolls that were never released. (They remain in possession of what are likely the only surviving samples of this extremely rare MC Skat Kat merch.)
The reason why it all went away: timing. "Opposites Attract" was the sixth and final single off of Forever Your Girl, and it represented that album's last commercial stand. By the time Virgin, MTV, Patterson, and Reckinger attended countless meetings about all these further MC Skat Kat projects, "Opposites Attract" was a couple of years old, and the label was ready to move on.
Patterson and Reckinger went on to direct videos for Sting, ELO, and Donald Fagan. They currently teach animation and new media at the University of Southern California. Abdul's next video after "Opposites Attract," 1991's "Rush Rush," contained no animation … although it did feature real-life cartoon character Keanu Reeves.