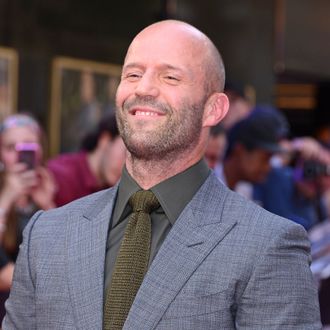 Photo: Joe Maher/Getty Images
Not since 2006's Snakes on a Plane brought us Samuel L. Jackson battling a Monday-to-Friday plane filled with monkey-fighting snakes has a film's title felt so perfectly and satisfyingly literal. According to Variety, MGM just scooped up Guy Ritchie's latest action movie, which stars Jason Statham as "a cold and mysterious character who works for an armored truck company responsible for moving hundreds of millions of dollars around Los Angeles each week." The title of the movie? You better believe it's just Cash Truck. Cash Truck, starring Jason Statham and a big ol' truck full of cash. Frankly, the log line writes itself. Cash Truck: You Instantly Know What This Movie Is About And If You Want To See It.
Statham will be joined by co-stars Scott Eastwood, Holt McCallany, Jeffrey Donovan, Laz Alonso, and Josh Hartnett in the movie, which is actually a remake of the 2004 French action thriller Le Convoyeur, directed by Nicolas Boukhrief and starring Albert Dupontel and Jean Dujardin. And what does Le Convoyeur mean? You better believe it's just French for Cash Truck. Well, technically it's French for The Conveyor, but the thing that's being conveyed is cash and the thing that's conveying it is a truck so, six of one, half-dozen of the other.