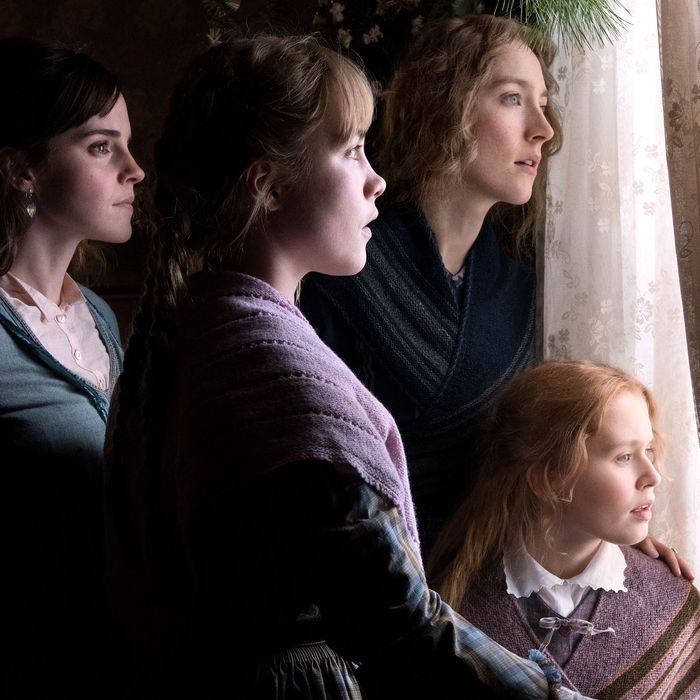 From left, Emma Watson, Florence Pugh, Saoirse Ronan, and Eliza Scanlen in
Little Women.
Photo: Wilson Webb/CTMG, Inc.
A century's worth of artists have tried to leave their mark on Little Women. Louisa May Alcott's novel has spawned Broadway productions and anime series, contemporary reimaginings and television musicals. It's been the basis for no fewer than eight film adaptations, the latest of which comes from Greta Gerwig, who opted to have a new Little Women be the follow-up to her 2017 solo directorial debut Lady Bird. If, at the time, taking on such well-trodden material sounded like a staid choice for someone with the world at her feet, well, the film that she went on to make feels quite the opposite. It feels, exhilaratingly, like the throwing down of a gauntlet. Gerwig's Little Women demands its viewers reconsider these familiar characters and what we've always assumed they stood for. It doesn't just brim with life, it brims with ideas about happiness, economic realities, and what it means to push against or to hew to the expectations laid out for one's gender.
The biggest choice Gerwig makes is to cut Alcott's narrative into pieces and rearrange it by theme rather than chronology, using color grading to distinguish the past from the present. But her boldest, by far, has to do with how the film elevates Amy, the youngest and, traditionally, the least loved of the four March sisters. The rambunctious Jo, the iconoclast of the family, has always tended to be seen as the story's driving force. But while Jo, played by Lady Bird lead Saoirse Ronan, is still central in this version, Amy, played by the marvelous Florence Pugh, is right alongside her. The journeys of the two characters, often at odds, get placed in counterpoint — their creative aspirations, their desire to see more of the world, and their respective clear-eyed assessments of the limitations put on them by society.
They are the ambitious siblings, Jo and Amy, but Little Women gives equal weight to the domestic goals of Meg (Emma Watson), and to the just developing ones of the shy Beth (Eliza Scanlen), as well as to the guidance of their kindhearted mother Marmee (Laura Dern) and haughty Aunt March (Meryl Streep). Alcott's book may examine womanhood through the narrow spectrum of 19th-century New England gentility, but Gerwig treats the sisters' diverging paths as a prism through which to look at larger themes of marriage, artistic validity, and financial constraints. While Jo is the character most willing to challenge norms, the film doesn't endorse her path as the only one of value. "Just because my dreams are different from yours doesn't mean they're less important," Meg chides. But fulfilled dreams or not, Meg still sometimes chafes at the limitations of the life that she and her husband are able to afford. The Marches are rounded characters, not archetypes — even tragic Beth.
And those characters aren't always guaranteed to get the endings we want for them — not even when it comes to a certain wild-haired boy next door, embodied by Timothée Chalamet in a performance bent on breaking a million teenage hearts. Gerwig ingeniously wrangles Little Women's conclusion into one that carries less of a sting. She does it not by radically reinventing what happens (though the strategic casting of Louis Garrel doesn't hurt), but by slyly challenging our desire to see everyone neatly paired off — marriage, as Jo points out it, is an economic proposition even in fiction. Little Women's gloriously satisfying ending is a case of having one's cake and eating it too, and, honestly, who could begrudge that? Alcott's source material may be 150 years old, but this film is proof there are still fresh ways to look at it.