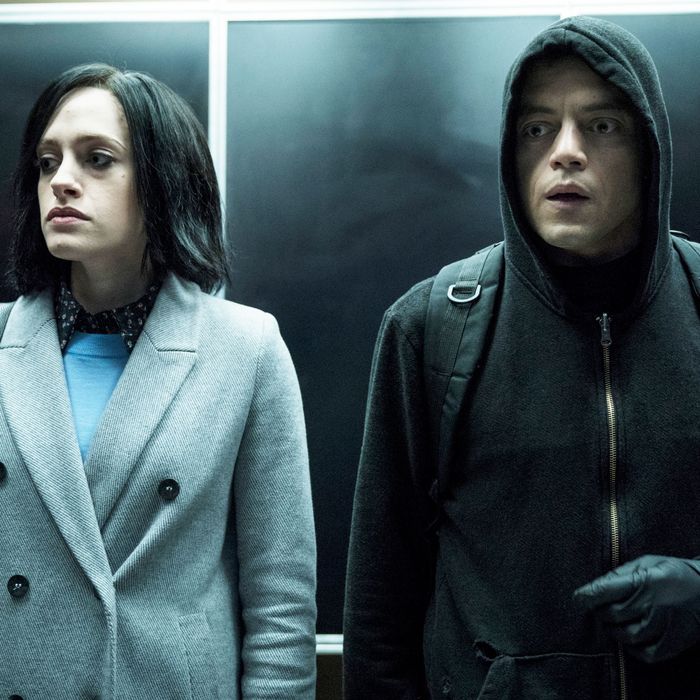 Photo: Elizabeth Fisher/USA Network
"It's cool, dude," Darlene tells Elliot after picking him up near the smoldering Dark Army van. "We don't have to talk." That line kicks off Mr. Robot's first gimmick episode of its final season. Written and directed by Sam Esmail, "Method Not Allowed" follows Elliot and Darlene's break-in to Virtual Realty to directly hack into Cyprus National Bank's servers. It's essentially Mr. Robot's take on the heist genre, so Esmail, known for stealing from the best, takes a cue from the classic French crime film Rififi and eschews all dialogue for the rest of the episode. Some information is communicated through texts, but visual storytelling and Max Quayle's score do most of the heavy lifting. That is, until the very last second before the credits, when Vera finally catches up with Elliot's ex-therapist, Krista, and tells her, "We should talk." Pretty cute.
The problem with most gimmick episodes is that the central conceit dominates too much of the proceedings. Rififi's half-hour heist scene famously features no music or dialogue, and while the silence is definitely integral to its success, it doesn't constantly call attention to the fact that it's shot with only natural sound. "Method Not Allowed" isn't as seamless. After some point, it becomes irritably noticeable that characters aren't speaking, especially in situations when they otherwise would be. It's a neat idea and an interesting challenge, but it's unsustainable when it becomes the operating principle for every scene.
With that said, the no-dialogue aspect mostly works for the Elliot-Darlene part of the episode. Esmail mines a lot of tension out of very standard heist elements — distracting the guards, turning off the security cameras, swiping fingerprints, etc. — and always modulates the visually inert hacking sequences with external threats, such as a ticking clock or the potential for capture. Quayle's score may occasionally gild the lily, as if Esmail was worried that certain moments wouldn't be tense without his help, but it's a small price to pay for what's otherwise very solid directorial work.
However, the actual heist sequence frequently beggars belief. I'm generally not one to point out logic holes because I tend to take most events at face value, but there are a few moments here that really stretch Mr. Robot's conception of realism. It's one thing for the security guard not to notice Elliot as he runs through the lobby. It's another thing entirely for him not to notice him and Darlene in the server room, both completely visible, as he's inspecting it. While I sincerely enjoyed Elliot's Manhattan chase, which takes him through Central Park and along the Upper West Side, you really have to buy that Elliot could evade two cops and multiple patrol cars on foot for that long. Still, it's worth it for that shot of Elliot and Darlene holding hands on the gearshift, a reaffirmation of a sibling bond.
The episode's lack of dialogue doesn't serve the other storylines as well. Philip Price receives the time and location of the Deus Group meeting through a series of coded messages. Dom surveys the burnt Dark Army van and then hacks the police intel for Janet. Both stories are fine on their face, but they're made all the more awkward because no one speaks. Crime scenes, police stations, Christmas Day celebrations — these are settings where people aren't typically silent. I understand why they can't speak for the purpose of the episode, and I'm certainly willing to suspend disbelief, but it throws the gimmick into such a belabored register. It would have been much more believable and preferable if Esmail relegated the conceit to Elliot and Darlene's scenes instead of the entire episode.
The episode ends in the middle of Christmas Day. The Deus Group will meet at 9 p.m. Elliot and Darlene have the Cyprus National Bank information. Dom has now been tasked with catching them before it's too late. And Vera … well, he's still out there plotting something. What a glorious, joyous holiday it will be.
Orphan Code
• Darlene uses the alias "Dolores Haze," which is the real name of Humbert Humbert's object of affection in Lolita.
• The guards were watching Die Hard at their desk because it's Christmas and of course they are.
• Music corner: There's plenty of Christmas music this week. Some highlights include Frank Sinatra's "Mistletoe and Holly," Bob Dylan's "Do You Hear What I Hear?," and Cassietta George's "Silent Night." Plus, one of the cops surveying the burnt van has Meghan Trainor's "All About That Bass" as their ringtone, which Dom uses to her advantage.